NASHVILLE, TENN – BEC Recordings' is excited to announce the new full-length album from singer/songwriter David Dunn, Crystal Clear. This 13-track project is set to drop on June 23 and is the follow up album to his first EP of the same name, which was released last year.
Crystal Clear includes familiar songs such as "It Is Well," "Have Everything," and Dunn's successful radio hit, "Today Is Beautiful," which provides an intriguing snapshot of humanity that was inspired by a trip to Disney World. The album was chosen from nearly 100 songs that were written over two and a half years and Dunn's main goal is "to tell the truth, and do it in a beautiful way."
"This project's creativity level is way high and outside the box, and the content is gritty and real," shares David Dunn on his full-length debut. "I'm proud of this one."
Click here to pre-order the album now. In support of his new album, Dunn will be joining Kutless, Mark Shultz, Rush Of Fools and Natasha Owens this fall for the "Every Child Is Beautiful Tour."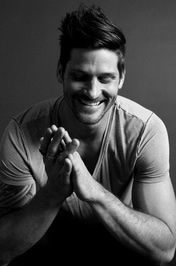 About David Dunn:
David Dunn hails from Texas – as a graduate of Texas Tech University where he majored in engineering. He was an honors student who moonlighted as a singer/songwriter, playing the local acoustic scene in Lubbock. During his last year at Texas Tech, he recorded his first full-length album before heading to Africa for 13 months of humanitarian and missions work. After what he describes as "probably the biggest growth period of my life," David returned to the States with a horrible case of malaria. As David tweaked his sound and continued writing, it became increasingly clear that his engineering degree would remain unused. In addition to appearing on TV's "The Voice," his music was gaining traction with audiences in a major way, not always the easiest of feats for an independent artist. Since his release of the EP, Dunn has been performing across the nation sharing his story and music.
CRYSTAL CLEAR Track Listing:
1. It Is Well
2. Have Everything
3. Today Is Beautiful
4. Nothing Left
5. Six (Waiting For Love)
6. Ready To Be Myself
7. No Matter What
8. Broken Cathedrals
9. Clarity
10. Happy
11. Fade
12. Today Is Beautiful (Thani Remix)
13. It Is Well (Portrait Remix)
Connect with David Dunn by visiting:
Website // www.DavidDunnMusic.com
Facebook // www.facebook.com/daviddunnmusic
Twitter // twitter.com/davidtdunn
Instagram // instagram.com/davidtdunn