Publisher for critically-acclaimed fiction novel releases free downloadable study guide for book clubs, bible studies, and youth groups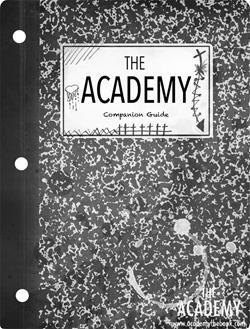 Rossling Publishers has announced that a free downloadable study guide for their critically-acclaimed novel, The Academy is now available on the website http://www.academythebook.com.  The book has been called "brilliantly written" and "as influential as The Shack" by numerous reviewers. Co-authors Ryan Mix and J.T. Payne wanted to provide the study guide in order to go a little deeper into the book's numerous plot lines, which include topics such as suicide, abortion, and evolution. Divided into nine lessons, The Academy study guide is meant to be used along with the novel to open up discussions on the numerous "real-life" situations that are presented in the book.
"Our goal for the novel has always been to get people to think," says Mix, "and engaging readers with a thought-provoking and captivating storyline was one of the best ways to accomplish that. The study guide takes it one step further by pulling the characters and situations off the pages so readers can experience an even stronger and more meaningful connection with them."
A few months ago, Rossling announced that a portion of proceeds of sales of The Academy will help fight human trafficking both here in the U.S. and abroad.  Mix  served as videographer in Iraq for an upcoming documentary on the human trafficking that is being conducted by ISIS, which is now the largest buyer and seller of human beings in the world.  Human trafficking is the second largest illegal industry on the planet, trumped only by the drug trade. Over 27 million people are enslaved worldwide. The Academy book sales will help support the U.S.-based charity, Visibly Unseen (www.visiblyunseen.org), which helps victims of trafficking here in the U.S. as well as partners with other organizations who specialize in stopping human trafficking.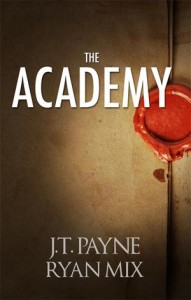 The Academy tells the story of a student who, after accidentally uncovering many dark, hypocritical practices at his Christian high school, begins to question Christianity itself, while struggling to survive the perilous aftermath of his discovery.  "I would say 75% of the book is anti-Christian," says Mix. "We set out to do something that we have not seen in other Christian fiction books. We intentionally make the faith look bad so readers must justify why they believe it."
Mix is from Billings, Montana and Payne is from Nashville, Tennessee, and they have been friends since sixth grade. They wrote the book over a three year time span, using Facebook and Google Drive as their main communication tools.  Both admit to being new to the writing process, but knew they had a good story to tell.  Due to their backgrounds as students in Christian schools, Mix and Payne have already been asked by their peers if the story is true.
"The story was inspired by, but not based on, our time attending a Christian high school and Christian college," says Payne.  "We grew tired of hearing the rumors and statements that Christians don't live in the real world and that we held on to faith instead of facts. We also wanted to combat several Christian stereotypes, sadly based in reality. We face these head on by contrasting them in the story with examples of people who portray the correct examples of Christianity."
The study guide is offered as a free download, and for printed versions of the book, there is a 15% discount for 10 or more books and 25% discount for 25 or more books when purchased directly through the website. For more information, visit www.academythebook.com.