Nashville, TN ( October 3, 2018)
Country Faith Southern Gospel, a new collection featuring 15 timeless songs from some of the genre's most beloved artists, is now available from Curb | Word Entertainment. Showcasing a range of favorites, past and present, Country Faith Southern Gospel is highlighted by classics from such legends as The Happy Goodmans ("The Lighthouse") and The Cathedrals ("Step Into The Water"), alongside Mark Lowry's "What's Not to Love," The Nelons' "Oh For A Thousand Tongues" and The Crabb Family's career-defining hit, "Through The Fire."
With eight albums to date and $2.5 million in retail sales, the Country Faith music line—part of a multi-faceted brand including books, jewelry and other products—unveils this debut Southern Gospel compilation following the success of Country Faith Hymns, Country Faith Love Songs and Country Faith Christmas, among other music titles. Previous releases have featured many of the format's superstars, including Dolly Parton, Carrie Underwood, Luke Bryan, Tim McGraw, George Strait and Brad Paisley.
"Southern Gospel music is one of the genres I grew up listening to, and I love it," says Deborah Evans Price, award-winning journalist and cofounder of Country Faith, LLC. "There are so many Southern Gospel songs that have been anchors in my life, and many of them are on this project. I feel like when people hear this collection, they're going to be moved, encouraged and comforted. These are songs that people have known and loved and made a part of their lives, and I'm honored to have them on the Country Faith Southern Gospel collection."
"Brand New Star," a poignant tune from multi-genre icons The Oak Ridge Boys, resonated deeply with Evans Price following her mother's death. "That one has been such a light and comfort for me after losing Mom," she explains. "It's the closing song on the album, and it will always be special to me."
Longtime Southern Gospel fans will appreciate the inclusion of Greater Vision's toe-tapping hit "My Name is Lazarus," while The Florida Boys, Karen Peck & New River, Legacy Five and Canton Junction are also featured on the new release. Additionally, the project includes inspired performances from favorite soloists Jason Crabb, Michael English, Joseph Habedank and Janet Paschal.
"We are thrilled to have our song 'God's Got a Better Plan' included on Country Faith Southern Gospel," says Matthew Hagee, founding member of Canton Junction. "Music from The Cathedrals, The Happy Goodmans and The Oak Ridge Boys, along with so many others, filled our home growing up, so being on the same record as these Gospel music pioneers is an honor we do not take lightly."
Country Faith Southern Gospel is available at iTunes and Amazon, among other digital retailers, as well as in select stores across the country.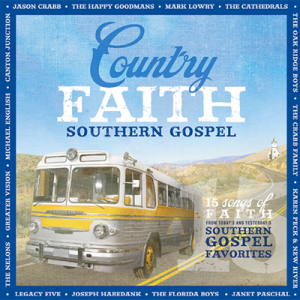 Country Faith Southern Gospel Track Listing:
1. Washed by the Water – Jason Crabb
2. The Lighthouse – The Happy Goodmans
3. Washed In The Blood Of The Lamb – Janet Paschal
4. I Bowed On My Knees And Cried Holy – Michael English
5. Step Into The Water – The Cathedrals
6. Pray Now – Karen Peck & New River
7. Christ Is Still The King – Legacy Five
8. Here He Comes – Joseph Habedank
9. Oh For A Thousand Tongues – The Nelons
10. What's Not To Love – Mark Lowry
11. When He Was On The Cross (I Was On His Mind) – The Florida Boys
12. Through The Fire – The Crabb Family
13. My Name Is Lazarus – Greater Vision
14. God's Got A Better Plan – Canton Junction
15. Brand New Star – The Oak Ridge Boys