Nashville, TN (March 27, 2020)
In light of the success of "Miracles," his first new single in over three years, Colton Dixon will release his self-titled EP with Atlantic Records/Hear It Loud later this spring/summer. Available for pre-order now along with the Instant Grat track "Devil is a Liar," Dixon premiered the lyric video for "Devil is a Liar" on his YouTube at today. Also today at 4pm EST via Skillet's Channel, Dixon will be joined by Skillet's John and Korey Cooper for an Instagram Live, to catch up in general and of course discuss their collaboration with Dixon on his new music.
Watch the lyric video:

With an unshakable groove that pulsates underneath hypnotic and honest verses before swinging towards an arena-size chant on the chorus, Christian radio has welcomed Dixon back in a big way with 35+ stations already playing "Miracles"—including Spirit 105.3/Seattle, KTIS/Minneapolis, SOS Radio/Las Vegas, Shine.fm/Chicago, SpiritFM/Tampa, BOOST 101.9/St. Louis, and WCSG/Grand Rapids.
Expanding the scope of his signature sound for the first time, Dixon imparts life's ebbs and flows into an empowering, engaging, and enigmatic take on pop referential of his catalog, yet evolved and steeped in newfound inspiration. Acclaimed by everyone from People to Billboard and streamed over 100 million times to date, the award-winning and history-making singer, songwriter, and producer channels such growth into the EP. Following a three-year break, Dixon returns with a new sound informed by true experiences.
In order to find this space, he challenged himself to not only adapt to personal and professional changes, but also pursue them. After signing with Atlantic Records he flew out to Los Angeles for dozens of writing sessions. Not only would Colton Dixon be his debut for the label, but it also marked his first time working with producers such as Robopop [Maroon 5, Lana Del Rey], the late busbee [Timbaland, P!nk, Gwen Stefani] and Grant Averill [The Holdup], to name a few. Under the influence of everyone from OneRepublic and Imagine Dragons to Adele, Justin Bieber, Lauv, and Shawn Mendes, he embraced the creative ecosystem.
"I've written so many songs over the past three years," he says. "Even though the world probably won't hear them all, I enjoyed every session. I've gotten to write with people from all different beliefs and walks of life. We were able to have real conversations about faith, family, struggles, and life, in general. I hope these songs reflect those conversations and inspire you to have conversations of your own."
For as much as the sound progresses, he clings to a perennial theme. "There are several themes on the EP, but it all goes back to hope," states Colton. "My goal is to spread hope. I see a lot of people looking for hope, and I'd love to come alongside of them and show support. I've learned so much about love. Love isn't always a feeling. Love is a commitment. Love sometimes means sacrifice. I'm glad I've had the opportunity to write about some of these things in the project. It's really me."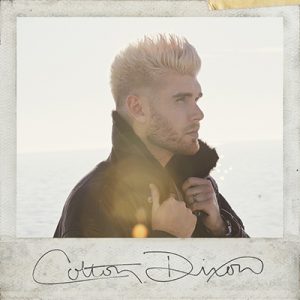 Colton Dixon Track Listing:
1. Miracles (Colton Dixon, Michael Busbee, Michael Aljadeff); producer: Michael Busbee
2. Devil is a Liar (Colton Dixon, Grant Averill, Alex Tirheimer) producers: Alex Tirheimer and Grant Averill
3. Can't Quit You (Colton Dixon, Grant Averill, Alex Tirheimer); producers: Alex Tirheimer and Grant Averill
4. Wanderer (Colton Dixon, Daniel Omelio & Nolan Sipe); producer: ROBOPOP
5. Not Goodbye (Colton Dixon, Dan Henig, and Daniel Feels); producer: Daniel Feels