Chances are, if you listened to all of Casting Crowns' albums, in order of release date, you'd likely be able to hold your own in any seminary class. Not because they're boring or full of mundane, rote scripture; quite the opposite, actually. Each Casting Crowns' release is nearly a direct reflection of what they are teaching their youth group back at home.
And by "they," I do mean the entire band.
In the past ten years, they jettisoned to the pinnacle of Christian music in terms of album sales, chart rankings and awards. But, just in case, they decided to keep their day jobs. Chances are, it wasn't for the money.
Mark Hall and co., have continued leading the youth group at their home church, Eagle's Landing outside of Atlanta, Georgia while they've done "the music thing." And time after time, their records practically mirror the subject matter, heart and intention that they are pouring into their kids.

Whereas this routine could easily make a lesser band boring and predictable, it's what makes Casting Crowns great and is the reason their songs have touched more people around the world than many artists could ever hope to do. Why? Quite simply…the songs are not about them. Their albums are not about the latest sonic trend or radio appeal.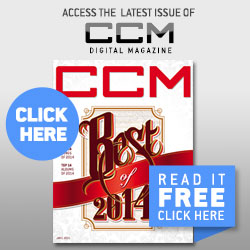 The songs are about truth, love, grace, mercy, forgiveness and what it means to live—to thrive—in the fullness of Christ.
"It seems like everyone's just trying to get to Friday or the next semester or the next vacation," says Mark Hall, lead writer and vocalist. "Everyone's just surviving. No one's thriving."
Never short of creative metaphors for their albums (ie, The Well) the imagery of this record is all about roots running deep and branches reaching high…
"It's all about the root system," Mark says. "Who you are and who God is. You've got to remember Him to know Him.
"Some believers are all reach," he says. "They're running, saving, rescuing, helping…trying to be everything to everyone and then the storm of life hits them. They want control and to make things work, but maybe there's no reason for it. You don't need to be awesome. He's already awesome."
No strangers to storms themselves, Mark and the rest of the gang write, speak, sing and live from a place of endurance and faith.
Just prior to the release of the new project, one of the band members' babies had a stroke. The fallout continued from there.
When Mark and his wife Melanie expanded their family through adoption, they jumped on a terrifying roller coaster of the baby's horrific digestive illnesses and conditions. The first several months of her life were spent in and out of hospitals.
Through it all, however, each time something else went wrong or fell apart, the men and women in Crowns, along with their families, were able to use their pain to reach others in pain… | CLICK HERE to read the full article