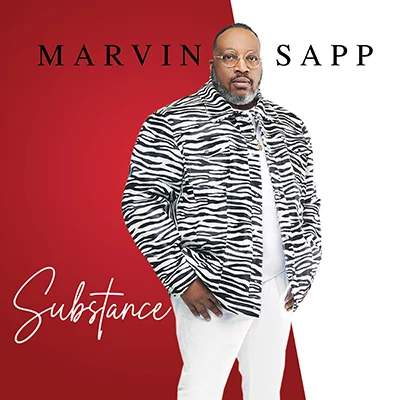 Dallas, TX (June 10, 2022)
Marvin Sapp is a mainstay in Gospel music in no small part because of his consistency. His 15th album, Substance—available now—is a lyrical and sonic masterpiece that demonstrates the depth and breadth of Marvin Sapp's musical gifting.
While Substance is Sapp's 15th offering, it is also a first: the first album released on his newly formed independent label Elev8 Music & Entertainment (distributed through Thirty Tigers), and it is the first album to be recorded in his newly built 2,400 square foot Fort Worth, Texas studio.
"Being the artist and the label was a new experience," says Sapp. "I'm used to recording the album, turning it in and letting the label do what it does best with administration, marketing and promotions. This time, I was the artist, conceptualizing and creating, and the label head, looking over budgets, production, marketing and promotions. It was a lot, but it was fulfilling. I've thought about having my own label for many years and now that I finally do, I embrace the challenge. I'm also grateful for long standing industry relationships that I have been able to call on for assistance and guidance when needed."
The lead single, "All In Your Hands," was written by Sapp and frequent collaborator Stan Jones. The luminous track speaks to the anxiety that so many of us continue to experience because of the COVID-19 pandemic and everything else happening in the world. "It speaks directly to the unsurety, the stress and pain and tells us that we do not have to worry about these things because God made us some promises, and we know He keeps His promises. We picked it as the first single because it sets the tone—thematically—for the entire album," says Sapp. "I wanted to deliver biblically-based lyrical content that would allow listeners to have their faith fortified and be entertained simultaneously."
The album also features "You Kept Me," co-written by Jarmone Davis, who penned Sapp's last #1 single "Thank You For It All." A track that will serve as a pleasant surprise is "Serve the Lord" featuring the Williams Singers. "This is going to be a Men's Day favorite," says Sapp. "I have never done a song like this in my entire career. It is quartet, but it is still current and it is funky. I had a lot of fun recording this and I think people are going to like it even though it is different for me."
YouTube Album Playlist:

Spotify Album Playlist:

Sapp revisited two of his classics and commissioned a remix of "Not the Time, Not the Place" and "Grace and Mercy." "This is a 25th anniversary edition of songs that I did early in my career that people still always want to hear. I gave them to a writer to flip and put his stamp on, and I love how it came out. I think people will enjoy it," says Sapp.
"My hope is that the musicality of Substance is so entertaining that people will listen to it over and over again. When something is repetitive, it grabs your spirit. I want to take people on a journey where—when they reach its end—they are better off than when they started, so much so that they want to experience it again. I try to use my God-given gift to create albums with no fillers; you can play any Marvin Sapp album from top to bottom and not want to skip anything. I want people to enjoy listening to my music, and to also have a strong spiritual takeaway." —Marvin Sapp