Casting Crowns lead singer Mark Hall is now recovering following surgery to remove one of his kidneys, after doctors detected a mass in that kidney. The directive from doctors was to remove the kidney then take readings on Mark's overall health; that would determine if further treatment like chemotherapy would be necessary.
The group kept fans up to date via social media; saying that everything could not have gone better. "The day started off with the band and close family and friends praying with us at the hospital. There was a feeling of Christian fellowship and a peace. Laughs and hugs.
I'm sure you've seen his silly hospital videos. He has been in great spirits today. He worked late last night and was pretty tired and ready to go to sleep. He asked the anesthesiologist if could just sleep till it was time to go home. 🙂 (She said no.)
Mark is out of surgery. Everything went really well. Dr says textbook operation. Just like we prayed for. I told the doctor that he might possibly be the most prayed for Dr. on the planet today. He will be in recovery for a while. Thank you so much for your prayers.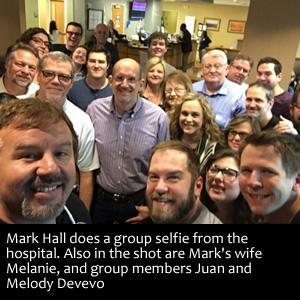 #PrayingforMark
Mark, for his part, was in good spirits. As a pastor and singer of a Christian music band, his expectation and directive was to share joy with others, but it turned out that he was the recipient! "Can't believe it, but so far every hospital staff person I've met so far has said they've been praying for us already. We came here prepared to love on them but they have been loving on us."
Continue to pray not only for a full recovery, but for complete healing.