Franklin, Tenn – GRAMMY-nominated band Building 429 is set to release their anticipated new studio album, Unashamed, September 25 (Essential Records). Building 429 – well-known as one of today's top artists due to their high-energy live shows, lyrically-driven and anthemic songs, and their constant message of hope through Christ – is already making an impact with the album's first single, "Impossible," which made label history this past spring by receiving 95 radio adds on its add date.
Collaborating with a strong team of producers for Unashamed including Seth Mosley, Casey Brown, Chuck Butler, Rob Hawkins and the team of Jason Ingram and Paul Mabury, Building 429 has worked intentionally to connect with the listener at a deeper level more than ever before. Jason Roy, the band's lead vocalist and guitarist, shares, "We wanted to be more honest and transparent about our struggles with an audience that needs to hear it."
Through their ten new songs, there's no question the band, which is comprised of Roy, Michael Anderson, Jesse Garcia and Aaron Branch, is taking the album's title to heart as they continue to boldly proclaim their faith, yet also making sure they don't leave behind those who are struggling in their faith walk. "With We Won't Be Shaken, we wanted to sow seeds of confidence, boldness and assurance," says Roy. "But, we realized we didn't admit to the doubt and struggles of the believer, that the messiness of getting to the place of confidence and boldness is part of the journey that can't necessarily be skipped over. We saw that as an opportunity for this album and believe that God has been a part of the whole process."
Unashamed showcases Building 429 digging deeper into God's word more than ever before, such as with their infectious hit "Impossible," which sings of life's trials yet knowing that nothing is impossible with God, and "Earth Shaker" which is about seizing the moment to truly live for God while we're here on earth. "Stronger" embraces the power of restoration, while the catchy song "Ocean Deep," the album's next single going for adds on the album's street date of Sept. 25, is about enjoying God's never-ending love for us. These four tunes along with the rest of the album encapsulate, in Roy's explanation, "Many late night conversations about God, politics and our country, about faith and our desperate desire to say something that would be of God, from God, and to God. When we started making the record we began with a simple thought: 'Let's be more honest than we've ever been before.'"
Through their well-known anthemic songs and energetic live shows, Building 429 is a band that has been touted throughout their 15-year career as "authentic, uplifting and unforgettable," along with being "truly focused on bringing glory to God." This past winter and spring, the Dove Award-winning band played to a record-breaking 600,000 fans over 47 dates during the WinterJam Tour. They are currently performing during the Women Of Faith Farewell Tour, appearing to over 150,000 women across the country.
Click here (Building429.com/tour) to view a list of the band's current tour dates.
Unashamed Track Listing:
1. Eyes Up
2. Impossible
3. Ocean Deep
4. Unashamed
5. Go
6. Earth Shaker
7. Be With Us Now (Emmanuel)
8. Hold Them Close
9. Hearts Collide
10. Stronger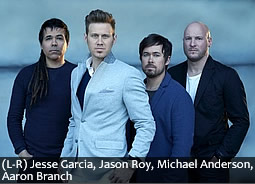 About Building 429:
The group's most recent project, We Won't Be Shaken, debuted at No.1 on Billboard's Christian Albums chart. The strength of the album resulted in the band's first GRAMMY nomination for Best Contemporary Christian Music Album. The first single and title track became a multi-week No. 1 hit on the Hot AC/CHR chart and AC Indicator charts, had over 246-million accumulative audience impressions, and was nominated for a Billboard 2014 Music Award for Top Christian Song and K-LOVE 2014 Fan Award in the Group or Duo of the Year category. The second single from the GRAMMY-nominated album, Press On, reached No. 3 on Billboard's Christian Singles Chart. For the second time in the band's career, Building 429 was honored with a BMI 2013 Song of the Year award for "Where I Belong," and the single garnered the group their first nomination from Billboard's 2013 Music Awards for Top Christian Song. At the same time, the 2013 K-LOVE Fan Awards nominated Building 429 as Breakthrough Artist of the Year.
The group's fifth studio project, Listen to the Sound in 2011, debuted at the top of iTunes' Christian & Gospel Albums chart. The title track hit No. 1 on the CHR chart and Top 5 on Billboard's National Christian Audience Chart. Follow up single "Made For You" reached Top 5 on the Christian CHR charts, while the project's third single, "Where I Belong," was the No. 1 song on Billboard's Christian Audience chart for 15 consecutive weeks. "Where I Belong" was Billboard's 2012 Christian Song of the Year, Christian AC Song of the Year, Christian Songs Artist of the Year and Christian AC Songs Artist of the Year.
Building 429 first broke through with its 2004 No. 1 hit "Glory Defined," which was named BMI's Christian Song of the Year in 2005. That same year, Building 429 was recognized as New Artist of the Year at the Gospel Music Association's Dove Awards.
To learn more about Building 429, visit them online at
Website: http://www.building429.com/
Facebook: https://www.facebook.com/building429
Twitter: https://twitter.com/building429
Instagram: https://instagram.com/Building429official
YouTube: https://www.youtube.com/user/B429