Britt Nicole fans have exciting news to talk about! On February 8 at 4:33 in the morning, Britt and her husband Joshua announced the birth of their second child, a baby boy weighing 8 pounds, named Adin Jerusalem Crosby.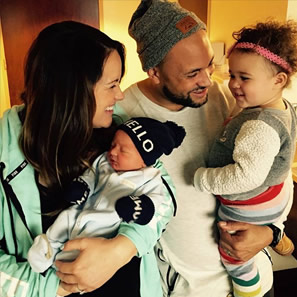 Britt shared the happy announcement on Instagram and Facebook: "So excited to announce the birth of our beautiful son! 🙂 born at 4:33 this morning and weighing 8 pounds! 🙂 he's my lil hero! I love him soooo much!!!!"
The couple married in 2012, and gave birth to their first child, Ella, in 2013. Pictured left is Britt Nicole and her husband Joshua with Ella and Adin.
Britt is also awaiting the release of a new album this spring, specifically March 17th. The CD will be a compilation of remixes of some of the Best of Britt.