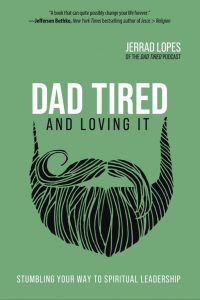 Nashville, TN (July 22, 2019)
Dad Tired And Loving It: Stumbling Your Way To Spiritual Leadership, the latest title from popular author/speaker/blogger and podcast host Jerrad Lopes, will be available September 3 from Harvest House Publishers. Helping men discern their roles as husbands and fathers within the bigger picture of God's plan, Dad Tired And Loving It unpacks practical advice and encouragement on a range of topics.
Founder of the Dad Tired Movement—a multi-faceted ministry and online community—Lopes candidly and humorously relates his own struggles as a young husband and father throughout the 192-page book. He challenges men to take the first steps to "stumble" their way through spiritual leadership rather than do nothing at all. Helping fathers point their families, community and world toward God by seeking humility instead of perfection, the book covers such concepts as not letting sin and shame stop men from leading their families; finding adventure in the Kingdom of God, not in the world; and creating Gospel-centered family memories.
Jerrad Lopes served as a pastor for more than a decade before launching the Dad Tired blog and podcast out of his own desire to be a better husband and father. The podcast has featured interviews with such renowned Christian leaders as Bob Goff, Jon Acuff, Paul David Tripp and Jefferson Bethke, among many others, and has been downloaded more than a million times since its debut nearly four years ago. Lopes is also a sought-after speaker at men's ministry events around the country and is the author of Fully Engaged: 10 Practical Ways To Point Your Family Toward Jesus.
"If you are a man seeking to fall more in love with Jesus and help your family do the same, this book is for you! Dad Tired and Loving It is different from typical manhood books that give you lists of all the things you 'should' be doing. Sure, you'll find practical and helpful advice here, but Jerrad Lopes consistently and vulnerably goes beneath the surface to ensure we are experiencing Jesus and putting our faith into action from a genuine and real place." —David Robbins, President and CEO, FamilyLife
"If you want to read a book that can quite possibly change your life forever, this is the one. It's stunning and encouraging and captivating all in one. Dads, we are called to something so much greater, and Jerrad points the way through his own story. Get this book!" —Jefferson Bethke, New York Times bestselling author of Jesus > Religion