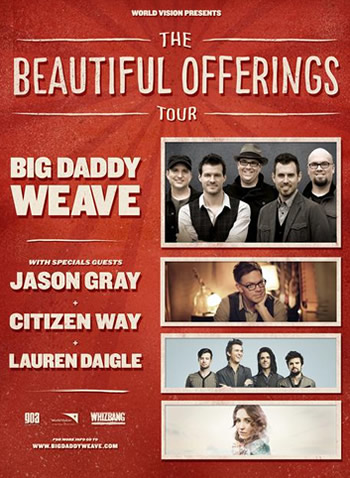 BIG DADDY WEAVE'S BEAUTIFUL OFFERINGS TOUR
LAUNCHES SPRING LEG WITH NEW LINE-UP
Featuring Jason Gray, Citizen Way and Lauren Daigle
Nashville, TN, February 3, 2015 — Top Christian music touring artist Big Daddy Weave announces the launch of the spring leg of their tremendously successful 'Beautiful Offerings Tour'. The 44-city tour, which has already sold out four shows prior to the formal tour announcement, begins February 12 and includes special guest artists Jason Gray, Citizen Way and Lauren Daigle (see tour schedule below/final schedule TBA).
The tour follows one of the band's most successful years on the road and at radio. 'The Beautiful Offerings Tour' premiered in fall 2014 as the launch of a Big Daddy Weave-driven event tour, a la Winter Jam or Rock & Worship Road Show. The Beautiful Offerings format is one of community among the artists and the audience, celebrating that having been redeemed and made beautiful by God, our lives and worship are offerings to Him. To personify this community, Big Daddy Weave performs as musical accompaniment for the tour artists, playing the radio hits in a fast-paced first set. The second set sees all of the artists on stage performing well-known worship music together in union with the audience.
"God has shown up in such a powerful way on these tours," shares Mike Weaver of Big Daddy Weave. "We continue to be blown away by His great love for us and for the people that we get to play for every night. 'The Beautiful Offerings Tour' has been an especially sweet season, performing with artists who are our close friends. We're looking forward to a great collaboration in music and ministry with our friends Jason Gray and Citizen Way and our new friend Lauren Daigle, who is hands down my favorite new voice in Christian music. Her amazing talent is coupled with such a wonderful heart for Jesus. I can't wait to share this evening with people all over the country."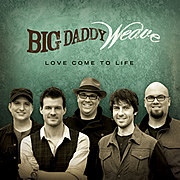 The first leg of 'The Beautiful Offerings Tour', which took place in the fall of 2014, saw record attendance numbers for the band with multiple sold-out shows. Big Daddy Weave's most recent album release, Love Come to Life has now scored four #1 singles and propelled them to be the second most played artist on Christian AC Monitored stations in 2014. The group recently received a nomination for Worship Song of the Year and the opportunity for fans to vote them to appear on a 7-UP can at the K-LOVE Fan Awards. The nominations were announced just days after returning from a World Vision trip to Cambodia and a performance at the esteemed Brooklyn Tabernacle.
A long-time partner with World Vision, having connected over 13,000 caring fans with children in need through child sponsorship, Big Daddy Weave will continue that trend, incorporating video and stories from their recent trip to Cambodia throughout the tour in an effort to raise awareness of how all can help with the needs of others here and abroad.
In the midst of their extensive touring schedule and other ministry commitments, the band will spend the first half of the year readying their first studio album since 2012, slated for Fall 2015.
Click here for full 'Beautiful Offerings Tour' listing and ticket information. K-LOVE Fan Awards voting is open May 1-May 30. More information can be found here.
The Beautiful Offerings Tour
2015 schedule
FEB
12 Waukesha, WI
13 West Des Moines, IA
14 Omaha, NE – Sold Out
15 Sioux Falls, SD – Sold Out
17 Somerset, KY
18 Flint, MI
19 Urbana, IL – Sold Out
20 Paragould, AR
21 Memphis, TN
22 Gulfport, MS – Sold Out
MAR
26 Brunswick, OH
27 Louisville, KY
28 Oswego, IL
29 Attica, IN
APR
1 Billings, MT
2 Cheyenne, WY
3 Denver, CO
16 Stephenville, TX
17 Bryan, TX
18 Odessa, TX
19 Roswell, MN
20 Oro Valley, AZ
21 St. George, UT
22 Layton, UT
26 Everett, WA
MAY
7 Portland, OR
8 Coos Bay, OR
11 Modesto, CA
12 Oceanside, CA
13 Las Vegas, NV
14 Phoenix, AZ
15 Albuquerque, NM
16 Oklahoma City, OK