AUDIO ADRENALINE DEBUTS HIGHLY-ANTICIPATED LEAD SINGLE FROM FORTHCOMING FAIR TRADE SOPHOMORE SET

Legendary Band's New Lineup Hits The Road With Newsboys This Spring
NASHVILLE, Tenn.— "Love Was Stronger," the highly-anticipated new single from two-time GRAMMY® Award-winning recording artist and one of Christian music's most popular bands, Audio Adrenaline, drops today, in advance of the May 5 release of the group's Fair Trade Services sophomore album, Sound of the Saints. In addition, a new group of musicians is unveiled as Audio Adrenaline hits the road with Newsboys' "We Believe…God's Not Dead" 2015 Spring Tour.
Audio Adrenaline begins the next chapter in their history-making tenure with a new lineup featuring former Stellar Kart frontman Adam Agee, along with Dave Stovall, formerly of Wavorly; guitarist Brandon Bagby, whose touring credits include Plumb and Seventh Day Slumber; and drummer Jack Campbell. This year also marks the transition of group co-founder and bassist Will McGinniss from touring to an increased role with the Hands & Feet Project, an organization he co-founded, where he currently serves as president of the board.
"The last several years have been an incredible blast and honor," said McGinniss. "To get to bring back Audio A, for one sole purpose — to champion the cause of the orphan and abandoned children through our work at the Hands & Feet Project in Haiti—was incredible. But now God is calling me to a new season in Him off the road. I have every confidence that with this new group of guys and an incredible bunch of new songs, Audio A will be all about that same goal. I pray God's heart and blessing over them."
"I'm so excited to be a part of the ongoing legacy that is Audio Adrenaline," said Adam Agee, Audio Adrenaline lead vocalist. "The band was a huge influence on me and my decision to pursue music. My hope is to continue to inspire Audio A fans with new songs we are passionate about. We can't wait to share them live as we hit the road with the Newsboys this spring."
Following the band's hiatus in 2007 in the wake of former lead singer Mark Stuart's vocal health issues, a new lineup of veteran artists rekindled Audio Adrenaline in 2012. Continuing on to answer the band's original call to bring the story of orphans in Haiti — and around the world — to the forefront, Audio Adrenaline partnered with Fair Trade Services and the Know Hope Foundation to release Kings & Queens, which saw multiple radio singles impact listeners, including the smash title-cut.
Audiences across the country will be able to preview new music from Audio Adrenaline's Sound of the Saints during Newsboys' "We Believe…God's Not Dead" tour, also featuring Finding Favour and introducing John Tibbs. Sponsored by Food for the Hungry and Liberty University, the tour begins February 12 in Fayetteville, North Carolina, and will stop in more than 40 cities before concluding May 9 in Greensboro, North Carolina.
"Watching the guys practice for this upcoming tour and record has been such a joy," said Audio Adrenaline founding member Mark Stuart. "Hearing the old classics with the new Audio A message makes me proud to be part of a legacy that continues to focus on the Glory of Christ and the absolute joy of becoming His hands and feet."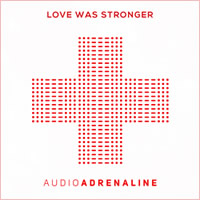 "Love Was Stronger," the band's highly anticipated new single, is available on iTunes and other digital outlets today and goes for adds at Christian radio February 13.
Since their debut in 1986, Audio Adrenaline has been one of Christian music's best-loved bands. The group has garnered two GRAMMY® Awards for Best Rock Gospel Album (Worldwide, Until My Heart Caves In); five GMA Dove Awards; a Gold-certified recording (Bloom); and 14 #1 Christian radio singles, including signature songs "Big House," "Get Down" and "Hands And Feet." In 2004 the band created the Hands & Feet Project to "raise a generation of orphans who will grow into men and women who will have a relationship with Christ and be leaders in their communities." In addition to constructing Children's Villages near Jacmel and Grand Goave, Haiti, Hands & Feet continues to impact orphans and children throughout the country.
For more information, visit audioa.com
Follow Audio Adrenaline on twitter @audioadrenaline.