Nashville, TN (December 14, 2018)
PBS sensation and Emmy-nominated, award-winning folk group, Annie Moses Band, known for its fiery string playing and soulful renditions of beloved American songs, releases today its first single, "Jesus Christ the Apple Tree," from the group's upcoming (March 2019) studio album Under the Tree of Life. Releasing from ManAlive Records with global distribution from The Fuel Music, the song is available now at all digital providers.
From the opening line of the song that states – The tree of life my soul hath seen. Laden with fruit and always green… to the closing lyrics: This fruit does make my soul to thrive. It keeps my dying faith alive. Which makes my soul in haste to be, With Jesus Christ the apple tree, the listener experiences a slow build to an emotional climax, illustrating the band's ability to find new, avant-garde dimensions in revered melodies. The original hymn is painted with stunning instrumental colors and a transfixing vocal performance by Annie Dupre, the Band's lead vocalist and violinist.
"'Jesus Christ the Apple Tree' was in our minds from the very beginning of this new album," says Dupre. "It's a song that our family has loved for years. The focus on the Tree of Life and its connection to the healing of Christ sums up the scope of the album in a beautiful way."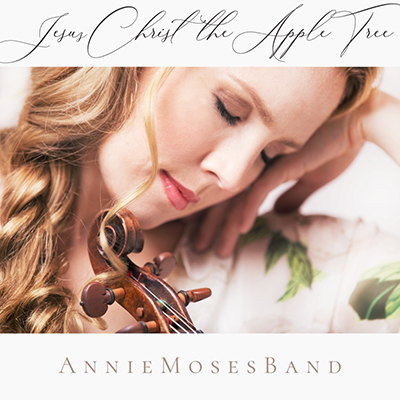 In addition to "Jesus Christ the Apple Tree," releasing today is O Holy Night: An Annie Moses Band Christmas Special. The special is available to stream (rent) now through AnnieMosesBand.com at ManAliveTV LINK or for purchase on DVD at Annie Moses Band Store. To view the video trailer, go to https://www.anniemosesband.com.