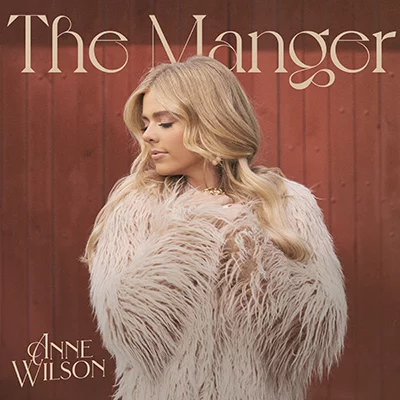 Nashville, TN (October 31, 2022)
Capitol CMG artist and songwriter Anne Wilson surprised fans with her first-ever Christmas project, The Manger, available everywhere now. The project's standout title-track "The Manger" features revered Country mainstay Josh Turner for an emotional Christmas duet, released with an all-new lyric video. Other project favorites include Wilson's renditions of holiday hymns like "Mary Did You Know" and "O Holy Night," to the poignant "Just Because It's Christmas" and the countryfied "Kentucky Fried Christmas," fit for anyone's Christmas playlist wishes.
'The Manger' with Josh Turner Official Lyric Video:

"There's something just so special about the night that Jesus was born," shares Wilson. "He came to earth in such a humble and lowly way and His love was on display for all of us to see. I'm so grateful for this project and I hope these songs bless you this Holiday season."
Building off the momentum of her debut chart-breaker "My Jesus" that catapulted the Lexington, KY native to mainstream success, the breakout song led Wilson to be nominated for six Dove Awards on Friday, Oct. 21. Wilson walked away with Pop/Contemporary Recorded Song of the Year and was crowned as Dove's New Artist of the Year. Adding yet another notch to her belt, the rising female songstress was also tapped as a nominee for Favorite Inspirational Music Artist at the American Music Awards, airing live from Microsoft Theater at L.A. LIVE in Los Angeles on Sunday, Nov. 20 at 8 p.m. EST/PST on ABC.
Just days before her surprise Christmas project Wilson released her first book My Jesus: From Heartache to Hope from Thomas Nelson on Tuesday, Oct. 25. Drawing from her personal experiences of tragedy and loss, Wilson details her path to healing in this book that she hopes will help those going through similar experiences.
YouTube Album Playlist:

Spotify Album Playlist:

The Manger track list:
1. "I Still Believe In Christmas"
2. "The Manger (with Josh Turner)"
3. "O Holy Night"
4. "Mary, Did You Know?"
5. "Just Because It's Christmas"
6. "Kentucky Fried Christmas"
Photo credit: David McClister, Cameron Powell