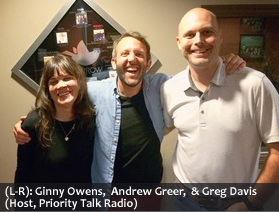 Andrew Greer and Ginny Owens Media Day in Birmingham, AL
Authors Promoting Transcending Mysteries from Thomas Nelson
Nashville, Tenn. (April 27, 2015) — National recording artists and authors, Andrew Greer and Ginny Owens, headed to Birmingham, AL recently in support of their new book, Transcending Mysteries, published by Thomas Nelson's Refraction collection, a division of HarperCollins Christian Publishing. Media stops included interviews with Good Day Alabama, Alabama Baptist, Priority Talk Radio and WDJC-FM with on-air personality, Justin Brown.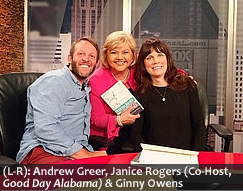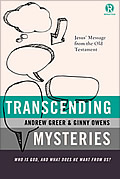 Transcending Mysteries takes readers on a journey to answer the question: is the God of the Old Testament the same God we relate to and worship today? Using Old Testament stories Andrew and Ginny help Christ-followers reconcile a New Testament Redeemer with an Old Testament God and understand what God really wants from His people. They dialog back and forth as they share their own stories of struggle and surrender.
For more information about Transcending Mysteries and the Refraction Collection, please visit online at RefractionBooks.com.