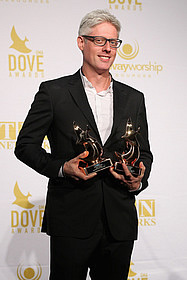 NASHVILLE, Tenn. – Tonight, the 46th Annual GMA Dove Awards were handed out in 41 categories, as well as 4 special awards. Co-hosted by Erica Campbell and Sadie Robertson, the night drew a record attendance at the Allen Arena on the campus of Lipscomb University. The entire show will broadcast exclusively on Trinity Broadcasting Network (TBN) on Sunday, October 18th at 9:00PM CST. For a full list of winners, please click: 46th Annual DOVE AWARD WINNERS

List of televised award winners:
Song of the Year:  "How Can It Be," – Lauren Daigle (writers) Jason Ingram, Jeff Johnson, Paul Mabury
Artist of the Year:  Lecrae
New Artist of the Year: Lauren Daigle
Southern Gospel Album of Year:  Pray Now – Karen Peck & New River (producer) Wayne Haun
Contemporary Gospel/Urban Recorded Song of the Year: "I Luh God (ft. Big Shizz)" – Erica Campbell (writers) Warren Campbell, Erica Campbell, Lashawn Daniels
Rap/Hip Hop Album of the Year:  Anomaly – Lecrae (producers) Dirty Rice, Joseph Prielozny, Street Symphony, S1, J. Rhodes, 808XEIite, GAWVI, Nate Robinson, Mashell, Derke Minor, Vohnbeatz, Lasanna, "Ace" Harris, Alex Medina, Jaquebeatz
Pop/Contemporary Album of the Year:  RUN WILD. LIVE FREE. LOVE STRONG – for King & Country (producers) Seth Mosley, Tedd T. Matte Hales, Ben Glover
Gospel Artist of the Year: Tasha Cobbs

Praise and Worship Song of the Year: "Because He Lives (Amen)" – Matt Maher (writers) Chris Tomlin, Daniel Carson, Ed Cash, Gloria Gaither, Jason Ingram, Matt Maher, Bill Gaither
Inspirational Film: Mom's Night Out (directors) The Erwin Brothers, (producers) Affirm Films, FourBoys Ent. Provident Films, Pure Flix Ent. And TriStar Pictures
Special recognition honors also presented this evening include:
Lifetime Achievement Award – Bobby Jones Gospel and John Rivers 20 The Countdown Magazine
GMA IMPACT AWARD – YouTube
The Outstanding Mainstream Contribution to Gospel Music Award – Mark Burnett and Roma Downey
Radio Impact Award – CCM – The Joy FM, Southern Gospel – enlighten, Gospel – WPRS – FM 104.1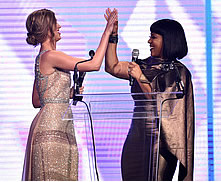 "We as a body, we as Christians have a legacy to lead about love. We want to allow it to permeate and leave God's legacy behind." – Lauren Daigle"I think receiving an award is sometimes a challenge for us. Thank you so much for believing in us. We're better together!" – for King and Country"The great thing about a song is God takes your life and I'm so grateful for the church. We live in a tie where music is in a weird place. I just want to thank Jesus for the church." – Matt Maher

"The theme better together, I'm so excited about this. Revival is going on. I see it in the theater. I'm so excited to stand shoulder to shoulder with my brothers, to see massive change. I'm excited to be up next with Woodlawn, a story about Revival. A story in 1974 to see what God did in the Jesus movement. God did it once with the Jesus movement. We need it again." – Andrew Erwin

"What we have here is three pastors, one microphone, and an enthusiastic audience. You know what that can mean….." – Phillips Craig and Dean

"My prayer is that I don't want anything to upstage me. I want my flesh to die and him to rise so he always shines!" – Erica Campbell

"My prayer is that God keeps me at his feet. He keeps me humble at his feet." – Tasha Cobbs

Official images provided by John Shearer and Terry Wyatt of Getty Images for the 46th Annual GMA Dove Awards:
46th Annual GMA Dove Awards – Arrivals http://mm.gettyimages.com/mm/nicePath/gyipa_public?nav=pr303953686
46th Annual GMA Dove Awards – Pre-Telecast http://mm.gettyimages.com/mm/nicePath/gyipa_public?nav=pr303953886
46th Annual GMA Dove Awards – Show
http://mm.gettyimages.com/mm/nicePath/gyipa_public?nav=pr303953961
Joseph Habedank and Kirk Whalum were the co-hosts of the pre-show ceremony where over 30 of the awards were received and outstanding performances were made by many of today's top artists. Both the preshow and the Dove Cares Red Carpet were streamed on www.hearitfirst.com/live.
Tonight's 41 award presentations represent a wide-array of musical styles ranging from Gospel, Contemporary Christian, Rap/Hip-Hop, Urban, Country, Worship, Contemporary and Traditional Gospel, Rock, Pop, Bluegrass, Spanish Language and Inspirational categories.
Special thanks to this year's partners: TBN, Lipscomb University, Salem Broadcasting, CCM Magazine, Country Outfitters, Billboard Magazine, LifeWay, CCLI, Sound Exchange, Compassion International, Birdsong Creative, De Lux Productions, The OverFlow, Mad Marketplace, National Museum of African American Music, YesLord Radio!, 760AM, Simple Grace and BMI.
The memberships of the GMA (Gospel Music Association) determine the winners in each category. Kraft CPA is the official accounting firm for the GMA.
About GMA:
Founded in 1964, the Gospel Music Association serves as the face and voice for the Gospel/Christian music community and is dedicated to exposing, promoting and celebrating the Gospel through music of all styles including Pop, Rock, Praise & Worship, Urban Gospel, R&B, Hip Hop, Southern Gospel, Bluegrass, Country and more. The GMA community includes agents, artists, church leaders, managers, promoters, radio personnel, record company executives, retailers, songwriters and other industry visionaries. The GMA produces the GMA Dove Awards and IMMERSE. For more on supporting the GMA or becoming a member, please visit www.gospelmusic.org.