Matters of Love … Music, Mentorship and Race: A Conversation with Andrew Greer (to watch interview on this page, please click the "play" button above)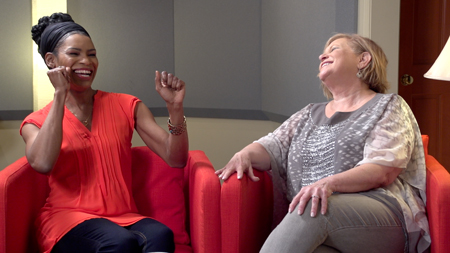 Nicole C. is infamous for mesmerizing audiences across the globe with a diverse set list of musical styles, a focused message of spiritual love and a gaggle of high-energy kids who can bust a move. A spin-off of her Baby Girls Club mentorship collective, Nicole's back-up troupe of dancing youth perfectly examples the internationally renowned singer-songwriter's exceptional marriage of musical pursuits and motivation to mentor the next generation of creatives under a banner of faith and service—regardless of race.
When Sandi Patty's career first began to take off in the early 1980's, it was a pair of rafter-raising duets with gospel music's leading man, Larnelle Harris, that earned her two GRAMMY's and secured her star in the realm of inspirational music. But it wasn't until much later that Sandi, a Caucasian woman, learned that her more-than-wonderful partnerships with Larnelle, an African-American man, were taboo among many listeners—including those firmly planted in the church.
So when Nicole C. and Sandi P. first began sharing the stage as a part of Women Of Faith's mega-conference tours ten years ago, the widely respected performers connected on several fronts—as women, as mothers of multi-ethnic families, as ministers of the Gospel through song, and as artists who believe the power of music can unify people and heal the cultural divides created by long-standing racial prejudice.
In this oh-so-rare joint interview, the Dove Award-winning female vocalists engage in an enlightening conversation illuminating, of all things, love … through topics of music, mentorship and race.
CCM Magazine: How did you two first get to know one another?
Sandi Patty: Well, first of all, she stole the song I wanted. "Redeemer". [Laughs]
Nicole C.: Oh, whatever.  And she stole all the songs I wanted. [Laughs]
SP: Where we really got to know each other was through Women of Faith.  I just love this girl.  She's my sister.
CCM: Nicole, how has Sandi's music personally influenced you?
NC: I could go on for days.  Growing up we listened to Sandi.  Of course, we're not that far apart in age.  We just pretend. I just pretend.  [Laughs]
She was one of the first people that I saw not only minister to the hearing, but also to the hearing impaired when she signed.  I remember seeing her sign "We Shall Behold Him."  I thought, Oh my goodness.  I'm going to be like her in many ways.  She inspired me.  Now I do a little bit of it, because she did a lot of it.
SP: Is that why you started [signing] "Redeemer"?
NC: Yeah.
SP: I never knew that! I saw Reba Rambo do it, and that's why I wanted to do it.
NC: Just watching [Sandi] and her life, not just on stage, but off the stage, not only did she become a great friend, but she's a sister.  And to see her humility. Even at Women of Faith, every night she would bring the house down. But her vulnerability. Her honesty. Her love for the Lord. Her ability to walk the earth even as she drew you toward heaven. Seeing that marriage of the two inspired me to think, When you take the stage, never water anything down.  But you break it down. And you serve it as a platter of grace, as I watched her do.
To see how she honored her fans, that was a huge thing. In our industry there are those who allow the stage to go to their head. They walk off the stage and somebody says, "Hello," and they can't say "Hi" back.  That was never her story.
SP: Well that's who we work for.
NC: Absolutely. And to see her be real, and to model Christ in a way that was not religious but was tangible, it speaks volumes to me.  I love her for many reasons.
Every time we see each other it's a giggle fest! But we'll try to keep it together now.  Wait until the cameras are off.  [Laughs]
CCM: Sandi, mentoring seems to be a theme in your relationships with other artists. Natalie Grant. Michael Tait. What's interesting to me, yeah there's not always a huge age difference, but there does seem to be this looking up to you.
NC: It's a stage difference. You're at a different stage.
CCM: So, not a "platform", but a different stage in life, right? Is being a mentor something you desire?  
SP: I have always felt like God has brought people across my path.  You need people in your life who are at a different stage, as Nicole said.  I wish I had had that when I was a young artist, and so I feel like that is a little bit of the motive.
[Nicole], you and I have talked some heavy, heavy stuff, and you just need to know you are not alone. I am a little further down the path than you, and I can say, "You know what?  It's hard right now. But it's going to be okay."  So just trust that.
I'm just going to put this out there, too. One of the things that we have conversed about, that I wish Christians could be more comfortable with, is race. I love what you say, "It describes you. It doesn't define you." So it's not like we have to walk around and say …
NC: "I don't see it."
SP: No! It's beautiful! But don't stop there. We can talk about reconciliation all we want, but could my son marry your daughter?  If you cannot answer that question, then we have nothing to talk about.
NC: Then it's not true.  It's not real.
SP: That's right.
Our youngest son is African-American and Native American. Auntie Nicole has helped speak into him in ways that I can't. I appreciate you helping me raise my son, and helping me begin the conversation. A lot of times we don't know how to start the conversation, so then we just don't have a conversation.
NC:  Or we have it privately among ourselves and it never crosses any lines …
CCM: … or test any boundaries.  To me, conversation sparks questions, and questions open us up to the mystery of God.  So the inability to talk race in the church, is, to some degree, our desire to keep God boxed in. How does music help us explore these topics safely?
SP: I didn't realize until many years after Larnelle Harris and I sang together, that was not a cool thing to do … for a white woman and a black man to sing together.  This was the 80's! So modeling is where it starts. I just started grabbing Larnelle's hand while we were singing!
NC: Exactly!  Let's give them something to talk about for real!  [Laughs]
SP: Sometimes, we're afraid to talk about it because it comes out really uncomfortable and you don't want to offend. If we continue to establish a safe place, then you can overlook a stupid way I might say something.
NC: Or vice-versa.
I'm working on a book about multi-cultural sisterhood.  How do we say the awkward things without making the other person feel guilty?  How can we step over the boundary of being just acquaintances, to become friends, and then sisters? We are family, especially those that are of the household of God.  We are part of the same kingdom.  Black, white, gray, it doesn't matter.  Blue!  The hues of our skin should not determine the color of our hearts.
CCM: I don't want to oversimplify this, but we're talking about love. When we look at Jesus' life and scripture, what is it that Matthew 22 says?  "Love the Lord your God with all your heart, soul and mind.  Love your neighbor as yourself."  And then the verse after that, that I don't know that we always pay attention to, "All the law and the prophets hinge on these two things."
SP: Yup.  Summed up in them.
CCM: So does music say things more easily when it comes to matters of love?
NC: Yes. People will afford you four minutes to say something that's hard and awkward if it's coupled with the right sound, or the right melody, or the right notes.  For us, music has been a conduit to speak about color, about ethnicity, about the love of Christ across boundaries, because people's hearts are a little wider when they are being serenaded.
SP: Music is one of God's most beautiful creations. Christian music is the only genre that doesn't define the musical style.  You say, "Jazz". You say, "Classical".  Okay, I know what kind of music [that is].  When you say, "Christian music", you got her and me in the same boat!  So it's about the message.
You take a powerful life force like music and put life-changing lyrics on that … there's revival. Revival in our hearts. In our world. In our families. And in the greater world.  Both of us are very passionate about leaving a legacy of something better.
CCM: Both of you are leaving legacies of help and hope through your humanitarian efforts. Why do you think it is important we carve out spaces to look at the needs of our neighbors?
NC: If we don't, we become like the Dead Sea. There's no outlet.  We are called to receive and to give.
For me, it's in mentorship.  I have a non-profit … Baby Girls Club.  We had Team NCM that was under that umbrella as well.  We have a model of it in the countries of Belize and Zambia, and are praying to expand.  It's a way for me to be able to speak up for those who can't, and to grow them in the faith, in the arts, and the things that are on their hearts.  So music has been a conduit for that, and it's a way for us to invite other people to get involved.
SP: I was one of those teenagers that prayed, "Please don't send me far away, God. Please. I don't want to.  Don't."  Because you would hear stories, "Send me …
SP & NC: … to Africa!"
NC:  Girl, I was with you for the longest time.  Look now!  [Laughs]
SP: Our world has become so small. There is something that we can do.  I am very much an advocate for water.   There are women who play Russian Roulette with their babies everyday when they go to get dirty water.
I was in Sierra Leone and walked with a woman a mile, fifty pounds of water on her head.  She got the water, which is filthy.  They didn't even want me to stand in it.  I thought, You know what?  If they are standing in it, I'm standing in it.  I put [the water] on my head.
NC: Did it break your neck?
SP: Just about.  She had to take it off.  And she was so tiny. Through the interpreter she said, "Have you never carried water on your head?"  And I said, "No ma'am.  I haven't."  She looked at me and this is all she did … [shaking her finger side to side] … "Tsk. Tsk. Tsk."
NC: Wow.
SP: I don't want to be that person that doesn't know.  I don't want those children to say, "She could've done that.  But, Tsk. Tsk. Tsk.  She didn't".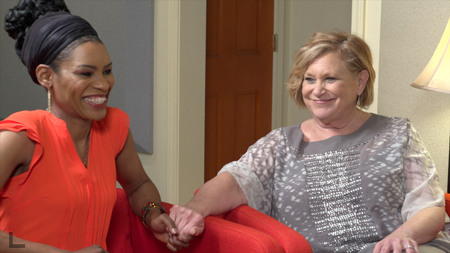 CCM: William Wilberforce, an English theologian and abolitionist, was quoted as saying, "You may choose to look the other way, but you can never say again that you did not know."
SP: Yup. We can no longer say nothing. They are our neighbors, and we are called to take care of the widow and the orphans.
NC: [Outside of the United States] there is this upside down kingdom, where the rich are poor and the poor are rich.  I find among those who don't have a lot, they are good at taking very little and doing a lot with it.  We're guilty of taking a lot and doing very little with it.  That has been convicting for me.
Whenever the latest gadget came out, I always had to have it.  So for the past several years I've denied myself my upgrade plan. I don't have to have it.  I don't want to be a slave to it. I want to be a slave to Christ.  And I want to be a slave to other people, to serve and to help them.
CCM: "Slave to Christ," I think I understand that.  But "slave to people", what a powerful statement, Nicole. Can you break that down for me?
NC: It's about me choosing to serve, choosing to love my neighbor the same way I would love myself.  We live in a narcissistic culture, where everything is done for "me".  But if I'm to love you the way I love me, I must at one point volunteer myself to serve you the way I would serve myself. That would look a bit like slavery.
I'm not saying put my neck in chains. I'm not being disrespectful to our ancestors or other people's ancestors in this comment, but we are called to be slaves of Christ. And we are called to serve and to love each other, I believe, in a way that would look to our society much like slavery.
SP: I could not agree with you more. If we would approach every day in choosing to serve others … Jesus says it. Why do we doubt it? That's how they will know you are my followers. If you love.
NC: And love is inconvenient.  It's messy.
SP: It's risky.
NC: It's expensive.
SP: Time-consuming.
NC: Very much so.  It's the nature of love.  And that's what we're called to do. I mean, we're free slaves.  We're slaves to Christ, and at the same time, we are joint heirs with Him.  We're sons and daughters.
SP: [singing] Joint heirs with Jesus as we travel this sod …
SP & NC: [singing together] … 'Cause I'm part of the family, the family of God.
SP: You're welcome, Bill Gaither.
SP & NC: [Laughs]