I've loved We Are Messengers since before they were We Are Messengers.
I'd followed Darren Mulligan's journey since he was in Ireland, operating as the frontman of The Remission Flow, signed his visa vouchers to get him to the U.S., and watched with great interest as God positioned his new band for great things.
He's the real deal.
I just love the way Darren spends time at his booth after shows, realizing fully that the performance isn't the main thing — connecting with people is the main thing. He's a man on a mission, and I'm just here to say he's worth paying attention to.
Here's my favorite song of We Are Messengers at present (from The Shack soundtrack), "I'll Think About You":
We Are Messengers has a new single out there that is catching a lot of people by surprise. Lyrically, it's suggesting that being broken isn't necessarily a bad thing. "Maybe It's OK" is the song, and it suggests that coming to God (and others) humbly and authentically is the place where healing begins.
Not content to just add to the musical landscape, We Are Messengers started a website, www.MaybeItsOK.com, where people can share their anonymous struggles and worries — as well as share positive messages for others who are struggling.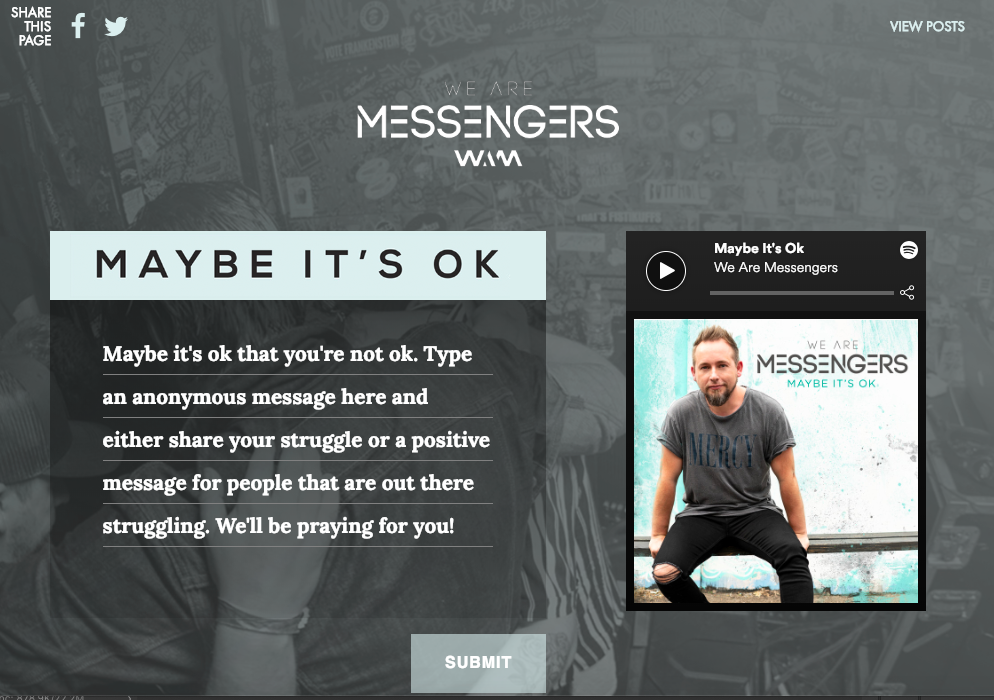 It's an important place to just come as you are. If you're struggling, see what effect it has to share what you're going through. If you aren't struggling right now, share your hope and perspective with those who are.
I love these guys!