While much of Lizza Connor's career as a singer/songwriter has taken a roots rock/ Americana direction that found her sharing stages with Vince Gill, Andrew Osenga and scoring a coveted Merlefest Songwriting Award, becoming a mother has shifted her muse towards more family-minded material. On this first ever children's album Commander Salamander, her foot-stomping acoustics and sophisticated knack for craftsmanship remains, but the lyrics take a decidedly playful tone for the young (and young at heart). Catch more from Connor about her recent changes musically, personally and geographically during a recent conversation with CCM.
CCM: Why did you decide to switch from straight up singer/songwriter material to more of a children's direction?
LIZZA CONNOR: It was pure inspiration that led me to where I am today. As I bumbled my way through my first months of motherhood, these songs began to bubble up, and Commander Salamander took shape. Granted, they sounded different than what I'd penned pre-parenthood. Here were songs unfolding about slimy lizards and slippery noodles. My hilarious children and their sweet, mischievous pals inspired every ounce of content.
CCM: Though your music is directed at younger listeners, it seems to have an adult-friendly musical feel as well. Why was that so important to you?
CONNOR: My goal is to make music that families can enjoy together — songs that won't drive parents crazy when the music is on repeat in the car — and of course, to inspire the spontaneous dance party. Kids innately love to move, so giving them a song with rhythm is key.
CCM: What type of frame of mind do you have to be in to write these types of songs?
CONNOR: As a mom of two — ages one and two years — I'm in the frame of mind to write children's music at all times. Watching my own kids growing up provides such a rich source of inspiration.
CCM: What has your move from Nashville to Dallas done for your career and creativity?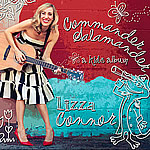 CONNOR: I have such fond feelings for Nashville. I wrote and recorded Commander Salamander in Nashville with my dearest, talented musical friends playing on the CD. My family moved to Dallas the day after I finished recording, but I've fallen in love with Dallas. There is an open, vibrant and collaborative creative community here. As soon as I got here, folks reached out and everybody said, "How can we help with what you're doing?" I'm excited about the response to my music here. I'm playing seven shows in the next two weeks! It's been so fun to connect with these kids and parents, and I love playing music for them.