Just two years ago, Tasha Cobbs was a relative unknown in the world of gospel
music. Today, millions worldwide avidly follow the charismatic, Atlanta-based worship leader. The instantly recognizable corporate worship tune, "Break Every Chain," helped propel her debut record, Grace, onto Billboard's Top Gospel Albums chart, where it has remained for two years (and counting).
Eliciting swarms of critic and consumer praise—including a prestigious trifecta of Dove, Stellar and GRAMMY Awards—Grace transformed Cobbs' platform from a regionally-recognized worship leader and church arts mentor into one of gospel music's core singer-songwriters seemingly overnight. But right in the middle of her meteoric rise, Bishop Frtiz Cobbs—her father and mentor—passed away.
As the powerhouse singer proclaimed the goodness of God on stage each night, behind the curtain her heart hurt with the void left by her father's unexpected passing. In the midst of her grief. Cobbs began to claim for herself promises she sang over audiences night after night—the spiritual truths her father had taught her growing up—for her own heart and life.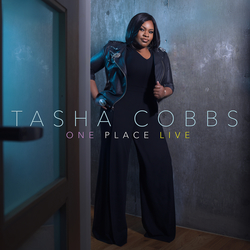 On the heels of the release of her sophomore set, One Place Live (Motown Gospel)—recorded live at Redemption Church in Greenville, South Carolina with fellow leading singer-songwriter ladies Kierra Sheard and Jamie Grace—the ministerial songstress discusses the pressures behind recording the follow-up to such a magnificent debut and the heartbeat behind the music she creates for the church.
CCM: With the success of your first record, you could have utilized the protective corridors of the recording studio to create the follow-up One Place Live. What compelled you to go with the live experience?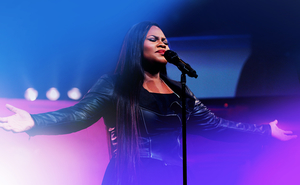 Tasha Cobbs: I'm a worship leader! Standing before a group of people who are ready to worship is always my preference. I'm sure there will be certain situations that call for a studio recording, but for now I always see myself doing solo projects in a live setting. I love the energy that the worshippers bring. Nothing can compare.
CCM: Grace was a huge success, garnering a mantle of awards. In fact, two years later the record is still charting in the Top 10. What kind of pressures does that create in recording your sophomore set, and how do you deal with those pressures—personally, creatively and spiritually?
TC: I've always been the type of person who doesn't have a problem moving forward with what's next. I believe Grace will forever be saying what it was intended to say. The songs are classic and will help people remain in a place of worship for years to come.
With the new project, One Place Live, my focus was the same. I'm not a parent, but I can imagine what it's like having children. Each of them have their own gifts, talents, and anointing. You love them with the same heart, but you nurture and navigate them in different ways according to their assignment.
CCM: Spiritually, how do you handle the celebrity birthed from such a successful project? Does it create tension and conflict with a worship leader's responsibility to direct attention towards God?
TC: Honestly, this has been the most difficult thing for me. [In the past] I would always think, I live my life to bring fame to Jesus' name. So why is it bringing focus to me? One of my mentors helped by telling me that it's okay to appreciate the messenger who has been used to deliver the message that changed a life. So, I'm much better now! [Laughs]
CCM: You enlisted VaShawn Mitchell to also produce this project. How did that collaboration come about for a second time, and how did his unique musicianship influence this set list?
TC: There is no reason to reinvent the wheel. We work together so well and he understands my assignment. I trust his wisdom and experience, so I always share with him my thoughts on the songs I'm looking to record. Sometimes they make the cut, sometimes they don't. [Laughs] But it's because I can trust his "ear to hear."
CCM: Between the release of Grace and the recording of One Place, your father passed away. How did his death affect your life, personally and creatively?
TC: The answer to this question is quite simple: it hurt. Anyone who has ever lost a loved one can attest to this. But we as believers have the advantage of the Holy Spirit. It's our comfort through every situation. So, though my heart hurts—that's normal— my spirit rejoices knowing that my father is literally spending face-to-face time with Jesus.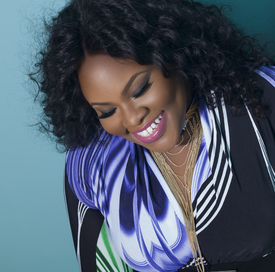 [My father] always taught me to stay at the feet of Jesus. I still rehearse this in my life daily. That posture helped to birth the greatness out of me that God has entrusted me with—and we all have greatness within us. That simple reminder was a part of the foundation that aided in writing the song "Jesus Saves" [featured on the new album].
CCM: How did your father influence the development of your faith and ministry?
TC: My parents raised both my brother and I to exalt Jesus and to praise Him—even if I have to do it alone.
CCM: As musicians in the gospel music industry, we often throw around the title "ministry." So tell us, Tasha Cobbs, the artist and worship leader, what do you feel is your ministry?
TC: My ministry is to bring awareness to the presence of God, and to help usher the audience or listener into that "one place" with Jesus where everything else is silenced."