Over the last couple of weeks, we Americans have been disheartened and dumbfounded by the discord in our nation, the violent displays of discrimination threatening to divide our communities and culture. The roots of racial tension especially run deep. While the colorful nuances of living in a diverse country can be beautiful, the challenge of living peacefully in the midst of our differences is complex, and painful.
Musical husband-wife duo, Seth and Nirva Ready, intimately understand the difficulties of diversity. An interracial couple, Seth was introduced to the music business while singing night after night for predominantly African-American audiences as a member of Kirk Franklin's elite background singer crew. Nirva has showcased her vocal shine and magnetic performance energy in front of hundreds of thousands predominantly Caucasian concertgoers as a longstanding member of TobyMac's DiverseCity touring entourage. But when it comes to loving people, the kind and keen twosome hardly have a preference. And they have taken to the medium of music, together, to message God's love to all people, in hopes that as we understand how much God loves us, we might then begin to love each other better.
Featuring its own diverse set list of collaborations (think DJ Maj, hip-hop's Shonlock and Nirva's favorite front man, TobyMac), Seth & Nirva released their major label debut, Never Alone (Integrity Music—buy) to widespread critical acclaim in May. After Seth's commentary on the recent attacks near his Orlando, FL home, CCM Magazine sits down with husband and wife to continue the discussion.
CCM Magazine: I don't think we've ever talked about how you guys met. How did the union of Seth & Nirva come to be?
Seth Ready: Do you want her version or the truth? [Laughs]
Nirva Ready: A mutual friend introduced us. I was singing for Toby [McKeehan], and he was singing for Kirk [Franklin], and we became buddies. A real friendship began to develop. He was the kind of guy that you could talk to about anything, go as fun or as deep as you wanted.
I was in this phase of, "You know what, God? For real this time. I'm giving You my whole heart, my whole person." All the while, we were talking and hanging out, and he liked me. So he explained that to me one day, and I was like, "Yikes. How did I not see that coming?"
SR: "Yikes." That's the word you want to hear. [Laughs]
NR: "Yikes," as in this friendship is so awesome. He was really dear to my heart, and so I declined from moving forward.
SR: She told me, "No," twice—stuck in the friend zone for months.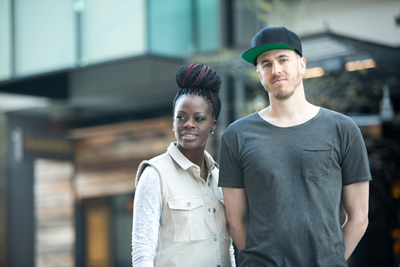 CCM: Twice? So he's a persistent fella?
SR: I had to be persistent.
NR: That's true. He was persistent and consistent. He never played with my heart. The friendship was real. But later, God began to show me how handsome and awesome he was. I had cool mentors in my life that said, "Just see what God does." And so here we are.
CCM: You guys began your careers in very diverse settings, with Kirk and Toby. Your own records reflect that musical diversity—elements of worship, pop, R&B and hip-hop. Is this also reflective of you as people?
NR: No doubt. Music has such a powerful influence. It gets into your soul without permission. I grew up in a very urban community in inner city Chicago. I listened to a lot of pop, hip-hop, and a little bit of gospel, but I didn't get saved until college. When you get saved, you begin to learn the difference in content, but you still enjoy the sound and style of music. So I appreciate being able to express worship to God in different styles.
Gospel music is life-changing. It takes you out of your situation and lifts your eyes to the throne where God is ruling and reigning. It reminds you of the truth. And so to be able to enjoy music and have it edify your soul at the same time—that's a gift from God.
CCM: There is such diversity under the banner of "Gospel music." Isn't that an indicator of God?
NR: Come on, somebody! You're preaching.
CCM: To help reflect the color and character of God that is so broad, is that a part of the inspiration for why you do what you do?
SR: We feel like what God creates is so beautiful. We don't want to stifle one expression and highlight another as better just because it's different. We didn't intentionally say, "Oh, we've got to [appeal to] 2.3 Asian persons." We naturally appreciate other cultures and experiencing their approach and their art and their beauty.
I traveled with Kirk, she traveled with Toby, we traveled with Chris Tomlin, and Travis Cottrell for Beth Moore events. We shave experienced such beauty in all of those areas. It's become part of who we are.
NR: When we did our first EP, I remember people advising us not to be so all over the place. But these are the songs that flow from us. We love all styles of worship, and when you keep the substance, it's good.
SR: As long as it's biblically grounded in its beauty, then let's do all the palettes we can.
CCM: The kickback to diversity is usually rooted in fear. How is this set list of songs a response to that?
SR: I like Dallas Willard's definition, to love someone is to be set toward his well-being. Even if they disagree with me, even if they push me, they are made in God's image. I might disagree with them, but I don't have to stand against them as people. That's really hard.
In our culture, people tend to take their ideas into their ego, so if you come against their idea, they feel like you're coming against them as a person. Part of the education process is being close enough with someone where you can help them make a distinction between their idea and them as a person, and that has to come in the context of love.
On the album, we'll have a song like "Brother." When I look into the face of my enemy, I see my brother. But we also have a song that says, We won't back down. That combo takes time because we [culturally] start from the disposition of, "If you disagree with me, then you don't love me."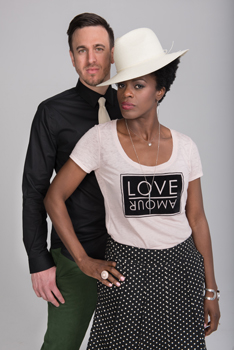 CCM: We're all bearing the image of God. That's a radical way of thinking, to see everybody as having the imprint of God. How do we respond and relax into that?
SR: For us, it's like restraining from knee-jerk reactions. Pausing and praying first. If you go into these conversations with the utmost of humility, it helps.
I like how Jesus did it—He just asked questions. He was wise about when He said what He said. He was getting the person to think through their own point of view a little differently. Be really good question-askers. Because we're so distracted in our culture, take time to get more than a few sound bites to take somebody down on Facebook, and actually wrestle with things. Let's take time, pause Netflix for a little bit, and be thoughtful people, think biblically, prayerfully test this stuff out. Then as we grow in our understanding, we can [communicate what we learn] as a helping mechanism rather than an opposing mechanism.
CCM: The song, "Brother," from the new record, seems to reflect this idea of really loving others, no matter our opinions. My favorite lyric from the song says, Forgiveness is the garment of our courage / The power to make the peace we long to know.
NR: When we first heard the song, we were haunted by the conviction, as well as the beauty of it. It's scriptural to pray for those that persecute you and hurt you and harm you. God's always at work in our hearts. He's always digging and shining light on areas that He wants to take hold of. So it was good for me, too, to not respond or react, but to just make sure that I love and forgive. Was it C.S. Lewis who said, "Forgiveness is a good idea until you have someone to forgive?" It's one thing to talk about something, and it's another thing to actually do it and apply it to your life. I think that's what Christ wants. It's better for us.
CCM: Dialogue is relationship, and God has created us to be in a relationship with each other and Him. So it seems He's encouraging the conversation.
SR: He's even chatty with people in the Old Testament. God's not just this floating, powerful spirit, but He's really wise. He knows the nature of people and how to help them come to true belief and repentance, which is a change of the mind. He knows how to use His kindness to help people see, "Maybe this approach to life that I'm taking is not leading to my well-being." The kingdom of God is available, and in it is wellbeing in every sense of the word.
We even think through issues together. Nirva's perspective, coming from inner city Chicago, is so different than mine, and a lot of times, she helps me to see things through different viewpoints. And that will influence my conclusion. It is important, before we approach people, to step in their shoes.
CCM: God seems interested in us. I feel like Jesus is God saying, "How do you feel?" To me, that still blows my mind. It feels like a very drastic measure of God's interest for us.
NR: His interest and His love for us.