There are certain things that only come with time. As life is lived, heartache, victory, joy, loss and peace shape the human heart. At times, the molding and development process is painful. But if it can be approached with even a thimble of faith, God has a tendency to create beauty from the darkest of circumstances.
Rush of Fools has been learning this truth through a season of heartache, grief and growth, all of which inspired their latest album, Carry Us Now. New stories, new songs and a new perspective have helped them craft what they say is the album they "were meant to make since the beginning."
Four projects deep, ROF's new-found maturity enables nuances of vulnerability and hope to shine through their latest batch of songs. As artistic, moving and beautiful as they are, however, the songs didn't come without struggle and loss.
"Without a doubt, the past two years have afforded us great blessing and also great hardship," explains Kevin Huguley (keys/guitars). "Most fitting to mention is the fact that we buried two of our parents within the past year. Jamie's mother went to be with Jesus after a lengthy battle with cancer, and Jacob's father passed at the young age of 48."
Wes Willis (lead vocals) adds, "God gave us all a massive peace in the past two years. We clung to our families and church families, and we began writing the record. God is redemptive. We've seen it in our lives, so we wrote about it in this record."
Huguley continues that thought saying, "This new record came at a time that allowed us to write from a perspective of reflection; we were getting to see God's consistency. For us, we feel this record is likely the most telling of who we really are and, arguably, who we've always been. We feel like it's taken us almost a decade to figure that out and flesh it out in our songs."
One listen through the new project indicates that it was worth the wait. Sonically and lyrically, the band (comprised of Willis, Huguley, Jacob Chesnut, Jamie Sharpe and Patrick Sweeney) is confident, creative and intentional. Perhaps some of that is attributed to their third and current label partnership, Sony/Provident Label Group. Of course, revisiting their relationship with producer Jason Ingram also elevated the overall project.
"We're still humbled to get to work with Jason again after all these years," says Huguley. "Since meeting him back in 2006 and making a record together then, we've seen the Lord continue to grow him."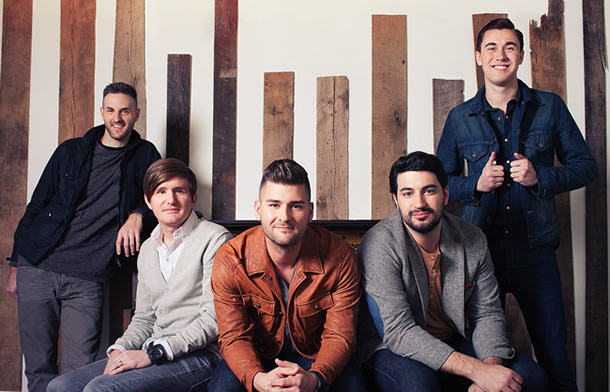 Jason's growth parallels the band's, whose maturation was not without some growing pains. "We are eternally grateful for people who still believe in ROF," says Willis. "It's been emotional wondering if there was a future for us, if we would be able to make another record, even if people would remember who we are. Those are some questions we wrestled with. But God reminded us that it's His church, His ministry, His thing. That's a very sweet spot to be in."
"We feel we are at our healthiest physically, emotionally and spiritually," Huguley adds. "It was fun watching this project go from an unfinished idea to a completed piece."
Willis jumps back in, saying, "We always want listeners to be directed to Jesus. We also really feel like this record is a solid offering of who we are as a band. For a band that's been around as long as we have, we're grateful to be able to say that."
The gratitude is as tangible within the band as it is within their homes. Off the road, they are heavily involved in their local churches (Huguley serves as worship pastor at his home church), which has lent a distinct congregational feel to the music.
"Our new songs are ones that we've been leading and testing with our local churches for many months," says Huguley. "We were reminded by a close friend that songs for the church are eternal. That's huge when you think of it that way.
"Jesus remains the centerpiece of our band's existence, and He is the only hero in our story," he concludes. "It's mind-blowing to recognize that the very hands of Jesus that carried the cross to Calvary are the very hands that carry us now. Through the good and the bad, He sustains. That's what this music is about."
Life will continue to press on. Heartache and loss are inevitable. But so, too, are the sovereignty, grace and compassionate arms of God who always has and always will carry us through.
FOR MORE INFORMATION, VISIT RUSHOFFOOLS.COM.