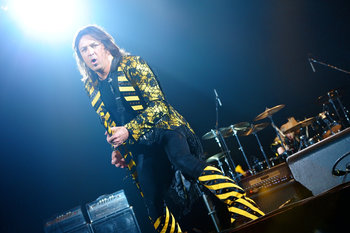 Surviving thirty years in the music biz is a tremendous feat in and of itself, but being able to thrive with an unstoppable streak of three original studio albums, a covers collection and a live CD/DVD (supported with just as much time on tour) in the last half-decade alone is absolutely astounding. Then again, the spiritually sound heavy metal men of Stryper have always marched to the beat of their own drums, slaying MTV throughout the '80s (in spite of their overtly evangelistic message), becoming one of the top reunion attractions of the new millennium, selling over ten million albums across each era, while racking up an armload of Dove Awards and a GRAMMY nomination along the way.
"It really does boggle my mind, because I was looking at the numbers recently and saw we have officially done more now since '03 than we did from when we formed in '83 until we disbanded in '91," considers co-founding front man/guitarist Michael Sweet, who continues the group's prolific quest with the brand new album Fallen (Frontiers Music SRL) alongside fellow originals Oz Fox (guitar), Tim Gaines (bass) and Robert Sweet (drums). "I always try to remain humble, because that day could come where there's writer's block or that well could dry. Thank God above it hasn't yet, and for whatever reason, those songs are still flowing and coming. I really do give thanks to God every day for it—there's no real explanation to it other than that. I think God wired me where I have this constant song in my head, to the point where it's a blessing and a curse. It can be distracting at times, and can actually get in the way of my regular life. Songs have been birthed from a deep sleep, which is pretty odd. I don't know if other people around me do, but I love the way I'm built, and I think that's why there's a constant song. I pray that never goes away."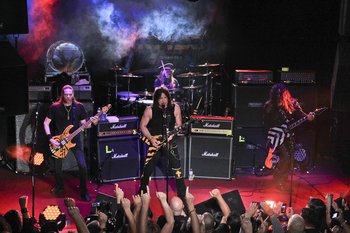 Though that muse continued to flow straight into the Fallen sessions, the singer/songwriter will be the first to admit that having so much on his plate as of late (such as a solo album, an autobiography, plus his super duo Sweet & Lynch with mainstream metal man George Lynch), did add a few unusual ripples to the equation, which were further complicated by some other conditions he just recently started discussing. "I was diagnosed with ADHD [attention deficit hyperactivity disorder], I'm definitely OCD [obsessive–compulsive disorder] and I'm also a procrastinator," he lets out with a laugh. "If a label calls me up six months prior to starting on an album and I say, 'Great let's do it,' I wait sometimes—not all of the time— but I did for Fallen. It wasn't like I was just sitting around the house, I was touring and doing other things, but I put it off until just a few weeks before the guys were supposed to come out to the house."
Continues Sweet, "Oddly enough, within a nine or ten day period, I wound up putting the whole album together—I wasn't necessarily saying to myself 'This is perfect,' or 'I'm very confident that this is done and the way it should be.' It was more or less 'Oh gosh, I hope it's good!' It's not a highly recommended method to make an album, but here's what's funny about the way I work. I tend to work better under that kind of pressure. It helps me to focus more because of the ADHD and some of the issues I have. I was able to go down every day and truly focus on that album until I emerged from my studio with the whole project, and thank the Lord, everybody who's hearing it so far is saying it's really good."
In addition to bountiful feedback on the group's social sites, both Christian and mainstream industry reviews have been unanimously positive, basically suggesting Stryper once again knocked the project out of the park with some of its hardest driving material to date, while still managing to maintain its melodic sensibility. Sweet even recounts talking to a few critics who admitted never liking the band before, but became spellbound with the undeniably electric sound of this album, along with his signature faith-laced lyrics, updated to reflect the current times.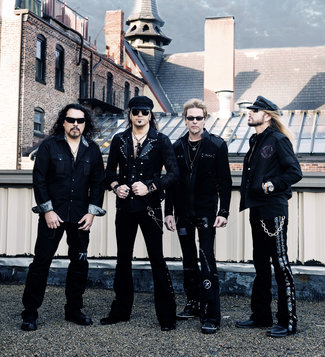 "To be sitting here thirty-two years later writing, putting together and producing some of the best music of our careers, of our lives and ministry—however you want to term that—it feels really good," asserts Sweet. "I think it would be pretty darn cool if we can continue down this path where the next album is
better, and then the next album is even better than the last. We set out to make the heaviest record we've done, and when I say 'heavy,' sometimes that word scares people, it's not just necessarily referring to the music, but it's referring to a lyric and an attitude in all of us making this album, and that comes through. There's a determination and a passion that translates to 'heavy' on this album. Yes the music's heavy, yes the lyrics are bold, but at the same time, there's this certain vibe you get when you listen to it that just kind-of smacks you in the face. I refer to [2013's] No More Hell To Pay as getting in a heavyweight fight and going twelve rounds, but this album might be like getting in a heavyweight fight, and going fifteen rounds. It's kind-of sucker punching you in a great way, while saying 'Hey, we're still alive,' and 'wake up.' It's really cool, man, and we feel revived. We feel like we're at our peak right now."
In addition to the continued "Yellow And Black Attack" from the musical front, perhaps the first hint of that boldness comes from the Fallen album's pummeling title track, which reads like a literal history lesson on the life of Lucifer. He was the angel of music. Then, obviously pride entered in a terrible, evil and ugly way, and he tried to take over heaven. He was kicked out, and became Satan," explains Sweet of the narrative meant to rally against evil influence. "'Yahweh' is about the crucifixion of Christ and [lyrically plays out] like the movie The Passion Of The Christ. 'Let There Be Light' is about the beginning
when God created the heavens, earth, man and the creatures. When you listen to the whole album, it almost feels like you just took part in a Bible study, but it's not done in a pushy or cheesy way. Did we plan that? No, but it just kind of fell into place and happened that way."
One element that's especially admirable from Stryper's beginnings to this very day is the fellas' commitment to sharing their faith, even if it hasn't always been understood in less heavy metal-minded church circles, nor has it been exactly fashionable in the secular scene. Nonetheless, the band regularly performs at venues of all associations and continues to land on multiple Billboard charts (a pattern that unquestionably blazed the trail for crossover acts like P.O.D.,
Switchfoot, Skillet and the countless others that followed in similar footsteps).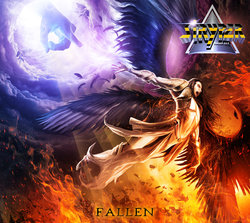 "The world that we live in inspires us to do so, and what I mean by that is there's a lot of darkness in this world," observes Sweet. "In some ways, people say, 'It's getting better,' but I think in other ways it's getting much, much worse. I believe we're in the end times. When is God going to come? Nobody knows, but we're certainly seeing the end times right before our eyes, and there's so much going on in this world that's right out of the Bible. It's there and that inspires us to be even more driven to perform in front of people [all over the world]. The underlying point of it all is so we can have the opportunity to share the Gospel, and we do so in our own way. We don't come out mid-set, pull out stools, and sit and preach to people. We've never done that. To me, the music is what's doing the preaching. The lyrics to 'More Than A Man,' 'Soldiers Under Command,' 'To Hell With The Devil,' 'The Rock That Makes Me Roll'—that's the sermon, and we give them that.
"We encourage and inspire through the banter between songs, and we always end with a prayer and throw out Bibles so people can take that home with them. Man, that's it right there…We get beat up from both sides, and we have since the very beginning, because we don't really fit in anywhere, but we keep getting up because there's still a calling on our lives. As long as that's there, we're going to keep going. If that's until we're 80 or 90-yearsold, then break out the yellow and black canes because we're gonna be using them. It's just who we are."