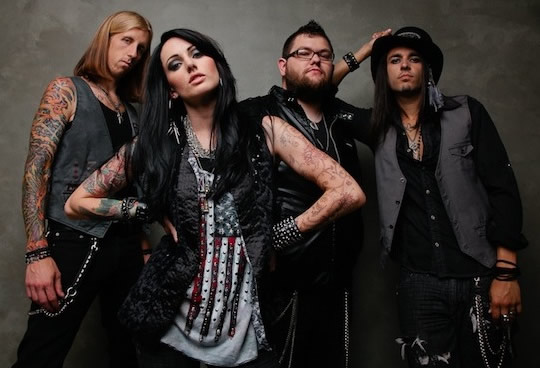 After a few false starts and release-date delays, The Letter Black is finally back with its immensely anticipated sophomore collection Rebuild (Tooth & Nail Records). Serving as the official follow-up to 2010's Hanging On By A Thread, the project shows just how far the Pennsylvania players have come with their full-throttled brand of hard rock and alternative metal, alongside lyrics of renewal as further explained by front woman Sarah Anthony.
CCM: What accounted for the release-date hold-up for Rebuild and did you do any tinkering with the record during the wait?
Sarah Anthony: We've been ready to put Rebuild out since we recorded the first part of it in the spring/summer of 2012. We've been dying to get it out to the public. We went through some transitions on the business side of the band, which caused several delays. Because there were some delays, we decided to record and add three new songs, and we took a few songs off of the record that we originally had on it. They may be released at a future date on a deluxe version or something. You never know!
CCM: How would you summarize the lyrical theme this time around?
Anthony: We have grown a lot in the past few years. We put Hanging On By A Thread out in 2010 and have done countless shows and tours since then. We've also had big things happen personally and spiritually in our lives and we've simply gotten older. So the theme you will see matches all of those things. We wrote Rebuild after a period of testing, stretching and growing that God brought us through. He broke us down and rebuilt our hearts and minds and that's what we discuss. We also challenge Christians in ways that God challenged us through the process.
CCM: What does the group hope to achieve with this release in both the Christian and mainstream music communities?
Anthony: We really hope to encourage and challenge the Christian community, as well as just give good entertainment. As far as mainstream, we really want to give hope to those who may feel hopeless and show them that just because we are Christians doesn't mean we are that different than them. We're simply sinners forgiven.