When Shane Barnard borrowed Shane Everett's guitar to play a gig while they were both majoring in business at Texas A&M, neither one of them imagined the future God had planned for them. Fast forward several years, two marriages, four and a half kids (Shane Everett's third is due soon!) and a music career that has taken them around the world and it's easy to see God's fingerprints all over their hearts and lives.
Today, things are starting to look different for the two men. After years of heavy touring, they have settled back in their home state of Texas and plugged into a church where they lead worship and teach songwriting.
Their days revolve around little girls, their wives, their God and the music He continues to lead them to make; most recently, their new album, Bring Your Nothing. CCM got to catch up with Shane Barnard and hear it all first hand.
Pull up a chair…join the conversation.
CCM: I guess it's safe to say your lives are very different now than even a few years ago! Babies…homes…catch us up!
SHANE BARNARD: Beth [Dillon] and I have two girls. Lucy is about to turn 3. Haven is 1. And Shane [Everett] is about to have a third girl! Olive is 5 and Lily is 2.
CCM: Are you tired?
SB: (laughing) Our girls have done pretty well. They're pretty good sleepers. We're plugging away as a family. We're downshifting from about 150 concerts a year to around 70. We used to do close to 300 a year. But we're finding other ways to serve Him and people. We're so grateful not to have to travel.
CCM: That is different! Last time we talked you were really starting to plug in to your local church and serving there. How is that a part of your life now?
SB: We teach a songwriting class every Monday night and lead worship there every Tuesday night as part of a young professional Bible study. It's fantastic to be a part of a body of believers. It was very needed and refreshing.
CCM: That's a huge jump — life on the road to weekly classes. Has your creative process changed as far as songwriting?
SB: The creative process is totally different, mainly because of the class. I make our students write a song every week. I'll teach a lesson on something scriptural and write a song about it. Every single song on this album is one of those from class. Even the heart behind the writing is different. I have a passion for our students. It's different having names and faces than just an audience.
CCM: I'd imagine so. It seems like your entire world — life at home, life in your church — is all ministry focused. What a great home to raise your girls in! Was your own home situation growing up similar?
SB: It's really different. My house was as awesome as a home can be — minus Christ. I didn't grow up as a beliver. My dad was the most John Wayne-esque person I've ever known. He needed nothing. To even imagine my dad would confess in someone and something and need something that was above him…but at age 65, God got him. It was the craziest thing I've ever seen. Seeing the blinders come off his eyes and the hardness of heart removed allows me to walk through life so much more confidently now. With me, I wasn't looking for Him. I was doing my own thing and had no idea who Jesus was. He just came and got me. With my own kids, it makes me desperate to see God move in them. There's an appropriate burning as a parent — a new burden. Even at age 2, there are breakthroughs in her heart and understandings. There's definitely a whole new level of burden.
CCM: I think parents everywhere will resonate with that. I do! How do you and Bethany share that burden? What is your marriage like these days?
SB: We just celebrated our fifth anniversary. It's been awesome. I went to dinner with a friend the other night and he asked if I remember the single life. And honestly, I don't! We dated for almost a year, were engaged a year, so that's now seven years of being committed to each other. It's been fantastic. She continues to blow my mind with how she loves Jesus and how she loves her children.
CCM: Is she doing much with music these days?
SB: Not really. She doesn't have much of a desire to be an artist. But she plays a handful of dates each year, leads worship at church and made an EP a year and a half ago. She was signed for over eight years. There was a lot of pressure. It's good not to be 'Bethany Dillon' for now. She loves being a mom.
CCM: And it's pretty clear that you love being a dad, husband, teacher…what do you think is next for you guys? Will you continue what you've been doing? Now that you'll be home more, what's on the horizon?
SB: We're going to start a conference that will hopefully replace a bit of traveling.. It will be called Linger. It's something the Lord has been confronting me with for a year — 'Don't be in a hurry to leave.' Ecclesiastes 8:3. I don't claim to be very good at it, but it's necessary and so missing. Just being with the Lord on a daily basis. The conference will allow for lots of extended time of worship and prayer and scripture meditation.
CCM: What an amazing concept! And something ALL of us need to work on, for sure. Well, it's great to hear that God has more stirring in your hearts and lives. And, as always, the music He's leading you to create is amazing. I've already used some of these songs in a Bible study I teach at my church! Before you go… 'bring your nothing' is such a poignant phrase. What does it mean to you? How did it shape this project?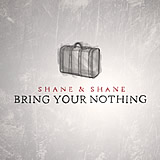 SB: That title is just another way to say grace. I hope that when I'm 65 I'll still be coming up with new ways to say grace. Isaiah 55 says to come by and eat the richest of foods… come and eat and taste.
We come with absolutely nothing accept what put Him on the cross. He gives us everything.
Shane and Shane will be touring with Phil Wickham later this year and Shane and Bethany will be traveling to India to train worship leaders. Visit shaneandshane.com for the latest on touring, music and more.