When Peter Furler announced his departure from Newsboys eight years ago, by all standards, the band should have never survived such a massive shake-up. Now, three Winter Jam Tours, five additional headliners, four records and two movies later, Newsboys are basking in one of the busiest and best seasons of their tenure thus far. As the face of the God's Not Dead movement and one of the most-played artists at Christian radio, the veteran band is entering a fresh chapter with the release of a brand-new studio album, intent on starting a love riot.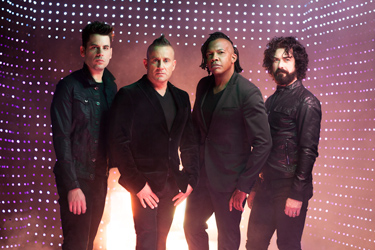 Jeff Frankenstein has a picture from the early '90s of himself and his longtime band mates Jody Davis and Duncan Phillips. In the photograph, the men are standing in front of brand new Jeep Cherokee's after an attempt at off-roading before a concert later that night in Knoxville, Tennessee. And there, in the middle of the 4 x 6, posing with the trio is one-third of DC Talk, Michael Tait. If not for their outdated fashion and youthful grins, a current fan might mistake it for an outtake from 2016. Back then, if they could have only predicted the future, they would have known the photo was foretelling what was to come.
"Michael was always our friend back in the early Newsboys days," Frankenstein recalls. "He was the one guy that was always hanging out with us."
Today, Tait does more than hang out on the Newsboys' bus. For the past eight years, he's fronted the band, arguably one of the most iconic groups in Christian music history. And for the DC Talk alum, it's the second act of a storied career. Yet, when longtime front man Peter Furler passed the baton to Tait back in 2008, he wasn't sure how the story was going to unfold.
After the members of DC Talk went their separate ways, Tait embarked on a lackluster solo venture that came up dry. So when the Newsboys approached him about the lead singer gig, the timing couldn't have been better. "I needed Newsboys desperately, and they desperately needed me," Tait says. "They needed a singer; I needed a job, and it was that simple to me."
Not all Newsboys fans saw it that way.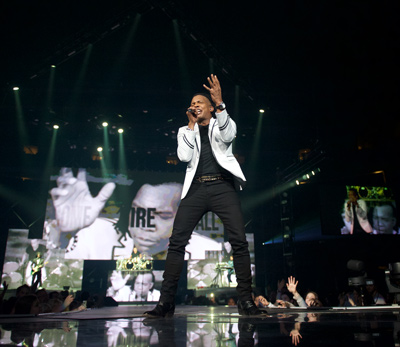 "Michael had to [cover his ears and] not listen to the naysayers, and then we had those moments where we'd get up onstage and people would boo us," Phillips candidly shares.
For the first nine months with Tait as the lead singer, the band's future looked grim. "Even though I came from DC Talk, I still didn't get much grace from that," Tait recalls. "I had to prove myself as a Newsboys guy."
"I understand it," Phillips says of the fans' point of view. "It's like a marriage. When you see two people together for twenty years, then all of a sudden it changes… It takes people a moment to get used to seeing that different pair together."
While Tait began his tenure with the band performing songs from the Newsboys' vast discography of hits, the group quickly entered the studio to work on new material. "We went straight to work. We did 150 shows that first year," Phillips remembers. "We got straight in the studio with Michael, because we didn't want to turn into a Newsboys karaoke band."
"After that first year, I was pretty beat up. I was tired," Tait says. "We'd worked hard, and we weren't getting a lot of traction. My lead singer insecurities kicked in, and I thought, 'Oh gosh, you don't like me.'"
"It was horrible there for a moment," Phillips admits, "but I think God placed something deep in the heart of every guy here and said, 'This is going to work, guys.'"
REBRANDING AND REBIRTH
The title track of 2010's Born Again officially introduced the new front man to radio, and the tide began to turn in Newsboys' favor. The song became the first No. 1 single for Newsboys 2.0 and the grand marshal in a hit parade that followed with mega hits like "Your Love Never Fails," "God's Not Dead (Like a Lion)," "Live With Abandon" and "We Believe."
"When ["Born Again"] hit and really caught on, everything changed," Frankenstein acknowledges.
If "Born Again" was the match that reignited Newsboys' career, "God's Not Dead" was the gasoline on the fire. When 2014's God's Not Dead movie struck gold at the box office, it resurrected the Newsboys' single of the same name (a track from an album that, incidentally, had released three years prior to the film's debut). "God's Not Dead" quickly became an anthem for an entirely new generation of Newsboys fans. Adding to the frenzy, the band also made an appearance in the movie, which further solidified them as ambassadors of the God's Not Dead movement.
"The movie comes out, and in, like, two weeks, it's played for two million people," Frankenstein says. "It already dwarfs every show you've ever done in twenty years. So all of a sudden, you've got a new audience."
For all the support and acclaim the movie and the band received, the film and Newsboys' subsequent single also elicited its fair share of resistance from those whose feathers were ruffled by the movie's bold message.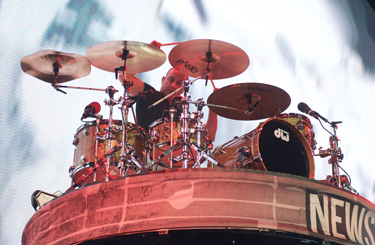 "It was like dropping a lighter into a bunch of explosives," Phillips observes. "[People] are feeling the pressure from the culture, so for someone to stand up and have the audacity in this culture to say that, 'God is not dead,' you're going to get some hate. It's going to cause a reaction, and I think that was maybe not what we initially intended for this thing, but that's what it's getting."
"I remember the 'Jesus Freak' movement, and it was pretty psycho, [but] God's Not Dead—it's another level," Tait reflects.
After banking nearly $64 million worldwide during its theatrical run, God's Not Dead sold two million copies when it released on DVD, driving the success of Newsboys' music. While the band's single went Platinum, the album went Gold, and the group saw fans turn up in droves to hear the song at concerts nationwide.
SEQUELS AND STUDIO ALBUMS
Now, with God's Not Dead 2 slated to hit theaters April 1, Newsboys is poised for even greater success. The band's current radio single, "Guilty," serves as the theme song for the sequel and is already climbing the charts in advance of the movie's premiere. The group also makes another cameo in the highly anticipated follow-up, but don't expect them to abandon Music City for Hollywood any time soon.
"They got Oscar-winning actors [this time], but we are still at the same level… So don't look for anything real special," Tait jokes. "We have not made any leaps and bounds on acting at all."
They may never earn an accolade in performing arts, but God's Not Dead 2, which stars Melissa Joan Hart and Jesse Metcalfe, will inevitably fan the red hot flame that has become Newsboys' current career status.
Ahead of the movie, the band is whetting fans' appetites by serving up ten new tracks on their fresh studio album, Love Riot, the group's first effort on FairTrade Services. "Guilty" is included on the project and is a fitting introduction to the band's next chapter.
"My soul was in the balance, but now I'm guilty of selling it out to Christ," Tait explains as he talks about the new single. "There's no apologies. Guilty—you got me… I'm guilty of following Christ."
On Love Riot, Newsboys unapologetically share the Gospel message with the confidence and ease of a band riding the wave of a powerful movement. Although they didn't originally audition to be the ringleaders of this movement, they're eagerly stepping into their roles and leading the charge, heads held high, all in the name of love.
"It seems to me like the message is timely for today because I think even the concept of love has been misconstrued by our culture. It's so disposable—love. It's temporary," Frankenstein says of Love Riot's theme. "Christ being the example of perfect love to this culture now is probably more appealing than ever. [It's] an unconditional love that you can't find anywhere else, and I think people are searching more than ever before for that."
"Essentially, the only thing that's going to affect our culture and our society in a positive way is Christ's love," Davis asserts. "It's the only true love, and that's the only love that's going to actually make a difference."
The band hopes the new songs inspire people already supporting the message of God's Not Dead to ignite real change through acts of love. In essence, their new album is a call to arms of sorts.
"You look at Paris; you look at San Bernardino, Calif.; you look at the Syrians rushing the borders of other countries—it's become a mess. At the end of the day, that little God-shaped hole inside your heart—everybody has it—it's made for the love of Christ. We have free will, true enough, but Christ wants a love riot out of all of His followers," Tait maintains. "I'm on a mission to start a love riot because I believe love wins. At the end of the day, love wins."
FRIENDS AND FAMILY
"Love wins" is a slogan the band not only promotes at its concerts, but it's also a mantra the four men live by personally. Traveling the country in a bus means living in close quarters 24/7, and that kind of unique lifestyle requires patience, understanding and a bond that's more important than any daily pettiness.
"If we're going to be one of those bands that God's going to take to this next plateau, which we believe that He is, we've got to have all of that little stuff sorted," Phillips offers. "He's not going to elevate us to this point if we haven't taken care of business. The little stuff—that can eat away at you; that'll nip at your heels."
"We love and respect each other. We like each other," Tait adds. "The like makes you work through it."
That's why it was so important to find a new front man eight years ago that the other members gelled with on a personal level. Fortunately, the friendship they had already forged with Tait proved to be one of the biggest assets in helping the switch succeed. Yet, the band's massive rebranding was risky, especially considering the members were at a different point in their lives than they had been when they first embarked on the Newsboys journey decades ago.
"It was different this time because I had a mortgage; I had a family; I had all the weight of that responsibility," Phillips shares. "The first time around I was a kid. I didn't have any of the weight or responsibility, so it was just fun."
"You look at it differently, too, when you're in a band for this long," Frankenstein adds. "When you're younger—I joined the band when I was 19-years-old—you're looking at the future, and you're looking at wanting to climb the ladder and do all this stuff, all the stuff you think is important; and then when you're older, you're like, 'Oh man, I'm going to enjoy every day. I'm going to just enjoy today and not get too wrapped up in what the industry thinks or what people think,' and I think that gives you the freedom to be friends with each other and just enjoy."
Friendship and fun. Those are exactly the two targets Newsboys will be aiming for as they take the stage each night when they hit the road for the final leg of the We Believe…God's Not Dead Tour this spring with special guests Audio Adrenaline, Ryan Stevenson and OBB. In fact, all four men agree they're enjoying themselves more now than ever before.
"It's made me feel sixteen again," Phillips confesses. "Before all of that, the crowds kind of roared, [and] it was like, 'Okay, here we go…another hit.' But when Michael came onboard, it was like we had to prove ourselves all over again… That energized us. It gave us that energy back to when I was a teenager to, 'Man, I'm going to win tonight; I'm going to make you love us tonight'… There's something vibrant and passionate about that."
On the heels of Love Riot's release and the impending premiere of God's Not Dead 2, Newsboys know they're in a season of explosive growth—an amazing feat for a band who's been recording and touring for two decades. Not to mention, they've survived multiple rebrandings and lead singers—circumstances that often signal the demise of most acts. So, what do they attribute to their success?
"It's greater than the sum of its parts. It's bigger than Duncan Phillips. It's bigger than Michael Tait or Jeff Frankenstein or Jody Davis. This is something exciting, and I'm just hanging on like, 'Alright, I'm ready. Let's go!'" Phillips explains, adding, "There's this excitement and sense of anticipation in this band that God is going to do wonderful and mighty great things, not even in this band, but in Christendom in general."
Their enthusiasm is contagious, and it's catching on like wildfire. Yet, the four men are quick to acknowledge that it has little to do with their own gifts or accolades and more to do with the ways God has always intended to use this band and their music.
"We're not called because we're talented; we're talented because we're called," Tait offers. "God knew this from the beginning. He was going to use this chocolate boy [and] these vanilla boys… We've been entrusted with something special."