Nashville, TN (June 19, 2019)
Following the recent announcement of their forthcoming debut album, Back Again, Mac Powell and the Family Reunion has released the video for the new single and title track "Back Again." Capturing the group's dynamic live show, the country rock travelogue features clips of life on the road over the past few months as Powell and the band unveiled their new project.
Watch the video for "Back Again" here:

Back Again released on July 26th via Thirty Tigers. Led by the former lead singer of Grammy-winning, multi-platinum selling group Third Day, the new band is southern roots and American rock. It's a collection of foot-stomping, hand-clapping tunes that pay tribute to Mac's early musical inspirations from his childhood, including Willie Nelson, Johnny Cash, and Jim Croce among others. Billboard recently called it "a blend of country, rock and gospel, brought to life with Powell's gritty, soulful voice."
"Like most people, I grew up listening to my Mom and Dad's record collection," said Powell. "There was singer-songwriter stuff, some country and southern rock. I always liked artists like Creedence Clearwater Revival, James Taylor, The Eagles, or even the Stones, who weren't country per se, but who sometimes leaned more towards that sound. That's what was stirring my mind and my spirit."
To that end, he formed Mac Powell and the Family Reunion after Third Day's final shows in 2018, utilizing musical "brothers" who had been recording and playing live with him in support of his other solo projects, including his 2012 self-titled debut and 2014's Southpaw. Recorded in Atlanta with producer/musical director Jason Hoard, Powell and his bandmates purposely kept a raw edge to the record. The result is a welcome looseness and down-home charm to Back Again.
Beginning with the title track, Mac and his band are equally comfortable crafting singalongs ("Whoo!" featuring Craig Morgan), gentle ballads ("Red on a Rose") and hand-clapping, toe-tapping country pop ("Going to California," "Mississippi").
To further support the record, Powell and band plan on hitting the road this fall. In the meantime, catch them next month for a special hometown release show in Marietta, GA followed by Nashville's Grand Ole Opry.
Visit: www.macpowellandthefamilyreunion.com/tour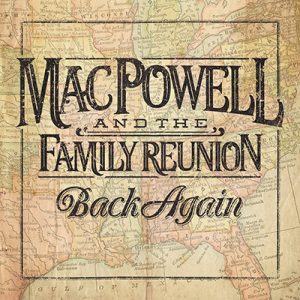 Back Again Track List:
01) Back Again
02) Flood Waters
03) Whoo! (feat. Craig Morgan)
04) Watermelon Rind
05) Red On A Rose
06) I'm Beginning To Wonder
07) Going To California
08) I Could Get Used To This
09) Tiptoein'
10) Heaven
11) What I Came Here For
12) Mess of Me
13) Settlin' Down
14) Sittin' Here Talkin' With You
15) Mississippi