Life is a series of steps. Forward, backward, sideways, constant… As children, we step into make-believe worlds of dress-up and crayons where anything is possible. Later, we step into school, new friends and the gradual separation from the life we were born into. Later still, we step into new jobs, new passions, new relationships and, for many, into marriage.
Lindsay McCaul has been dreaming of and preparing for that step for years. When the day finally came, she walked down the aisle with her father, who tenderly and graciously gave her hand, and then stepped back.
Just a short while later, Lindsay was present for her father's final step into his eternal home.
A former colonel in Vietnam, he was exposed to Agent Orange and developed a blood cancer, and exceeded the maximum life expectancy of ten years.
"He did all he could to spend as much time with his family," says Lindsay. "As much as you mentally prepare, you're still not ready."
Her father's death shook her to the core.
"I knew God was working this together for good," she says, "but there are those seasons when you have no idea what's going on. Those are the moments you choose what you believe. It's easy to stay close to God when everything goes as planned, but when things don't, you have to decide to believe that He loves you and is working for good. I'm taking it a day at a time."
Those first days of grief were also Lindsay's first days of marriage.
"It was a difficult two years," she shares. "There has been a lot of change, and we've both grown so much. We've been blessed in many ways. Knowing my dad was sick, I was praying that my husband would get to know him. It has been such a gift to me that he knew him even a little. It's been cool to see the way he's honored my dad."
As she and her husband honored the life of her earthly father, Lindsay turned to music to also honor her Heavenly Father.
"Music has always been huge in my life," says Lindsay. "I remember driving to the hospital to see my dad, listening to Cindy Morgan, Nichole Nordeman. I started writing songs for this record, One More Step, primarily after he passed away. I wrote songs that are hopeful and prayerful — songs for people in difficult times."
Not interested in a fabricated persona of contentment or healing, Lindsay did what very few artists are brave enough to do — she embraced her pain and let it bleed onto the pages, into the melodies, until it, too, became a beautiful thing.
"Jason Gray once said, 'If pain is something that God uses to draw us closer to Him, it's a holy experience.' We tend to ignore it, mask it or explain it away instead of just sitting in it and receiving it as a gift from the Lord. It's a strange gift — opposite of our walk with the world.
"The world says life is easy, be beautiful, be happy, make tons of money. Put yourself first. But the Bible says just the opposite. The 'easy' is what we're sojourning toward. Pain is a holy experience, and I wanted to write songs that would be there for people who need comfort."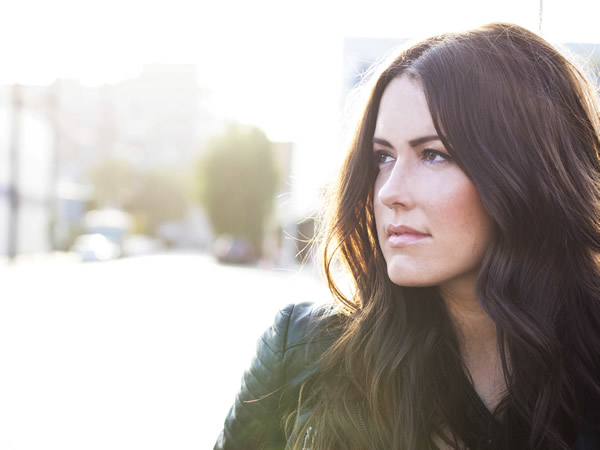 From beginning to end, the songs do just that. Poignant, touching imagery comes alive with identifiable lyrics and confident but not abrasive melodies, delivered with Lindsay's warm, throaty alto.
"I wanted to write songs for the album with deep lyrics but also something people would want to listen to," she says.
With warm, heart-wrenching ballads punctuating the overall upbeat track listing, the album takes on a fresh, yet comfortable, vibe under the guidance of writers and producers such as Jeff Pardo, Josh Wilson and John Mays.
Despite the sadness, unsteadiness of life and an overall emotional wipe-out, Lindsay clearly recalls one of the last conversations she had with her father — the kind that gets you centered and pushes you on day after day.
"Dad said, 'Looking back on a short lifetime, so far, what have you learned?' Everybody knows they're dying, but nobody really thinks they are. We have to number our days."
Lindsay's taking each of those days in stride — one at a time.
"Life is a marathon," she says. "I just pray for grace to make it through this one day. I'm trying to stop focusing on tomorrow but to live in a way that's wise.
"Grace is grace, and the Lord is near the broken-hearted even in the midst of grief and aching and questioning. I won't know why all these things happened at the same time. It's hard for our finite brains to understand, but it's a huge comfort to me knowing His mercies are new every morning."
And as Lindsay continues her own journey, day by day and step by step, she does so with her full reliance on the One who has already prepared the way.
VISIT LINDSAYMCCAUL.COM FOR MORE INFORMATION