It's been five years since Leeland unveiled a full-length project. Now, with the release of Invisible (Bethel Worship—buy), the acclaimed worship band has a fresh lineup and a new label home giving them the opportunity to collaborate with some of their musical heroes.
Three years ago, worship band Leeland found itself independent and on the brink of breakup. There was no major fallout. One by one, God just began to call the band members in different directions. Drummer Mike Smith and Leeland's longtime road manager exited the group to work full-time for up-and-coming country artist RaeLynn, lead singer Leeland's cousin. Meanwhile, Jack Mooring—Leeland's older brother—left to pastor a church in Franklin, Tenn., full time.
"That was a big, bittersweet thing. It's awesome to see him fulfill his dream, but at the same time…we've been doing music our whole lives together," Leeland Mooring says of his brother's departure. "I didn't realize how much I depended on him until he moved on. It just makes you grow up really fast."
Eventually, with only Leeland and good friend Casey Moore left, the band found itself at a crossroads. Should the remaining members strike out in search of a different calling? Was it time to close this chapter on their collective music career?
"We both still had this tremendous passion to keep recording music, writing music and traveling and doing ministry with the band Leeland," the front man explains. "During this time, I really felt this urge in my heart to be somewhere connected to a family."
Deciding to forge ahead, Leeland and Moore found that family in Bethel Music. After establishing an organic friendship with Bethel's Brian Johnson, Leeland signed to Bethel's label in 2015. Although the band is currently based in Nashville, the group will still participate in Bethel's tours, conferences and events and will occasionally lead worship at the church's main campus in Redding, California.
"It just felt so natural and so easy, and we felt the hand of God on it the whole time," Leeland says of joining the Bethel family. "It's just been literally the most peaceful thing we've ever done; and we felt such assurance that this is exactly where we need to be. From day one, they've just championed everything in our hearts."
Since releasing their 2006 critically-acclaimed debut, Sound Of Melodies (Provident Label Group—buy), Leeland has had the opportunity to collaborate with some of Christian music's best and brightest artists and songwriters. One welcome benefit of signing to Bethel Music was the incredible stable of talent that was opened to them.
Under the leadership of Brian and Jenn Johnson, Bethel's roster includes a host of emerging artists, including Jeremy Riddle, Steffany Gretzinger, Amanda Cook, Cory Asbury and Kristene DiMarco, among others. "Over the years, we've gotten to write with a lot of co-writers, but what's been so cool is getting to see the heart behind all the writers at Bethel because they carry something different; they carry something unique," Leeland explains. "It's like everyone's got a view of God that you need. They all see Him differently; and when you start writing, that comes out, and you go, 'Wow, I would've never thought of that. That's amazing.' It just strengthens the idea and strengthens the song."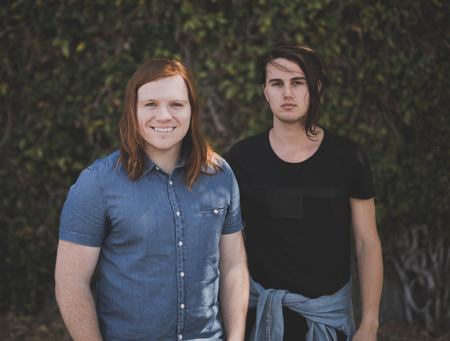 PERFECT LOVE
For Invisible, Leeland and Moore wrote with a range of writers inside and outside the Bethel camp. The end result was a series of one-of-a-kind experiences and a new batch of more than a dozen moving, culturally relevant songs.
The band wrote the album's fourth track with Gretzinger. "We've always been huge fans of her and her heart of gold," Moore shares. As Leeland, Moore and Gretzinger began swapping stories about God's active work in their lives, their conversation turned to the biblical narrative of the Prodigal Son, and the words for "Perfect Love" began to flow. The trio stepped into a large walk-in shower in the space where they were writing to capitalize on the premium acoustics and record the initial demo. It was a unique moment in the recording process they'll treasure for years to come.
"We still have the recordings somewhere on our phones," Moore says. "It was so perfect, and I'll never forget that. It was a really special moment with her."
SON WAS LIFTED UP
Bethel's Brian Johnson contributed to multiple cuts on Invisible, including the powerful highlight, "Son Was Lifted Up," a song focused on Christ's ultimate sacrifice that proved arduous to write.
"Brian had a part in writing 'Forever,' which is one of the greatest songs about the cross and the resurrection, and so I was nervous writing a cross song with Brian," Leeland admits.
"You don't want to write a song about the cross and not do it justice," Moore adds.
Finding new words to describe the timeless story of Calvary can be a challenge even for veteran songwriters; and Johnson and the band found themselves coming up short, lost in thought during the co-writing session.
"We were just thinking about what Jesus did for us, thinking about what the chorus was saying and how to make it more personal," Leeland recalls. "I was thinking back on that moment when I met Jesus for the first time, the real Jesus, and the Holy Spirit really encountered my life—what was that like?
"The Lord did a new thing in my heart two years ago, and I felt like I got saved again," he continues. "The Bible says, 'God restores the joy of our salvation and brings us back to our first love.' … I just had this real encounter with Jesus again on a plane that rocked my world. God was revealing His love for me and telling me that I'm never going to be able to earn it or beat Him to the punch or make myself presentable for Him to love me. I haven't been the same since."
With the songwriters each thinking back on their own personal encounters with Jesus, something just clicked, and the three men found themselves filled with gratitude, which they then poured out in the song that morphed into pinnacle track "Son Was Lifted Up."
BELOVED
Moving ballad "Beloved" falls near the end of Invisible's track listing. The worshipful cut was penned in Australia, where Leeland was playing for the first time. During the visit, worship leader and pastor Darlene Zschech invited the band to her home. Though Zschech isn't a part of the Bethel roster, it was a dream co-write and one of the most memorable experiences of the recording process, especially for Leeland who grew up listening to the well-respected songwriter and vocalist.
"Literally, since I was eleven years old, her voice has been one of the big voices in my life that helped give a language to my heart in worship and helped inspire me to write songs," Leeland says. "It was a dream come true having her voice on the record. We didn't have to do anything to it. Her voice is so amazing. She did one take, and it was perfect."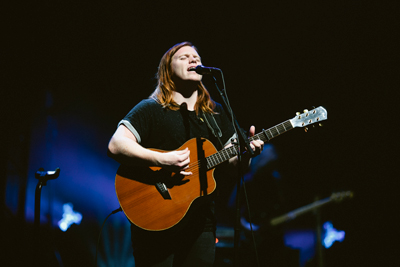 Zschech, who recently battled cancer, began sharing her story with the group and how throughout her struggle she sat through countless worship services wanting the "worship leader to give my faith something to do." That became the premise for "Beloved."
"All we were doing is really writing out of our own experiences," Leeland shares. "We were all pulling from the different battles we were going through… It just felt like, 'Let's lift our eyes off our problems and lift our eyes to the answer, Jesus.'"
From there, the rest of the song progressed quickly. "Leeland got on the piano; Darlene was singing… It just came together so fast—one of the fastest songs that I've been a part of writing," Casey remembers. "It felt so right."
INVISIBLE
That's a sentiment that seems fitting for Invisible as a whole: it just feels so right. The band has discovered a group of kindred spirits in Bethel, and musically, the album captures a similar complexity and exuberance found on the band's debut. In addition, writing with a new sampling of songwriters enabled Leeland to turn out some of the strongest lyrics of the band's career.
"I feel like this record is the best representation of us of any of the albums we've made," Leeland reveals, adding that the band is reveling in the freedom they've found in what feels like a definitive fresh start. "We can just be who we're created to be," he says.
Looking back on the thirteen tracks that comprise Invisible, it seems every song has its own unique story, primarily defined by the people who wrote them and the ways God was working in their lives in that moment. It's made Leeland grateful for every co-writer, every heaven-sent lyric and every melody.
"[Sometimes I think] we need to stop writing the song, and we just need to start thanking Jesus for what He has done for us," Leeland reflects before adding, "God really does have a plan for each [song] He gives you."