On the heels of releasing his seventh original solo album, Losing My Religion (RCA, Nov. 13, 2015), and eleventh overall (including 2012's compilation The Essential Kirk Franklin)—plus an additional seven more, previously recorded alongside companion choirs The Family, Nu Nation, and 1 Nation Crew—singer-songwriter (obviously excluding an ongoing host of other worthy titles) Kirk Franklin really doesn't have anything left to prove.
For a man who has eclipsed one pinnacle after another, and collected countless accolades along the way (well, we can count nine GRAMMY Awards, to name a few), the musical prodigy is still approaching his work as if he has everything to lose. And don't let the new album title fool you—Franklin is ever laser-focused on his life's accomplishments completely representing the One who has given him true life, Jesus Christ. Losing a little, to gain a lot (Philippians 1:21).
Enjoy this brief conversation between author, and fellow singer-songwriter Andrew Greer, with platinum-selling recording artist Kirk Franklin.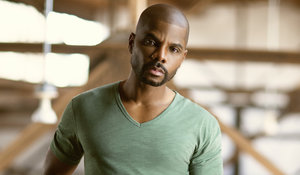 CCM: Losing My Religion. Explain the motivation behind this provocative title.
Kirk Franklin: The motivation was to use an album full of Christian content and the love God has for mankind, and to combine it with a title that would open people's eyes and start the conversation about who God really is.
Since humanity is driven by so many rules, and the mindset that who we are is based on what we do—this album has become the soundtrack to our inability to ever do enough to match what has already been done through Jesus Christ.
CCM: I fell in love with the first single when you performed it at the Dove Awards this year. The groove is incredible, but the lyric, It's so easy to complain / Addicted to the pain … Jesus knows just how you feel / Just let him take the wheel, is what hits home. Many folks could get into a debate over semantics—happiness being temporal, versus joy being eternal—do you perceive a difference? What inspired this lyric?
KF: I see happiness as a segue into joy. Happiness gives birth to joy. A person senses a feeling, but they have to do the work to find out what that really is. In that process, as they mature in their walk and in their faith, they are introduced to joy, which has more of an eternal implication. Basically, happiness and joy can co-exist. One is for here, and one encompasses it all.
CCM: You are one of the best-selling artist-producer-arranger-choir directors in the world. When you were a kid growing up in Fort Worth, TX, first growing in your experience of music and choirs, did you ever anticipate the breadth of your career?
KF: No, I really didn't. I didn't really have an idea of what I would be. Dreaming was a luxury that I really couldn't afford.
CCM: Your catalog through the years has permeated with overcoming anthems—"Smile," "Do You Wanna' Be Happy," "Brighter Day," "He Reigns." Are these themes born from your own personal spiritual experiences? Do any relate to the spiritual wanderings of your early years?
KF: Yes, those themes are the narrative of my entire life—from my early years until now, as you mentioned.
CCM: Today, 2015, if you could only communicate one thing to listeners, what would that one thing be?
KF: Christ is alive and relevant.