You see a story about a rapper entitled "For His Glory Alone," and immediately you think that you've read it before. Second verse definitely not the same as the first verse.
It's true, in his short, now two-and-a-half album career with Atlanta's Reach Records Kevin Burgess, whom we all know by now as KB, has already attained what most in the genre have not in the lifespan of their artistry. Modest record sales, growing clout in the artist community in and out of hip hop (Christian or mainstream), awards, and documented crossover chart success—all items that seem to pass by the tiny sliver of music industry pie we know as Christian hip hop.
Like his employer Reach Records, however, KB has made enough noise to garner the attention of those outside of the Christian hip hop community. His 2014 EP titled 100 debuted on Billboard's Christian chart at #1 (#4 on Billboard's Rap chart and #22 on their vaulted Top 200), all leading up to securing a Dove Award, relationships with the GRAMMY organization, and acclaim that has taken him far beyond the streets of his Tampa, FL dwelling.
As he concluded in the documentary "Before Tomorrow—Part Two," featured on his website WhoIsKB.com, "All in all, my job on this earth—what I'm doing here—is to bring clarity to people's vision of God." Like the namesake of a humble Bible study that began in a Tampa apartment that has now turned into a community-wide movement—above all else, Kevin Burgess lives to glorify Christ—for His Glory Alone.
Shortly after the release of his second full-length album Tomorrow We Live (already a chart success story), we talked with KB about how he got his start, working with Lecrae and Bubba Watson (yes, that Bubba), the difficult subject of suicide, and how his community and family keeps him focused and grounded while his career takes off.
CCM Magazine: Tell us more about your conversion to Christianity through music.
KB: Like many, I saw and was influenced by the movie 8 Mile. [Laughs] I think everyone who ended up seeing 8 Mile thought they were a rapper! I was no different than most, except for the fact that despite performing extremely well in academics from a young age, I struggled mightily with depression which then led to a dependence on drugs. One day, in the midst of this difficult time in life, I ran into someone I overheard rapping and, just like the movies, I challenged that gentleman to a rap battle. His response struck me very funny, he said, "I don't rap to battle—I do Christian rap."
What was so peculiar about his response was how confidently and boldly it was stated. I remember thinking that I would never catch myself saying something like that. Although I considered myself a "Christian" at the time, my shallow views on Christianity always leaned toward being "soft" and "weak." I saw him a few weeks later outside eating lunch, when I approached his table I noticed he had a CD with him with a guy on the cover that did not look very "Christian" as far as I was concerned at the time. Again, in my mind, a Christian wasn't supposed to be rocking dreadlocks, bandanas, and chains and calling their rap albums Bloody Street.
When I challenged my eventual friend about that, he said "No, this is Christian music," and let me take the CD home. Of the eight songs on the album, I loved every single one. And the eighth song was actually a gospel presentation introducing Jesus, why He died, and what that meant for me. This proved to be the missing link in my life—the content on that CD made sense of everything. The light came on and the vision became clear. That was eleven years ago, and through this thing we do called Christian hip hop, Christ changed me forever.
CCM: Amazing. Who was the artist and does he know your story of transformation?
KB: Mynista. He was known as Synista, then after experiencing a radical life-change through Christ, he dropped the "S," added the "M," and now does what he does for God. We became friends right after my conversion and he was very instrumental in the beginning phases of my walk.
CCM: Have you heard testimonies of others coming to Christ through your music specifically?
KB: Many times. I've had people come up to me after shows to tell me that my music has changed their lives. All of the glory goes to God. It also seems like it happens at times when I may be going through a season of discouragement or resistance when it comes to what I'm doing professionally. It's like God orchestrates those moments to reaffirm for me what He's able to do through my music.
There was a guy that I met once that confessed he was about to take his own life before coming to one of my concerts. During the show, God completely transformed his mind.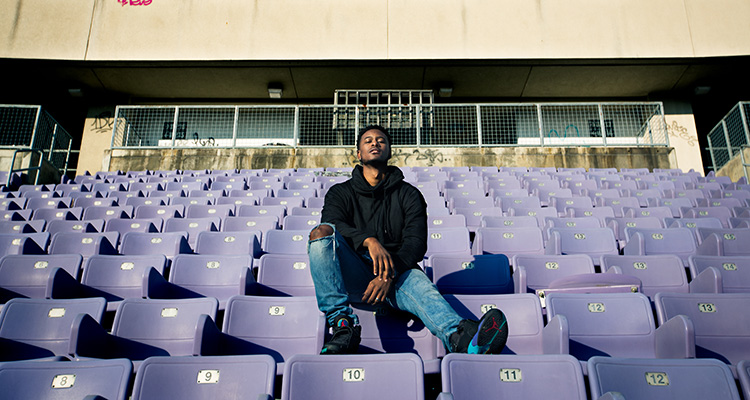 CCM: Speaking of suicide, walk us through the painful real-life moments of "Calling You."
KB: We had a friend in our community ending up being very bitter toward a lot of us upon his return from combat overseas. Although I understand now that he was genuinely hurt, at the time I admit that I felt like he was being somewhat immature about the situation. It was difficult to consistently get him on the line and there were always issues with Skype, etc., but in hindsight we could have definitely tried harder while he was there.
After he returned, he consistently distanced himself from the community, and seemingly, away from Christianity—this should have been a red flag for all of us. Then one night he took his own life. I went to his house within the hour it happened and experienced his family weeping and mourning, I remember being speechless and feeling hopeless. "Calling You" came out of the burden I felt to retell the story in a way to respect the family, but also to bring to light the unfortunate common reality of suicide in America.
Two things that I have taken away from that story and consistently tell are, 1) Being more compassionate to those who are sick and hurting. A lot of factors can feed into someone reaching a mental state of actually going through with taking their own life, but we have to be better at loving someone through their hurt as if we're responding to someone with a physical illness, and 2) Encouraging anyone with a struggle to please, at the very least, just talk to someone about it. Allow yourself to become a little vulnerable, there's a very good chance many other people you know are going through something similar—you're not alone.
CCM: Who were some of the Christian hip-hop artists that influenced you?
KB: What began the shift of thinking from rap as a hobby to more of a career mindset were some of the artists from Cross Movement Records. I was introduced to a guy named FLAME, his first album is still one of my favorites to this day. I immediately identified with him through his slang and accent, as he is from St. Louis, not far from where I grew up. The Ambassador and Da' T.R.U.T.H., also from Cross Movement, and of course Lecrae.
CCM: How has Lecrae been involved in your artistry?
KB: I'm a firm believer in the notion of "you know you have a career when it becomes a career." So when people asked me to perform and then began to pay me for it, it's like, "Hey, I have a career!" Before all of this, rapping was definitely just an extension of an overall ministry for me in Tampa. I am part of a community-wide mini-movement called HGA (His Glory Alone). We were everywhere sounding the alarm that Jesus had saved us—and not that it has ever been our aim—however, the reality was it did not supporting any of us financially. But it eventually became one of the links that led me to meeting Lecrae, and eventually he introduced an opportunity for me to make a career out of music. Taking what I naturally did here—then refining, perfecting, and turning it into something that's a bit more constructed and consumable. Lecrae had a lot to do with me having a career in Christian music—he initially gave me the platform and the means to expand on what I felt God calling me to do.
CCM: What have you learned from Lecrae?
KB: A lot, but the main thing I can say is that I've learned from his example of keeping strong accountability—steering away from "yes men" and surrounding myself with those that are not afraid to challenge me.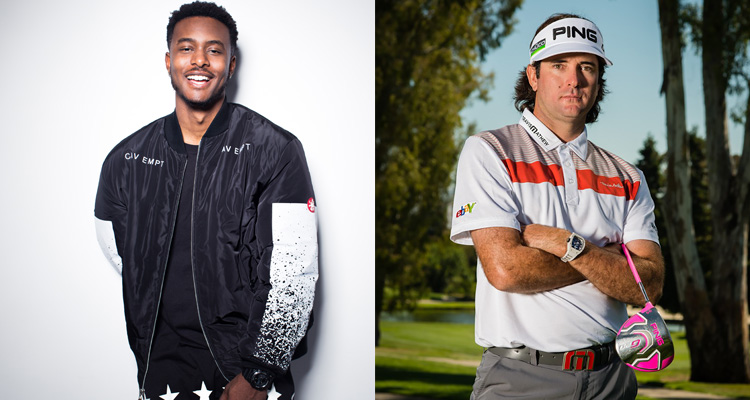 CCM: You recently became a father. Tell us what this means to you and how has it influenced your music?
KB: It means the world to me. It's a very unique love that a man has for his child, it's hard to describe—I would die for him any day. In my music, it's pushed me to work very
hard and to be more creative. I want to give it all that I have to make sure he is covered and taken care of, and that he has an example of an industrious, Godly man to call father. That has been my goal more recently—to work hard and live in such a way that my son would be proud.
CCM: How has your wife influenced your music?
KB: I admire her. I love how she sacrifices so much—I love her diligence. She also serves our family with a very humble spirit. I often talk about transcendent realities in my
music. Few things are more transcendental than character and a fear of God, and by her example she encourages me to really go after those in both my life and music. When you become a husband, things are instantly revealed that you didn't know about yourself—some bad, others good—but in everything she brings the best out in me and I am so thankful for her.
CCM: You have to tell us about Bubba Watson!
KB: [Laughs] He's an incredible golfer and lover of Christian hip hop. We were doing a song on the album about taking risks and I thought that it would be pretty risky to have a golfer on a hip hop song, so it just kind-of happened.