BELOW: Read Jon Foreman (from Oct. 15)
JUMP TO: KB (from Jun. 1) // Darlene Zschech (from Feb. 15) // Red (from Mar. 15)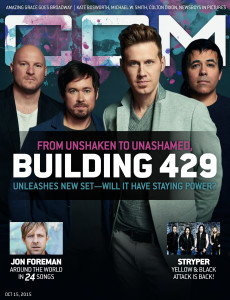 JON FOREMAN—Around The World In 24-Songs  // Can Jon Foreman's latest musical journey accurately provide the soundtrack to the sunlights, shadows, darknesses and dawns of our lives? (by Andrew Greer)
Excerpt from the October 15, 2015 edition of CCM Magazine | As one of the founding fathers of the multi-platinum alt-rock band Switchfoot, Jon Foreman is one of music's most recognizable young veterans. But even longtime Switchfoot listeners admire the beloved front man for more than just music. His holistic platform encompasses a passion for philanthropy, his west coast homeland and surfing, and a reflective solo discography, wrestling down the mysteries of his faith alongside fans, not simply in front of them.
Having already released a seasonal EP series—Fall, Winter, Spring and Summer—plus a pair of acoustic-alt-folk records as one-half of Fiction Family, a side collaboration with Nickel Creek's Sean Watkins, Foreman's thoughtful singer-songwriter prose has enlisted a throng of discerning listeners all his own.
Following his serial trend, 2015 introduces a new collection of EPs entitled The Wonderlands. Featuring 24 songs, produced by 24 creatives, divvied up between four EPs—the already-released Sunlight, Shadows and Darkness, with Dawn, releasing later this month—Foreman takes the time to pause and reflect on the unique language of music, and how this melodic speech can help us express our hearts for each other, and for God.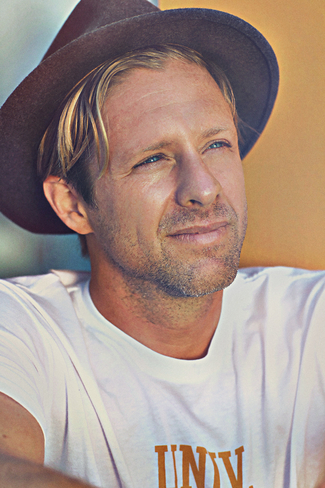 CCM: Twenty-four songs. Twenty-four producers. Help me wrap my head around the motivation behind utilizing so many different people to capture this massive set list of songs?
Jon Foreman: The question was, "How do you make a record while touring?" I wanted The Wonderlands to be acoustic guitar with lush instrumentation. I can fake playing enough instruments on the road, but I don't play cello or bass clarinet [Laugh]. I really can't get that orchestral feel. So, my friend, Chris York, and I came up with the idea of hiring these incredibly talented friends of ours, sending them the songs and they would send us back all the tracks. Cello, piano, choir, whatever.
All these different producers—Andrew [Wessen] from Grouplove, Darren [King] from Mutemath, Taylor [York] from Paramore, Jeff Coffin from Dave Matthews Band—I would send them various stages of a song, and they would send their version of it back.
After the first record I realized I really like a sparring partner. I like someone to hit back with their own musical muscle. I need that. I need somebody else in the ring with me.
CCM: What was the significance behind the number '24?'
JF: I wanted to create a world with Wonderland, where all these songs would map out this place that wasn't quite earth. Where you could look back at our planet from this objective position that gives you a little distance. Then the concept of 24-hours of this musical planet came as we were grouping the songs.
CCM: Music is therapeutic. It is an outlet for our feelings—to give feelings to our penmanship, of sorts. These EPs explore the gamut of emotions. How do they help you express what is on your mind and heart?
JF: I feel like melody and music, in general, expresses things I can't express any other way. Music often tells the truth quicker than words, couple that with social acceptability. It is socially acceptable for me to sing a song about God, girls, sex, doubt, fear, anything, in front of thousands of people, but I would have trouble talking about these issues with my closest friends. It gets to the heart of the matter.
Referring to the idea of writing fantasy, C.S. Lewis said it could, steal past those watchful dragons, of religion. I feel like music does the same thing as a kind of melodic allegory of life.
In music, there's this idea of tension and release. Periods of doubt, and then resolve. We get to the other side. Sometimes music says those things more clearly than words.
CCM: Music seems to have a universal relatability.
JF: I've played shows in Japan, India, South Africa, all over the Philippines, and Malaysia, where people don't necessarily speak English. And that's what I sing in, right? [Laughs] Somehow the content of the lyric gets across. It's crazy to see a bunch of people who don't speak English singing along perfectly to your song with their hands up in the air, eyes closed. Then you talk to them after the show and they don't speak English. You realize what a powerful connection music has with the heart.
CCM: Where you live in California, you are founding a music school where underprivileged teens can receive music lessons. What inspired this?
JF: A desire to see the world change was the initial impetus for all of my crazy projects. You are first aware of a problem. The problem, at least in California, is all the music programs are being cut—art and theatre programs as well. So I thought, "Maybe music is being cut because music it's no longer needed for a child's education." Then I did the research, and music is crucial for better test scores in art, math and literature. And itís also crucial for self-esteem, holding a job and higher education. So then the question becomes, "What are we going to do about it?"
As musicians, we care more about music than anyone. So if we're not going to do something, then no one's going to do anything. That's where the initial thrust came from. We're hoping to open it this fall… JUMP TO FULL STORY in the October 15, 2015 edition of CCM Magazine
---
KB—For His Glory Alone  //  The newest Reach Records standout, KB, chats with CCM about music, ministry, golf, and community (by Kevin Sparkman)

Excerpt from the June 1, 2015 edition of CCM Magazine | You see a story about a rapper entitled "For His Glory Alone," and immediately you think that you've read it before. Second verse definitely not the same as the first verse.
It's true, in his short, now two-and-a-half album career with Atlanta's Reach Records Kevin Burgess, whom we all know by now as KB, has already attained what most in the genre have not in the lifespan of their artistry. Modest record sales, growing clout in the artist community in and out of hip hop (Christian or mainstream), awards, and documented crossover chart success—all items that seem to pass by the tiny sliver of music industry pie we know as Christian hip hop.
Like his employer Reach Records, however, KB has made enough noise to garner the attention of those outside of the Christian hip hop community. His 2014 EP titled 100 debuted on Billboard's Christian chart at #1 (#4 on Billboard's Rap chart and #22 on their vaulted Top 200), all leading up to securing a Dove Award, relationships with the GRAMMY organization, and acclaim that has taken him far beyond the streets of his Tampa, FL dwelling.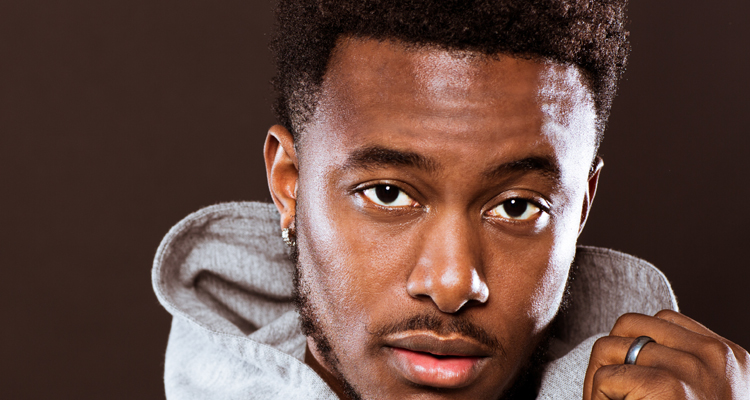 As he concluded in the documentary "Before Tomorrow—Part Two," featured on his website WhoIsKB.com, "All in all, my job on this earth—what I'm doing here—is to bring clarity to people's vision of God." Like the namesake of a humble Bible study that began in a Tampa apartment that has now turned into a community-wide movement—above all else, Kevin Burgess lives to glorify Christ—for His Glory Alone.
Shortly after the release of his second full-length album Tomorrow We Live (already a chart success story), we talked with KB about how he got his start, working with Lecrae and Bubba Watson (yes, that Bubba), the difficult subject of suicide, and how his community and family keeps him focused and grounded while his career takes off.
CCM: Have you heard testimonies of others coming to Christ through your music specifically?
Kevin Burgess: Many times. I've had people come up to me after shows to tell me that my music has changed their lives. All of the glory goes to God. It also seems like it happens at times when I may be going through a season of discouragement or resistance when it comes to what I'm doing professionally. It's like God orchestrates those moments to reaffirm for me what He's able to do through my music.
There was a guy that I met once that confessed he was about to take his own life before coming to one of my concerts. During the show, God completely transformed his mind.
CCM: Speaking of suicide, walk us through the painful real-life moments of "Calling You."
KB: We had a friend in our community ending up being very bitter toward a lot of us upon his return from combat overseas. Although I understand now that he was genuinely hurt, at the time I admit that I felt like he was being somewhat immature about the situation. It was difficult to consistently get him on the line and there were always issues with Skype, etc., but in hindsight we could have definitely tried harder while he was there.
After he returned, he consistently distanced himself from the community, and seemingly, away from Christianity—this should have been a red flag for all of us. Then one night he took his own life. I went to his house within the hour it happened and experienced his family weeping and mourning, I remember being speechless and feeling hopeless. "Calling You" came out of the burden I felt to retell the story in a way to respect the family, but also to bring to light the unfortunate common reality of suicide in America.
Two things that I have taken away from that story and consistently tell are, 1) Being more compassionate to those who are sick and hurting. A lot of factors can feed into someone reaching a mental state of actually going through with taking their own life, but we have to be better at loving someone through their hurt as if we're responding to someone with a physical illness, and 2) Encouraging anyone with a struggle to please, at the very least, just talk to someone about it. Allow yourself to become a little vulnerable, there's a very good chance many other people you know are going through something similar—you're not alone.
CCM: Who were some of the Christian hip-hop artists that influenced you?
KB: What began the shift of thinking from rap as a hobby to more of a career mindset were some of the artists from Cross Movement Records. I was introduced to a guy named FLAME, his first album is still one of my favorites to this day. I immediately identified with him through his slang and accent, as he is from St. Louis, not far from where I grew up. The Ambassador and Da' T.R.U.T.H., also from Cross Movement, and of course Lecrae.
CCM: How has Lecrae been involved in your artistry?
KB: I'm a firm believer in the notion of "you know you have a career when it becomes a career." So when people asked me to perform and then began to pay me for it, it's like, "Hey, I have a career!" Before all of this, rapping was definitely just an extension of an overall ministry for me in Tampa. I am part of a community-wide mini-movement called HGA (His Glory Alone). We were everywhere sounding the alarm that Jesus had saved us—and not that it has ever been our aim—however, the reality was it did not supporting any of us financially. But it eventually became one of the links that led me to meeting Lecrae, and eventually he introduced an opportunity for me to make a career out of music. Taking what I naturally did here—then refining, perfecting, and turning it into something that's a bit more constructed and consumable. Lecrae had a lot to do with me having a career in Christian music—he initially gave me the platform and the means to expand on what I felt God calling me to do.
CCM: What have you learned from Lecrae?
KB: A lot, but the main thing I can say is that I've learned from his example of keeping strong accountability—steering away from "yes men" and surrounding myself with those that are not afraid to challenge me.
CCM: You have to tell us about Bubba Watson!
KB: [Laughs] He's an incredible golfer and lover of Christian hip hop. We were doing a song on the album about taking risks and I thought that it would be pretty risky to have a golfer on a hip hop song, so it just kind-of happened… JUMP TO THE FULL STORY in the June 1, 2015 edition of CCM Magazine
---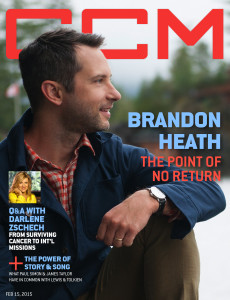 DARLENE ZSCHECH—Leading With Humility And Hope  //  Q&A with Darlene Zschech: Master songwriter and legendary leader; Humble mother, cancer survivor, child of God (by Kevin Sparkman)

Excerpt from the February 15, 2015 edition of CCM Magazine | With the releasing of her latest project In Jesus' Name: A Legacy of Faith and Worship, a celebration of Darlene Zschech's favorites, CCM Magazine wanted to dig just a little deeper into a few of the project's newest songs, catch up with her family's mission efforts in Africa, and to get her thoughts on subjects like worship and heaven.
The anointing of God on Zschech's work is undeniable. Also apparent, is the glorification of God that is spread the world-over time and again through her music—a contribution that has now spanned three decades. She says of her penned classic "Shout To The Lord," "I still get overwhelmed as I hear people worship Jesus with those lyrics. The message stands true and the declaration within it gives people strength and clarity. I personally stand in awe of God's faithfulness every single time I sing it."
Zschech's humility is intrinsic to her ability in capturing the very nature of her relationship with her Creator through song. When asked what goes through her mind when she thinks about the millions of people singing the lyrics "My Jesus / My Savior / Lord, there is none like You" around the world each and every Sunday, she simply stated "It's the people's song, not mine. Seriously, the feeling of honor to have been part of that has never left me."
CCM: Tell us the story behind writing the song "In Jesus' Name."
DARLENE ZSCHECH: I was actually walking through the final stage of cancer with a dear lady from our church, and to be honest, I got SO angry that cancer takes the lives of so many. Mark and I both lost our fathers to cancer—the list goes on and on—so my intention was to write a statement of faith straight from the Word of God that would confront the fear head-on.
CCM: You recently stated "As I put my HOPE in Him, His love will engulf me, and I will be stolen away to a place no one else can go, because it's a place reserved for Him and me. There is a place in Christ designed just for you too." As a worship leader who directs thousands into corporate worship regularly, how do your intimate moments with God correlate with your leading?
DZ: I honestly know that you cannot lead people to places you've never been. Diving deep into His love and grace this year has not only affected my worship leading, but every area of my life. I will never be the same. I don't want to be the same. To be a worship leader that truly leads, you must be a prayerful person rather than simply a musical person. Understand the theology behind why you do what you do—then the confidence that shines from that place has nothing to do with you, rather, the Godly fire in your belly to lead people to the courts of the King will easily lead the way.
CCM: What advice or encouragement could you give to those receiving the call to write songs specifically for worship?
DZ: When writing, you've got to have something to say—something that is truly stirring in your spirit. It sounds so simple but it's true! Dig deep, don't rush. Get feedback from those you trust. Hold your songs loosely—worship is not about you and your songs, it's about the glory of God.
CCM: What are some of the basic principles that you apply to help you in the songwriting process?
DZ: Always get someone to check the theology of your lyrics. And, in the end, when writing songs for congregations, make sure they can sing them!
CCM: Is there a particular writer or singer today that you can foresee releasing a "worship legacy" project in 15-20 years?
DZ: Oh my, there are so many people I love and admire when it comes to worship music! The Bethel [Music] team, Hillsong team, Miriam Webster, Israel Houghton, Worship Central, etc. But as we are very close to Martin and Anna Smith, I would say that Martin's writing has had a profound effect on me, my family, and now our church family. He is one of the very, very best… JUMP TO THE FULL ARTICLE in the February 15, 2015 edition of CCM Magazine
---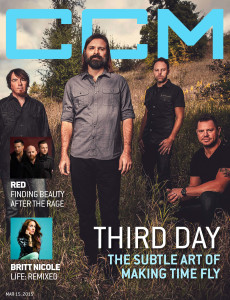 RED—Q&A With Red  //  Finding the light: Reliving the pain from darkness produces best Red album to date (by Kevin Sparkman)

Excerpt from the March 15, 2015 edition of CCM Magazine | When an established outfit veers from a perceived musical pathway, a reaction garnered by many faithful Red followers after Release The Panic in 2013, it can set the stage for an endless meandering or a triumphant return. When this, the fifth offering Of Beauty and Rage was dubbed as a "concept album," emanating ripples of shock waves seemed to have Red's core audience rocked once again.
Well, the core is definitely rocked—but the February 2015 release, debuting at #14 on the U.S. Billboard 200 chart (#2 U.S. Top Alternative Albums, #1 U.S. Christian Albums), has already proven to be a fan favorite and is bringing the band's faithful followers back to Red's roots heard on debut recordings End Of Silence and the sophomore Innocence and Instinct. In addition, Red self proclaims "We've created, hands down, our best album yet" as voiced on their PledgeMusic.com profile page, where fans came out in droves to support Of Beauty and Rage.
We agree with singer Matt Barnes, guitarist Anthony Armstrong, and bassist Randy Armstrong, the collective we know and love as Red — this is, to date, their watershed recording. Aside from any negative connotations the term "concept" may conjure, the formula just seems to work on of Beauty and Rage, as the band does a masterful job of utilizing sixty-plus powerful minutes to package the story of hidden beauty we find waiting for us beneath the darkness.
We catch up with twin brothers Anthony and Randy and dive deeper into the concepts from Of Beauty and Rage.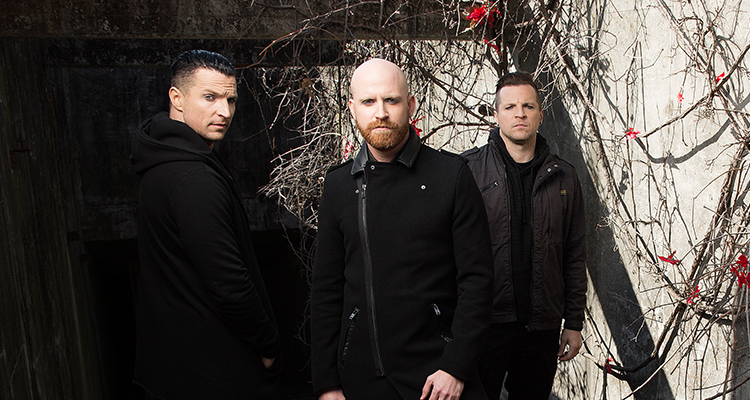 CCM: In addition to an intense soundtrack, Of Beauty and Rage also incorporates some pretty dark imagery—which is accompanied by a companion graphic novel—how potentially dangerous is it to put so much emphasis on this?
Randy Armstrong: It can illicit reactions of "Are you guys really who you say you are," or "Have you changed because you put a scary-looking figure on the cover on the album?" This reminds me of an article I recently read by Dan Haseltine of Jars Of Clay in which he talks about bands increasingly receiving criticism as their audience and popularity grows, and how the first things people seem to reach for are fear and anxiety. We do those things to provoke thoughts and questions like these and to hopefully have the opportunity to have intentional conversation about Who we believe in.
We've always been a band that has tried to push the limits—to not ignore the dark things. A lot of us have a hard time getting out of the darkness because we suppress it, but through Red we choose to confront those things head on. Plus, we know who we're running to, so this ultimately provides for an opportunity to engage others about our Savior. God has given us a story to tell through the music and art we've created, but He creates the opportunity.
CCM: The song "Yours Again" talks about finding a peace in God and returning to Him—how would you encourage someone who might be struggling in their relationship with the Lord?
Anthony Armstrong: Some people will put God to the test and want some sort of physical proof. They might yell to God and say "OK, last resort, if You're real prove it!" But it's amazing all of the signs along the way that go unnoticed or ignored that are intended to help get ourselves out of our own way and back to Him. For some, they have been lingering in the shadows for so long it finally gets too dark to see their hand in front of their face. It's a sad reality that sometimes it takes us getting to the absolute lowest parts of our lives, when there's no other way out, to realize we need our Savior, but He'll take us any way the He can get us!
Randy Armstrong: I don't think God ever leaves us, He's always there—it's us that wind up distancing ourselves from Him. As we walk through dark times together, sometimes as Christians we wonder why bad things have to happen to good people. But take courage in knowing that throughout all time God has used broken people. Also be encouraged to keep your foundation in Him because He uses broken people to lead other broken people through the darkest parts of life.
CCM: The song "Gravity Lies" is about our identity in Christ—how would you encourage someone who might be struggling with their identity or even self-worth?
RA: I would encourage that they talk to someone that they can really trust.
AA: A simple, but good answer is to go to church. Try out a local church youth group. But trust your instincts and also use caution, because sometimes even those places aren't always necessarily filled with light. Find a place where you can connect with other people, and once you're comfortable, dive in a little more and begin to truly understand the differences compared to how things were when you started. Ultimately, I think it's about relationships. Jesus Christ is all about them—He wants to be in relationship with all of us. In the right and best of situations, He can use the relationships that we foster in being a part of the body of Christ to dram Himself nearer to us, and to help us with figuring out who we really are. encourage that they talk to someone that they can really trust… JUMP TO THE FULL ARTICLE in the March 15, 2015 edition of CCM Magazine