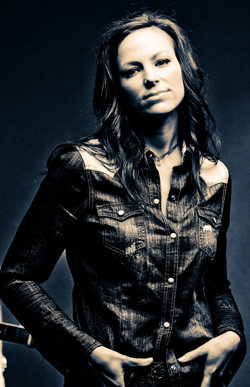 Editor's Note: This feature was written and scheduled prior to Joey Feek's death on March 4, 2016. It is published in its original format in honor of the undying influence Joey's life has made in the lives of millions of people across the world. And in full assurance she is now fully alive in Spring." Whoever believes in Him will live, even though they die. (John 11:25b CEB)

More than any other medium, music yields a unique power to transcend time and space. The most studied-up scholars and brainiest scientists fumble to explain just why music is so important to us. Think about it: what other creative channel can so instantly and poignantly connect us with the past, framework our present, and move us toward the future?
Even in the twenty-first century frenzy of mass media, something as simple as a melody can halt our dizzying pace, engage our senses and transport us to another moment and place. A certain song can muster up the aroma of fresh-baked bread and grandmother's kitchen. One single phrase can stir up the nervous thrill of a first love, and that first kiss. The turn of a fiddle or pulse of a piano can sting our heart with the remembrance of a loved one who died too tragically, too soon.
Music's composition may be mysteriously intangible, but its' effect is intensely palpable.
In the midnight of our darkest circumstances, when we are rendered speechless by pain and grief, music gives us a fresh language to formulate our prayers. When life's listless heartaches shroud our faith in doubt, music shoulders our confusions with hope, utilizing the universal beauty of melody and rhyme to permeate our anxious hearts with a big-picture perspective. When we are at the end of our rope and we have exhausted our solutions, music opens our eyes to eternity. And eternity opens our hearts to God. And God changes our lives forever.
Perhaps this is why music is so—well…spiritual? It seems, to me, God has infused music with Himself. He's all up in the mix. And this never seems truer than when humming a hymn.
GRAMMY-nominated country music duo, Joey + Rory—whose second faith-based release, Hymns That Are Important To Us (Gaither Music Group), simultaneously topped four Billboard music and video charts the week of release—seem to agree.
HUM A HYMN
Through the storm, through the night / Lead me on to the light / Take my hand, precious Lord / Lead me home … – "Take My Hand, Precious Lord" (from Hymns That Are Important To Us)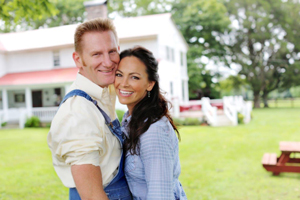 A marriage-turned-musical partnership, Joey and Rory Feek understand first-hand the power of a hymnal. Igniting a flame of faith in the hearts of their followers, the matrimonial musicians designated the track listing of their latest recording almost exclusively with historic hymns of the Christian church as a way to vocalize the hope their spiritual beliefs have instilled in their hearts while living out a series of disheartening events that have transpired in the couple's personal lives, captivating Americans' compassionate attention, over the past couple of years.
On February 17, 2014, Joey and Rory gave birth to their firstborn child, a girl, Indiana "Indy" Boon. A few weeks later, doctors confirmed a diagnosis the Feek's had suspected: Indy had Down Syndrome.
In May 2014, barely three months later, during a routine visit to her gynecologist, doctors discovered a mass on Joey's cervix. A few days later, tests confirmed the diagnosis doctors had suspected: at 38 years of age, Joey was fighting cancer.
Through comprehensive surgery, doctors believed Joey's cancer had been eliminated. But less than one year later, the cancer returned with a vengeance, initiating an unanticipated battle with Stage 4 cancer.
In a matter of months, the cherished couple, whose down home demeanor and rural farming lifestyle had amassed an entourage of grassroots followers through a best-selling musical career and their hit RFD-TV series, The Joey + Rory Show, found themselves in a whirlwind of doctor visits, diagnoses' and decisions. Though the response from family and followers was immediately and overwhelmingly supportive (the public has been piped into the details as they unfold through Rory's widely read blog: thislifeilive.com), the disease's merciless invasion of Joey's body proved that, even for a family frame-worked by faith, cancer is tough.
For Joey, hymns became a lifeline.
"I think a lot of times, when we don't know what to say, when you don't know what to pray, you don't know how to even begin, that's where, for me, these hymns have come into play so much," Joey said during a recent sit-down conversation with Gospel music pioneer, Bill Gaither, explaining the impact of hymns in the midst of her sobering sickness. "Sometimes you just don't know what to do, but to pray. And sometimes just getting started is hard. But that's where these hymns [take over]."
With infant Indy in tow, the soft-spoken songstress began an arduous path to healing through chemotherapy, radiation and extensive surgeries at expert cancer treatment centers in Chicago and Atlanta, as well as continued nutritional science honed through she and Rory's organic food farming skills. For Joey and Rory, the hope was cancer might merely be a pit stop on the long road of life they intended to travel together.
"Together Joey and I have learned what 'for better or worse' really means," Rory stated in Hymns & Stories, a deluxe Cracker Barrel Stores-exclusive edition of the CD with extended liner notes. "And even more than that, we've learned what it means to truly trust God with all our hopes, our dreams, and especially our fears."
For words to express these fears that flooded her mind, and yet the faith that anchored her heart, Joey once again turned to hymns to sing out her silent grief.
"I remember waking up—it was about two days after my surgery—in the middle of the night," recalled Joey in a recent press statement released by Joey + Rory's record label. "I'm hooked up to every machine possible, and out of complete thankfulness that I came through, I remember having the strength to sit up enough, my hands just elevated over my head, and I sang [the hymn], 'I need Thee / Oh I need Thee / Every hour I need thee.'"
"And I needed Him every hour. And I still do to this day. There are days that are just hard. [This song] has got us through so much at every hour that we needed Him. He continues to watch over us and take care of us. People every day who don't have cancer, who are dealing with trials or family issues or whatever it might be, we need Him. And when we think that we can get by on our own, we're so wrong."
MATCH MADE IN HEAVEN
If you needed me / I would come to you / I would swim the sea / For to ease your pain … – "If I Needed You" (from Country Classics: A Tapestry of Our Musical Heritage)
Before they were topping charts with remakes from America's beloved hymnbook, The Feeks were mesmerizing country music fans with their love story-turned-recording artist career.
As a working Nashville songwriter, Rory had been writing songs recorded by household names like Kenny Chesney, Blake Shelton and The Oak Ridge Boys when Joey Feek first laid her eyes on him at a "songwriter's round" at Music City's infamous Bluebird Café in the early 2000's. According to Joey, the attraction was instant.
"From the first song Rory sang, I fell head-over-heels," the then-single singer remembers, having just relocated from her hometown of Alexandria, Indiana to pursue her own dream of making music onstage. "I didn't even know him, but something inside me said, 'You're going to marry that man.' God put us together, and He knew exactly what He was doing."
As fate, or faith, would have it, in 2002, after only four months of dating, the fast-falling couple said, "I do." And overnight the newlywed couple became a household of four with the inclusion of Rory's teenage daughters, Heidi and Hopie. But several years in separate professions would pass before Joey and Rory would marry their musical talents for good.
As Rory's songwriting career continued to gain momentum, Joey's aspirations of becoming a country singer in the old-school traditions of childhood influences like Dolly Parton and Loretta Lynn dwindled. So when a mutual friend suggested the pair partner up to audition for Country Music Television's (CMT) Can You Duet?—a televised talent competition searching for country music's next big act a la American Idol—Joey was sold. Rory was scared.
"We didn't have a television at home," Rory remembers, "and the last thing we wanted was to be on one. [But] our friend said, 'Trust me, what you guys have is special. It's the real thing.'"
"I wanted to say no. [Joey] knew that one of my biggest fears was being in front of people in a setting like that. But I also knew that if we got on the show, the world might get to hear my wife sing, and it would be worth it. So I looked at my bride and said, 'Yes.'"
Thus, Joey and Rory once again became lifetime partners. This time, on stage.
Filmed in Nashville, the couple placed third on the series, subsequently landing Joey + Rory a record deal with famed Sugar Hill Records, spawning a string of successful country-bluegrass-folk records and earning the fan-favored duo a 2010 Academy of Country Music (ACM) award for Top New Vocal Duo.
In 2012, due to their growing album sales and public profile, RFD-TV launched The Joey + Rory Show, affording the duo's rapidly growing legion of fans a weekly glimpse into the couple's compelling rural lifestyle. An instant hit, the series—now in its fourth season—is filmed on the Feeks' farm in Pottsville, Tennessee, in a barn on a soundstage constructed by Rory specifically for the show. Airing in over 40 million homes each week and attracting thousands of fans to the farm for live tapings each year, the show has created a frenzy of media attention, cementing a place for the kind-hearted pair in millions of Americans' hearts seemingly overnight.
So when recording a new album coincided with the return of Joey's cancer, the determined songbird had no intentions of letting disease deter her from sharing the sacred songbook that had most influenced her music, and changed her heart, with the world.
"It was early in the spring [2015] when we started talking about the record," Rory remembered in a recent press release. "We began recording it in a studio in Nashville early in the summer, just after [Joey] recovered from her first big surgery in Chicago. She championed it. With all she's gone through, a few things changed, but that record was not gonna' stop. So we recorded in between her treatments. She [sang] her vocals in hotel rooms, at our house, wherever and whenever she felt up to singing."
With the help of producer Joe West (Jimmy Wayne, Emmylou Harris), Rory completed the recording, pairing his beloved's convicted lead vocals with gentle harmony lines sung by Rory and their daughter, Heidi.
"[Hymns] have met generations of people at their moments of need, which is incredible," Rory explains. "As a songwriter, we're moved that someone will sing along with one of our songs, but imagine them singing along with one of our songs in one hundred years. That's pretty special."
With the same tenacity that compelled her to record a full-length album in the midst of taxing treatments, Joey insisted on rounding out the project by coupling the audio recording with a live visual experience so fans would not only hear her and Rory's personal faith, but could see it, worked out publicly through the out-loud singing of these hymns' unwavering truth.
Last fall, with Joey weak from treatments administered at a cancer treatment facility in Atlanta, the couple performed what would become their final concert in the old barn, on their farm, at home in Tennessee. A DVD companion piece for Hymns, the tender couple also sat down for the camera to talk about their family, their career, the impact of cancer and comfort of hymns, and most importantly, exercising their faith in the middle of a devastating disease.
The day after filming, Joey and Rory returned to Atlanta, only to find out the cancer was defying treatment and there was nothing more the doctors could do.
"I think Joey wants to capture the words and music of her childhood," Rory said, thinking through his wife's desire to complete this project in spite of the cancer riddling her body. "The music that she goes to when she needs comfort. The music that makes this beautiful, tragic, crazy life somehow make sense, I think she wants to capture this music so we can take it home with us."
WHEN I'M GONE
You'll lie down in our big bed / Dread the dark and dread the dawn/ But you'll be alright / On that first night / When I'm Gone … – "When I'm Gone" (from Hymns That Are Important To Us)
Life is not simple. Without our permission, circumstances change, leaving us bewildered with the side effects of sickness, disheartened in the aftermath of tragedy and piling up under the details of a funeral.
When dealing with life's tougher stuff, our feelings often sway between joy and sadness, contentment and fear. We Google solutions, some definitive prescription for what ails us, but when research and logic fails to provide answers, we return to our knees—praying for eyes to see through the blind spots of disease, and illness, and cancer. Once again, we attempt to surrender to all the things we fight to understand, but simply cannot comprehend.
I suppose this is the meaning of faith. To let go of what we do not presently know in hopes of something lasting, something eternal, to be revealed along the way.
Through the poignant public sharing of their story, Joey and Rory have been the first to admit they are sad, and hurt, and confused as to how and why cancer is defining their story. "More than anything, I felt like I failed at something," Joey vulnerably revealed to The Tennessean in November, explaining how the finality of cancer in her life impacted her psychologically. "I thought I did everything, but God decided for me that my job of singing for people down here is my legacy, and He needs me singing up there. That's how I look at it."
"With tears in her eyes and mine, Joey held my hand and told me that she has been having serious talks with Jesus," Rory confided in a blog dated January 9. "She said she told Him that if He's ready to take her, she's ready to come home."
Through homegrown mealtimes, soft-spoken musings on camera and online, the kindliest of guitar pickin' and sweetest songbird grinnin', the every day life of Joey and Rory has become a part of our every day lives. More than Billboard positions, or heartfelt blogs, or faith-filled recordings, the gracious couple's authentic expression of faith throughout their midnight hours has gifted us with an real life example of what it means exercise faith in the darkest of scenarios—of what it means to truly live with hope.
And now we shoulder up in their sorrow in some small effort, a token of our appreciation, to express that, though we can't know exactly how it feels, we do know how bad it hurts.
"It's hard for me to believe that there will be life after this cold, hard winter. And I think Joey knows that," Rory soberly wrote on his blog on February 4. "So thin and gaunt, and more frail than ever, my wife is sowing her seeds. Putting down roots in the soil of our lives and hearts. Getting us ready for something that we can't see right now. Something she might not even get to see at all. Spring."
Though Joey may not see the tulips bloom or hear the redbird sing this year, like the earth under winter's hibernating blanket, she, too, is on the verge of a new season. How fitting, then, that she and Rory have invested her final hours in these springtime songs, this catalog of tunes that has for centuries revived the most desolate of souls with rays of hope.
 Hymns is not just a chance to say goodbye. Hymns is Joey and Rory's way of preparing each other, their family, their fans—all of us—for new life.
And so we wait, Joey and Rory, together with you…for Spring.