Keep Breathing is Jody McBrayer's testimony that God is not finished with him or anyone else who turns to Christ.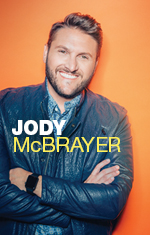 When McBrayer came to Nashville looking for a record deal, he got what he wanted. As a 12-year member of the Dove Award-winning and GRAMMY-nominated group Avalon, McBrayer lived the life he desired and loved it, until success turned to heartbreak. His father and several close associates died, and McBrayer was forced to leave the group in 2007 after being diagnosed with a degenerative condition that reduced his heart function by 36 percent.
"I had heart disease. My marriage almost fell apart, not because of Avalon, but because of my selfishness. It was time for me to step away to get my life straight and figure out what God wanted me to do. I resigned myself to the fact that maybe God was done," he said.
Following treatment for his heart condition, and several years working outside the music industry, McBrayer unexpectedly received an opportunity to sing professionally again in 2013. He realized this was still his calling, but that led to clinical depression. "Part of it was I wanted to continue to do this, but I didn't know how to make it happen," McBrayer said. A manager told him people had moved on and his music opportunity had passed.
"Keep Breathing is the title, because the doctor that diagnosed and helped me overcome a lot of this was a Christian. He told me, 'Look, you've got to get out of bed in the morning and keep breathing. You be thankful for the breath God has put into your lungs.' I got up and kept breathing every day. I told God, 'All I have is breath in my lungs. All I have is the heart in my chest. Help me figure out how to make this work.'"
More musical opportunities soon came to McBrayer, including the chance to record a new solo project. "The entire record has been chosen based on things that God uses to empower me and strengthen me every day,"
"This Is A Son," the first radio single from the new project, paints a soul-stirring picture of how every person, regardless of their life circumstance, has value. It's poignant message is an anthem for those who are tossed aside by society. We are all sons and daughters, not only on an earthly level, but most importantly, of the Most High God.
"He Gave Me More Love" was McBrayer's first selection for the album. "I heard that, and I burst into tears. People have to keep going, because God keeps going. He doesn't give up on us. We don't need to give up on ourselves."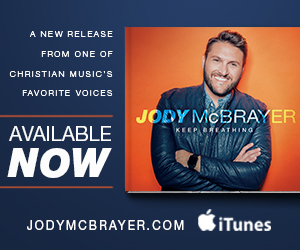 "Me" also brought tears to McBrayer's eyes when he first heard it. "It's about what was going through Christ's mind on the cross. So many things were happening around Him. He was beaten. Storms gathered. He knew Satan was laughing and taunting, but He was thinking about me. We're the ones that kept Him on the cross."
"It's Just Good To Be Home" opens the project. "I love it because of what it says about being away from church or away from a specific place for a long time. The lyric 'It feels like it did before' is about being in the presence of God and other believers. It felt like the right way to open the record."
Keep Breathing also features a remake of McBrayer's 1995 "The Mind of Christ." His ten year-old daughter's habit of considering circumstances behind other people's actions inspires McBrayer to live the song's message about seeing and treating other people as Christ would.
"This record is an encouragement for people to keep breathing, keep going and understand Jesus isn't just this churchy thing that happens on Sunday. It's a true relationship and true experience. There's true power and true substance in having a relationship with Him. That's the only thing that keeps me breathing."