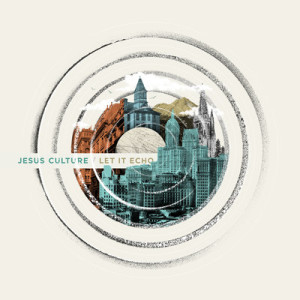 Kids. Lord willing, they all grow up at some point.
Although the core members of the Jesus Culture movement that began on the West Coast in the late '90's were mere teenagers (or younger)—notably Kim Walker-Smith, Chris Quilala, and more recent additions Bryan and Katie Torwalt, Derek Johnson, and Chris McClarney, to name a few—their lives, through faith, have matured. The once-exclusively youth-aged ministry has now given birth to a local church located in Sacramento, California, led by Pastor Banning Leibscher.
As those in the Jesus Culture leadership have grown, so has their music. Chart-topping releases, millions of albums sold, even more millions of viewers (and ever-increasing) followers on social media, it's the infancy of their church plant, however—and all of the growing pains, challenges, and joys associated with it—is where the heart of this outfit now lies.
Days before their first-ever live recording involving the Jesus Culture congregation releases (Let It Echo, January 15, 2016, Capitol CMG), CCM Magazine asks Pastor Leibscher, Walker-Smith, Quilala, and the Torwalt's to share more about their journey from movement to local church, and everything in between—such as their own kids, dirty diapers, and the ups-and-downs of life that speak into, end echo throughout everything that they do.
CCM: For the casual Christian music fan, they may know of "Jesus Culture Music" by watching YouTube videos, or hearing someone at church say "that's a cool 'Jesus Culture' song," but many may not know that there's much more behind the music—tell us more about the heart behind its members and ministry.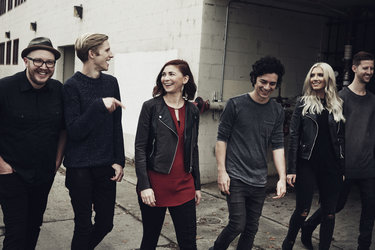 Pastor Banning Leibscher: Early on, the worship element is what really took off, so most people would know us from that. But the worship was always connected to a message and a community of people at youth group and church. I was youth pastoring when we started to do conferences at our church for other youth groups, and we could tell right away that there was something special during the worship times. So we decided to do live recordings because we wanted others to encounter God the same way we were in the conferences. Many on the team you see have been together for years. Chris Quilala was in my wedding when he was fourteen years old and was a major part of the youth group and worship team. Kim Walker-Smith had just turned eighteen and moved to Redding, soon she became a part of our young adult leadership team—there are many that are like that. We have always said we wanted to, "Get together with friends and change the world." We are blessed that we have been able to do that for so many years.
Kim Walker-Smith: I think its easy to look at people on a platform or on an album cover and think that they have it all together or have everything "figured out," but we are like everyone else in that we are on a journey with the Lord. We don't always know the next step, but we step out in faith anyway. Sometimes what He is asking us to do requires a lot of trust that may be difficult to give. We don't do everything perfectly, but recognize that we, like everyone else, are growing in Him. The other reality is that it's hard to get a big ego when I'm at home changing a billion dirty diapers and trying to understand the mind of a two year old, ha-ha!
When we recorded our first album, it was all cover songs. We only recorded it because we wanted the kids coming to our conferences to have a tool to help them encounter Jesus at home. We weren't trying to become "world famous," or start a movement. We were just being obedient to the Lord and trying to help others encounter Him. Nothing has changed in that respect. That heart is still at the core of everything we do. We feel so thankful and so honored that the Lord would allow us to partner with Him in this way, and for so many years now. We all serve in our local church and we all have a desire to follow Jesus, step by step.
Chris Quilala: Most of us on the Jesus Culture team have been friends for many years. Banning Liebscher, (the director of Jesus Culture) and I have known each other for over 20 years. Banning was our youth pastor and most of the band, including Kim and I, served or were a part of youth group—as you could imagine, we are all pretty close and have a lot of history together. If we are not all crammed on a bus together, we're at home in Sacramento where we recently started a church. Jesus Culture Church is barely a year old, and we have all been actively involved in building it locally, the worship community, etc.
In the early years, we were just a bunch of teens/young adults going after God's presence as a youth group. We recorded our first album because we wanted to capture the songs and moments that were happening on a weekly basis. That's why, for years we were doing cover songs, they were simply songs that we had been impacted by in a life changing way. Long story short, the local conferences we were doing every year began to grow, starting at a couple hundred youth to thousands in a short period of time. I really am thankful for those early days when it was just a raw, organic move of God. We were building our own lights out of planks, cheap flood lights and stringing together extension cords—stacking chairs, setting up the stage, then tearing it down every week, and sleeping on church floors as we traveled to other cities to lead worship. No matter what we were doing it all felt like we were just a bunch of friends getting together to encounter God in worship and community. In many ways it still feels the same as we do our best to steward what God has entrusted us with."
CCM: What are your specific titles and/or roles at Jesus Culture Church?
KW-S: My role within the church is to lead worship, serve on the leadership team (in a decision-making capacity), and to just connect with people to serve, love, and lead them. I don't really consider myself a pastor. I don't have a designated role or title, I'm just there to serve and lead. Because my first priority at home is to my family, I'm very busy on Sundays trying to wrangle my babies at church. We knew this going into the church plant, so Pastor Leibscher didn't put a specific role on me. When I'm able, I give what I can.
CQ: I am the worship pastor, Jeffrey Kunde our guitar player, is also a pastor and acting as our Music Director. Josh Fisher, our drummer, hardly ever plays drums because he is running sound and helping lead volunteers every Sunday at church.
The local church plant has been a huge change for many of us on the team for sure. We are a mobile church and we meet in a high school theater every week, so there is a lot of work that goes into that—as I'm sure a lot of other worship leaders/pastors can relate. We also have the privilege of leading a community of amazing worship leaders and musicians that have been serving every week since the church started. It's a lot of work building teams and a healthy community. We are doing the best we can to be strategic, but a lot of it is trial and error.
The past couple of years have been a huge shift from being primarily a conference/event based ministry to "resetting" everything we do as an extension of what God is doing at our local church. This "shift" has been so rewarding. To be a part of a community that is constantly growing, learning and finding new levels of freedom or breakthrough is so rewarding. I love seeing our community grow in their relationship with God every single time we get together.
Bryan & Katie Torwalt: Chris Quilala, "Father Christopher," is the worship pastor, but we would definitely consider ourselves leaders in the worship community. We all have input and vision of where we see this thing going, and love that we get to dream together in the beginning stages of the church plant. We really love our current role as volunteer worship leaders, and getting to open up our home and lives to our worship family here in Sacramento.
CCM: Other pastors and worship leaders, from the seasoned to the aspiring, might be interested in what your day-to-day operations look like…and how your lives also fit into that equation.
BL: I have three kids, a sixteen year old, thirteen year old, and a ten year old, so my life looks different everyday. It's a lot of sports and driving my kids around. In addition to preparing for teachings, etc., my job at Jesus Culture is to lead the overall ministry, so I meet everyday with different staff members and am in planning sessions regarding the different areas of our ministry. Every week looks different. I also coach basketball, so that's an every day thing as well.
CQ: When I am home, I am with my family playing dress up, changing diapers and refilling juice cups. My wife Alyssa and I have a five year old daughter, Ella. We have another daughter, Aria, who is three. My son Jethro (who is in heaven) is one year old. Our newest addition is our daughter, Liv, and she is four months old. As you can imagine, there are lots of pink-frilly awesomeness in my house, and I'm loving every minute of it.
Apart from family I have meetings involving church, the music label, and worship department, etc. My wife is also really involved in the church and recently finished writing a book titled, Mending Tomorrow. I love songwriting and have been doing a lot more of it as of late. Even though being "inspired" to write can be somewhat seasonal for me, I have found so much joy in the disciplined process of crafting a song. I've learned so much from the different writers that I have had the privilege of working with over the last year."
KW-S: My boys are two and one. I'm like a lot of moms out there, in that my mornings are filled with trying to find something they might eat for breakfast, playing with race cars, and watching cartoons. Certain days of the week, I head into the Jesus Culture offices where I put on a different hat. I'm the president of our record label. I handle all the negotiations with contracts, make the big decisions, get on monthly calls with our partner, Capitol Music, and lead a team of people and musicians in what God has called us to do with our music. When I come home, it's back to diaper duty, more race cars, Buzz Lightyear and Woody, attempting my negotiating skills on my two year old at dinner time, and bedtime snuggles and kisses.
Torwalt's: If we're on the road there are a lot of planes or buses and not a lot of home cooked food! We really do love that we get to travel, write songs, and lead worship for a living. God spoke to us a couple years ago about using our time at home differently. He has put a deep desire in us to use the time when we aren't traveling to build and invest in relationships and community.
CCM: How has perceived success (millions of albums sold, tours, radio hits, etc.) played a role in all of this? What challenges does it present? What opportunities does it bring?
BL: Our heart is to love Jesus well and to be obedient in what He has asked of us. At the end of the day, the number of albums we sell or don't sell is not why we are doing this. We want to serve people well and stir the church to love Jesus passionately. There have been challenges, but they are mainly around the amount of eyes that are on us now, and the varying opinions that people may have. I'm always so surprised that people are critical of worship music and voice that opinion online. It's just the culture we live in. But every album we do is a gift we are giving to God, and we pray in that process that it helps people draw closer to Jesus. There are so many opportunities that have come from all of it, and what I enjoy the most are the relationships we have been able to form along this journey.
CQ: I think God measures success so much differently than we do. Success can be a funny thing, and I feel it can often be misunderstood in the context of the church and eternity. We've had the amazing privilege of being able to travel the world and see people's lives impacted by our music. That being said, I think over the years I have learned more and more that true success is ultimately being faithful and stewarding well with what God has given us. For me, whether that looks like being a good father, leading a small group, or recording and album—it makes no difference to Him as long as I am being obedient to the calling on my life, and faithful to what He's put in front of me.
When I get to heaven, God isn't going to be concerned with how many albums we've sold, how many songs we've written. I've mentioned before that my son is in heaven, he was born without a heartbeat. Holding his fully formed body in my arms, I became so much more aware of the eternal kingdom that I am a part of. Life is short, it really is, and I want to live for eternity. All that to say, success to me is living with heaven in mind, living for the day that I get to hear God say, "Well done," and the day I get to see my boy again.
KW-S: The biggest challenge for me is that with the success, there comes the demand. People want to be at an event where we're leading worship and get disappointed if I'm not there. I'm so thankful for all that the Lord has allowed me to be a part of, but realistically, I can't do it all. Having small kids now changes things—it slows me down a lot and changes how much I am able and willing to give. However, I do love the opportunities the success has presented. I'm able to bring my children on the road with me, and they get to see thousands of people worshipping the Lord. They get to experience different cultures and become accustomed to new environments. My two year old loves to lift his hands, close his eyes, dance, and sing in worship. I know it's because of what he has witnessed in his short life. I also feel incredibly blessed to get to see what the Lord is doing around the world in the lives of His people. It leaves me full of hope and joy for the future.
Torwalt's: A song we wrote six years ago called, "Holy Spirit," was covered by our friend Francesca Battistelli and has ended up having a lot of success this last year.
When we first got married, we became worship pastors at a small church. We felt like God calling us to intentional about the songs we were writing for the church, and that He was going to use them. After the song had been out for a couple of years, we thought we had seen everything God wanted to do with it. So to see God use it to reach a whole new group of people was surprising, and has been a further fulfillment of the word God had given us years ago.
Our hope is that as songwriters we are never in it to just try and write the next hit worship song, but that we write worship songs that come from an honest place inside of us, and what He is speaking to us. It's always surprising and amazing to hear back from people who have been impacted by songs that we've written, whether it's the most popular song or the last song on the album.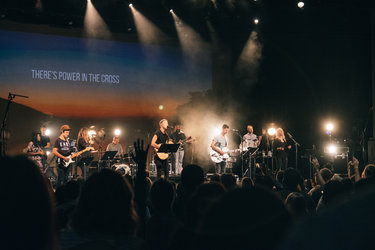 CCM: It seems worship music travels a bit faster, makes it to more far reaching destinations than other types of Christian music. As songwriters, what's it like knowing that the lyrics you're penning could potentially speak to people across the globe?
BL: It is humbling and we see it as an honor and a privilege that we would be able to play some small part in someone's journey with God.
KW-S: I take that very seriously. I want to write something that can be easily learned and sung, something that is theologically sound, and something that moves the hearts of people closer to God. It's a big responsibility—one I can't do apart from God. It's very humbling.
CQ: Wow, it's always such an honor and somewhat sobering when I get to hear how God has used our music to minister to people all over the world. I say sobering because as we know music, melody, lyrics all have the power to shape culture. We have the responsibility as songwriters to write and sing songs that are going to continue to advance His kingdom and make His name famous in the earth.
CCM: Beyond the music of Jesus Culture, tell us more about the outreach and discipleship component of what you are doing in Sacramento.
BL: We have a heart to see cites and nations transformed by the love and power of God. We want to see people encounter the extravagant love of Jesus. We very much believe that every believer is a leader who has been called to change the world. We want to see leaders who are firmly rooted in the word of God, connected in community, and living in the Presence of God. Our tag line for our church is Encountering God, Empowering People, Engaging our City.
KW-S: One of our biggest core values is that we want people to come to church, not just to sit and be fed, but to give and be proactive in our community. We have stressed over and over that we are the church. It is so important for us to reach out to others in our community and not just wait for the leaders/pastors to initiate. We want a church of people who are proactive in building the community, leading, and reaching the lost in our city.
CCM: What has planting a new church been like in the lives of your leadership?
BL: It has been one of the most rewarding and fulfilling years of my life. I am so encouraged by what God is doing in our community. Just to hear weekly the testimonies of God being active in people's lives is so fun. I've been so encouraged by the hunger and passion in the lives of people to worship and to see a city impacted by the love and power of God. And for our team that has been together for years, it's been really fun to do this together and see a larger community begin to come together.
KW-S: It's been a rough two years. I was pregnant with my first baby when everyone moved to Sacramento. After my first son was born, we made the move and shortly after, found out I was pregnant again. It was tough planting a church, traveling the world, and leading worship while pregnant AND baby in tow—plus running the record label. When Chris and Alyssa Quilala lost their baby, I gave birth to mine only three weeks later. I lost my dad only five months later. There were a lot of emotions in all of that, and it was difficult to process—but we pulled through on the strength of the community we had been building.
I know that church planting is often difficult, but God has really been in the midst of that for us and even in the difficulties, it has been a smooth transition. It has felt very natural to go from a worldwide movement to a church. It hasn't' felt like a loss of momentum, rather, a slow paced promotion.
CQ: The church plant in Sacramento has been the most rewarding and the hardest thing we've ever done! It's one thing to put on a conference or one-night event where we come and give everything we have, then get on a plane and go home. It's an entirely different thing to dig deep and do life with a brand new community. In this short year we have walked through so much together. Personally, from the loss of our son, to the celebration of our new baby girl. The highs and lows and the victories—all of it has been so rewarding to walk out together as a community.
CCM: How would you encourage other pastors and worship leaders out there?
BL: Just be faithful to what He has called you to. We must redefine success. It's hard not to buy into a wrong definition of success. Success is simply loving well and being faithful and obedient to what God has called you to. How many people sing your songs, number of albums sold, how many social media followers you have—none of those define success for us. Every song you write, every album you put together, those must simply be a gift that you give to God. Don't get caught up in things that aren't eternal. Stay faithful and obedient.
KW-S: Be encouraged! Don't stop pursuing God. Don't allow anything to come between you and Him. Invite Him in to even the hardest situations. You can't lead people somewhere you haven't been, so take the time to go deeper in His presence and know Him more. Also, I would like to say THANK YOU. Serving the body of Christ is a huge commitment and sometimes a sacrifice. I'm thankful for all the people who are willing to do that, and do it with the love of Christ and not anger or judgment. Keep going!
Torwalt's: Three big things that we've been learning over the last few years have been, community, identity, and lastly from our friend and fellow Jesus Culture artist, Chris McClarney—to not take yourself too seriously!
CCM: Kim Walker-Smith said, "This last year was a tough season for us as a community, and the songs we wrote for this album reflect the breakthrough, the victory, and the growth we have experienced through that…" Can you expound on that for our readers?
BL: It was both a tough season and a glorious season. It's hard to fully put in words. We experienced loss in a deep way as we walked with Chris and Alyssa [Quilala] through the loss of their son, including another couple in our church that experienced the same thing. That was just some of the things we walked through. But through it all, we experienced the faithfulness of God and His goodness. Our church just embraced that and pressed in to God. There were some incredible times of worship, as we chose to lift up the name of Jesus. We also saw some really amazing stuff happening with people encountering God and finding community and their identity in Christ.
Torwalt's: We wrote the song, "God With Us," during a season when one of our best friend's three-week old daughter was in the hospital with bacterial meningitis. She was in the ICU for a while, and it was very scary. We went to visit them in the almost every day, blasting worship music in the hospital room, believing that worship changes atmospheres. In the middle of that, Katie came home one night from the hospital with the chorus of "God With Us." There were special moments in the hospital room as we sang those words over her, and it has become an anthem for us personally. It's also been cool to see our local church grab ahold of the song as well.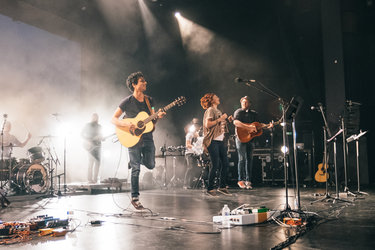 CCM: How does writing/performing/producing worship music help when "life stuff" happens? As creators of such, how do you hope it helps others?
CQ: This past year has been one of the hardest seasons of my life after losing my son. Even as my wife and I held Jethro in our arms, we felt we had to make a choice to walk out what we had preached, and had sung songs about our entire life. We chose to praise, "Bless the Lord, oh my soul." Somehow in the context of our loss and pain these songs suddenly had so much more meaning. It wasn't easy by any means. Many times it took everything in us to sing just one verse of a song, as tears would instantly overwhelm us. We felt His comfort as we worshipped. It's what kept our hearts soft towards Him.
I've seen pain and loss harden the hearts of many that walk through trials, but we found that declaring who God is in worship was a crucial part in us finding healing and wholeness. The journey of faith is full of mystery. If we aren't careful we can allow our circumstances to change our perceptions of God. The truth is that He is the same yesterday, today and forever. If God never changes, then my response to Him shouldn't change.
My wife and I could be going around in circles and asking God why we didn't see the miracle we had hoped for. Instead, of doubting God in the face of contrary circumstances we chose to move towards Him, to trust Him. We found that giving God a true sacrifice of praise in what has been the most trying times of our life has allowed us to truly see the goodness and faithfulness of God through it all. Many of the songs written on this new album have come out of learning how to praise, trust, and believe in every season.
Torwalt's: We think it's important that, even though worship music is our job, it's our lifestyle first. Honest worship will come from a relationship with God and experiencing His faithfulness first-hand. Choosing to worship even in the tough seasons of life has really deepened our relationships with God. It's in those moments when you can feel His presence and remind yourself of His grace and strength.