Album title: The Joy
Label: Radiate
Release date: July 17, 2015
Producers: Ian Eskelin (pictured below)
Number of tracks: Currently 10 tracks, final total could be 11
Studio(s): Holiday Ian's and Ben Phillip's studio (drum tracking)
For this version of In The Studio, CCM Magazine finds out what is going on from Oregon natives The Neverclaim. After creating quite a buzz in the northwest with three independent offerings, then following that momentum with their nationally released self-titled album in 2013, we had to know a little more of the story behind all the noise happening at Ian Eskelin's (pictured below) south Nashville studio. We catch up with lead singer Jeremiah Carlson on the heels of their second major release The Joy, and have a chat about the current recording process and of course, coffee.

What The Joy means to you: This project seems like the most divinely influenced one for us to date. Not that our other records didn't feel led by God, but with The Joy, we have had more prayer, words of encouragement, and what just seemed to be God speaking His heart into us while we make it. I think this will be our most influential album to date, in regards to how it ministers to people.

Principal writers: Myself, and a number of amazing song writers collaborated on The Joy. Ian and I wrote about half of the songs, but some other great writers that contributed to this record were Tony Wood, Allen Salmon, and Steve Jones.

Creative stretching: Ian was a stickler with my vocals—he wanted them to be perfect, and I love learning and being stretched by those who are more seasoned. I think I spent four days recording vocals on our last record. In comparison, it took us almost two and-a-half weeks on The Joy. I definitely came out of it a better vocalist.

2 fave's from The Joy and why:"Our God Wins" and "Rules And Reigns." "Our God Wins" has a special place in my heart because it speaks of the ultimate victory that we have in Jesus. We can face anything and because He is for us, nothing can be against us. To me, that's one of the greatest truths on which we can stand. "Rules And Reigns" is probably one of my favorite worship songs I have ever written. It speaks of the greatness and holiness of God, in addition to His nearness and friendship. So far, it has been a favorite live song in churches.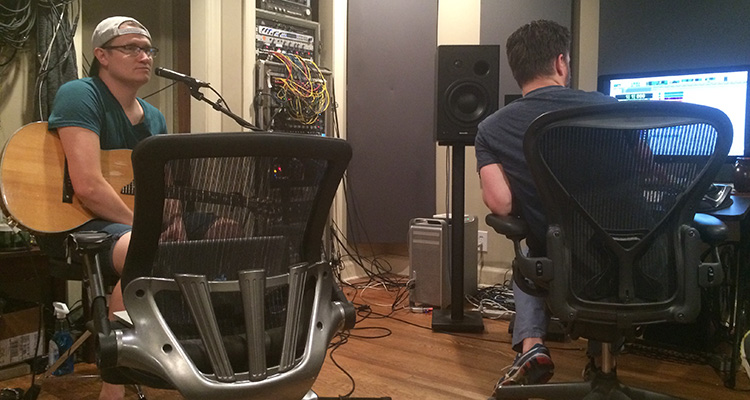 1 tune that didn't make the cut: We have a song called "Alive In Me" that won't make it on The Joy. I personally think it is an amazing song, but when it comes to choosing tracks for the final cut, my opinion isn't the only one that counts.
Just push play: Everyone in this band listens to different genres of music. During this recording process, I have been listening to a lot of different types, ranging from hardcore bands like Sleeping Giant and Gideon, to worship like Bethel—plus some good tunes from Jonny Lang, Haim, and John Mark McMillian.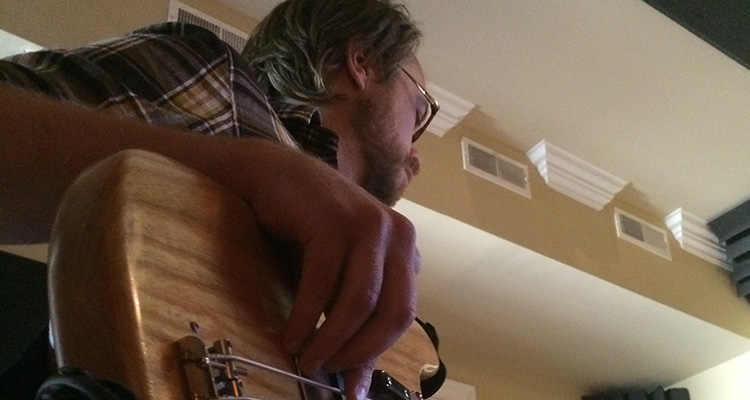 'Neverclaim' means: The Neverclaim to us is the lifestyle in which God has called us. We never want to claim our lives as our own, but rather give them away for God's glory and for the sake of others. The very heartbeat of this band is allowing God to minister through us to the people He places in our path. The music is just a medium to help anyone lower their guards so that they may be more open for God to do His work in them.
Happy hour: Being northwestern boys, there is some serious coffee drinking in this band. We enjoy a lot of different types of roasts and there wouldn't be enough room on this interview to name them all, but the most important thing with most of the guys in this band is that we take our coffee black. If you want to try one of the best, I suggest Zojo Coffee. They are in Longview, WA.
The Joy in 5 words or less: Joyful, fun, victorious, worshipful, anthemic.