Album Title: Fresh Start
Label: Gotee Records
Release date: Scheduled for September 18, 2015
Producers: Bryan Fowler, with "Not Forgotten (feat. TobyMac)" produced by Chuck Butler
Number of tracks: Currently 10 tracks, final total could be 11
Recently, in the quaint setting of a downtown Franklin, TN, deli furnished with antique tables and creaky chairs, we shared breakfast with Ryan Stevenson to gather from the Bonanza, Oregon native a sense of what sets apart his first full-length label release from his previous work, and why it should be considered his "coming out party." Stevenson, who now calls Boise, Idaho home, explained that, with full support from Toby McKeehan, president of Stevenson's label and collaborator on the already #1 Billboard hit "Not Forgotten," he is enjoying full artistic freedom to make music his own way, which is yielding, by his account, a new collection of songs that is his "most natural," introducing listeners to a more authentic Ryan Stevenson.
After downing the last bites of our omelets and draining our cups of the last few drops of morning coffee, we made the short trek to the studio where we heard and felt this new music through high-end Focal studio monitors in a properly paneled room—an uncommon aural pleasure—all while sitting alongside its creator, a particularly rare experience. This set the tone for getting to know Stevenson all over again, and for exploring what he had to say about his new album, Fresh Start, slated for release September 18th from Gotee Records.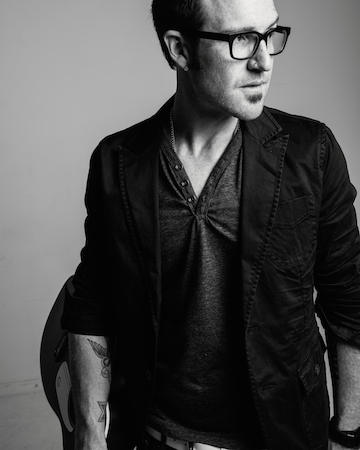 Home slices: I grew up in the church and musically on the hymns. When I went off to college that's when I really began to get into hip hop seriously. Mat Kearney, Shawn McDonald, Paul Wright, and myself were all doing this Southern Oregon, acoustic Northwest, singer/songwriter hip hop thing around the same time—and while they all entered into the industry years before me, I drew off of my experiences from that period of time and directly poured those vibes into this album.
You're a worship leader, so … For myself, I consider every song that we've made for Fresh Start to be like moments of personal worship to God, but categorically this definitely is not a "worship record." The songs on this project are like prayers—reflections of what has been on my heart and the things I need to say to God. Interestingly enough, there's one track called "Dare You To Trust My Love," and it's a song that is written from the perspective of how I feel God would respond back to us.
No added preservatives: What I love about this new record is that nothing about it has ever felt forced. There's not a single element on this entire project that seems canned or added to fit a rule or maintain any kind of "safety." The things that are there completely represent what moved our hearts as we were inspired to make it, nothing more. That's what I feel makes this very special—I pray the intention behind that will translate to the listeners and will ultimately minister to someone. I'm not necessarily comparing two, but the experience I have when I review what we've just done is reminiscent of how I feel when I listen to Jars Of Clay's first album. I don't have the sense that I want to take away anything that's there or, conversely make any additions.
Collaborations: I wrote every song on Fresh Start, but half of the songs on the record were co-written with Jason Ingram, Jeff Pardo, and Chuck Butler. The other half were co-written with my producer Bryan Fowler. Of course, TobyMac is featured on the song "Not Forgotten" which has already received a warm welcome as the first single.
Trusting the process: I recently had a conversation with Toby, specifically about this project. Obviously, from my perspective he has been very involved on the recording. His perspective, however, [laughs]—he just said, "You guys are really swinging away right now, so go do your thing." That was very encouraging. I've been on the other side of that where label executives and everyone involved will come in and say, "Okay, we need to reign this in." Since [producer Bryan Fowler] and I have been working on this project, everyone has been very positive and hasn't felt the need to pressure us with a ton of suggestions one way or another—we have felt such a freedom in this experience and are really trusting our instincts and creativity.
A special moment: We were pretty much into the final stages of completing the album, but I still felt unsettled on one of the tracks. I was encouraged by A&R to finish a song I was writing around the idea of growing up in the Northwest. As I was sitting in the studio working on the song, Bryan [Fowler] ended up coming back to pick up something he had earlier forgotten to take with him and inquired as to what I was doing there. Long story short, we ended up writing the song in a matter of about thirty minutes and it is one of my absolute favorites on the album. I ended up calling the song "Bonanza" after my hometown in Oregon.
Fresh Start in 5 words or less: Going back to my roots.