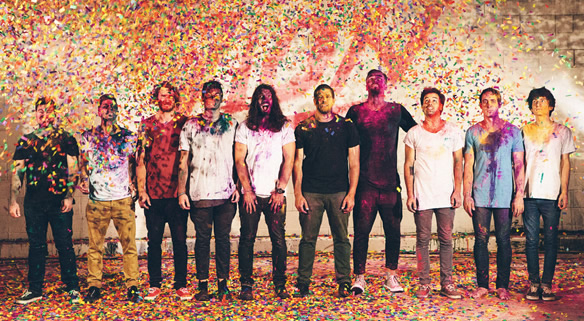 ZION: a hill in Jerusalem on which the Temple was built
From the beginning, Hillsong UNITED has committed everything they are to developing a platform for worship the whole world can see and join. With their latest release, ZION, it's clear that this group of worship leaders has grown into much more…they are a collective expectantly waiting and preparing for the Kingdom of God before them.
At the helm of this prolific group (who has an impressive number of singles and albums to their credit) is Joel Houston. He, along with band members JD Douglass and Matt Crocker, recently caught up with CCM to explain the journey they've been on, the new sound and the things that inspire them all.
CCM: Why did you choose the title ZION?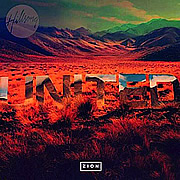 JOEL HOUSTON: From the outset, I felt like this was going to be a project that spoke simply and decisively of the story of God…of the sense of purpose and mission that comes from realizing where we fit in that picture. I'm convinced that we are not only redeemed, but we are redeemed and called into the story of God with a specific plan and purpose. This is why we undertook this project in the first place; not to just add another worship title to the catalogue, or to fulfill the project quota. In fact, it was the opposite; we did it because we believe that God is wild enough to entrust us with His song and His message, and use us to display it the best that we can to others. That's the call; we are going to answer it to the extent of our ability and a whole lotta faith. This is ZION; the city of God, the people of God… allowing the Spirit to breathe His eternal and unshakeable kingdom in and through us as we simply trust and love Him. It's a completely ludicrous thought, but it's the truth, and the revelation of it has filled me with more passion, purpose and confidence than ever. ZION is not held hostage for the future; it was established at the cross, and the cornerstone (Jesus) was laid down, so that we may triumphantly take our place in establishing the New Jerusalem, the new reality…here and now.
CCM: Can you tell us about the more aggressive sound on this project?
JOEL HOUSTON: I don't know that the sound is more "aggressive." Unless by "aggressive" you mean "new." I think we have always set out to write songs and create musical expression that is almost uncomfortable in its uniqueness. Not for the sake of progression, or to keep pace with whatever the trends say, but simply because I feel like it's an essential aspect of what I believe worship is. It's supposed to be costly, it should always cause us to step into a place where our strength is made invisible in the complete pervasiveness of His power in all that we do, and that involves taking risks. With this project, we made a very simple decision not to compromise…not on anything; the lyrics, the sound, the devotion and the story behind each and every song carries a weight and a confession and a beauty that comes from KNOWING God is in this! That doesn't mean the album is perfect, but I do believe it represents the true heartbeat of really ordinary people who, in desperate need and passionate response to their Savior, chose to give the best that we could.
CCM: What are your personal favorite songs on the album and why?
JOEL HOUSTON: I am so proud, and in the same breath completely humbled, by every song on this album. I'm not one for playing favorites, but with this record I feel like every song has such a specific and powerful story, and it would be an injustice to focus squarely on any of it as a part. The album is a story made up of stories. Much like the Kingdom. Much like Zion.
CCM: What do you want listeners to take away from the album?
MATT CROCKER: I think my favorite thing about ZION is that it all points to one thing — the kingdom of God established here on earth and in our lives. So, I want the listener to engage with the lyrics more than anything. We didn't want to just record another album for the sake of it, so everything had to have a reason for being on the album. It's a journey that we want people to experience start to finish, so they can fully immerse themselves in the story and feel what we were feeling when we wrote and recorded this album.
CCM: You have had tour dates internationally; what have been your experiences overseas and how did it effect you?
JONATHON "JD" DOUGLASS: I think the biggest impact that we have seen through touring internationally is the strength and passion for Jesus and His church that is universal around the world. We have had the privilege to worship with many different countries and cultures, but what they all share in common is a passion to worship Jesus. It has encouraged me in that all around the world, there are people giving their all to God. I think if we can all just do our part (where we live like Jesus and encourage others to do the same) then we can really make an impact for God on the earth.
CCM: Are there any different band members on this record, and how did they effect the new sound?
MATT CROCKER: As far as new members, there was really only one guy. He had never done anything with us before, but got super involved with the recording of ZION. His name is Benjamin Tennikoff, but everyone knows him as "Tenni." Tenni has been a part of the team back home in Sydney for years, and is one of the most loyal/faithful guys you'll ever come across. He plays keys and is super creative with sounds, so Mikey Chislett (who produced ZION and several other of the UNITED albums) thought he'd be an awesome addition to this project, and we flew him over to NYC with us. He came up with a lot of the synth sounds and actually wrote the music that was inspiration for the songs "Heartbeats" and "Tapestry." We also had some of the guys from past projects like Joel Hingston and Matt Tennikoff (Ben Tennikoff's older brother) come back in and help record guitar and bass parts for some of the songs.
CCM: What is next for Hillsong United?
JONATHON "JD" DOUGLASS: We really want to keep doing what we have been doing; and that is building our local church (HILLSONG) and giving the best of our creativity to glorify the name of Jesus and point people towards Him.