Lady Antebellum's leading lady steps out for the first time with her famous family to record an unabashedly Christian album filled with songs built on faith, hope and love.
"And now these three remain: faith, hope and love. But the greatest of these is love." -1 Corinthians 13:13, NIV
If you've ever taken a shuttle from your hotel to the airport while visiting Nashville in the past few decades, there's a good chance you've met Hillary Scott's late grandfather. The man was an airport shuttle driver in Music City for years; but more importantly, he was like a second father to Hillary, who along with Charles Kelley and Dave Haywood, comprise award-winning country music trio Lady Antebellum.
"[People] didn't get an option for what was getting played in the cassette player or the CD player [in the shuttle]," Hillary shares, laughing, remembering her grandfather. "It was always the latest thing my dad and mom were doing or Charles and Dave and I. Even before we were out really doing shows as Lady Antebellum, he was bootlegging copies to people. He was our biggest fan."
Her paternal grandparents moved to Nashville when the singer turned five in order to help care for her while her parents—acclaimed singer/songwriter Lang Scott and recording artist Linda Davis—made a living on the road. (Davis toured for years as a background vocalist for Reba McEntire and is most well-known for their GRAMMY®-winning duet "Does He Love You.")
"My grandfather was a blue-collar, hardworking South Carolina born and bred man, and he loved the Lord. He talked about [his faith] openly," Hillary reflects. "He left his mark on everybody who met him. He was so funny. He was so encouraging… He was such a dynamic personality in our family…so when he passed away, there was a gigantic hole."
The beloved patriarch passed away in 2011 after a battle with leukemia. "It was truly the deepest loss I've ever experienced," Hillary admits. As an act of gratitude to those who showed support throughout his father's cancer journey, Lang suggested the talented musical family—which also includes Hillary's 15-year-old sister Rylee—record a handful of hymns to serve as a "thank you" to close family and friends. Yet, as the Scott's began to discuss meaningful hymns that they could possibly record to honor the man they all loved, they realized a larger project might be in order.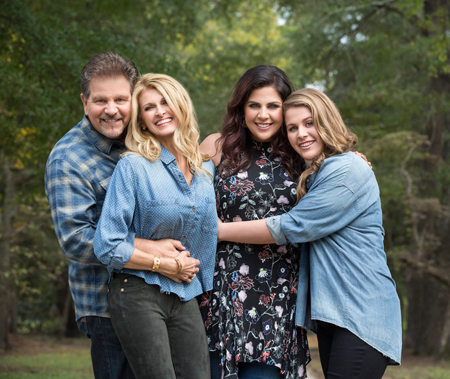 ALL IN THE FAMILY
In the summer of 2015, Lady Antebellum took a hiatus so the acclaimed vocal act's three members could pursue individual creative endeavors, and the timing seemed perfect for Hillary to head into the studio with a new set of bandmates—her mom, dad and little sister. The result is Love Remains (EMI Nashville—buy), a full-length faith-based solo record. While Hillary is undoubtedly the face of the new project, everything about the album was a family affair.
"It was such a precious time together, just being able to make new memories, to heal together as a family, to worship together as a family, to grow," the GRAMMY® winner says of the recording process. "We laughed a lot. We cried a whole lot. It was just a really, really awesome experience."
The legendary Ricky Skaggs produced the album, but Hillary says he also "pastored" the project. In addition, Hillary's husband, Chris Tyrrell, who serves as Lady Antebellum's drummer, played on the record; and the couple's 3-year-old daughter, Eisele Kaye, was also in the studio with them every day.
As a part of Lady Antebellum, Hillary is no stranger to writing songs and making records. The vocal group has sold more than 18 million albums worldwide, earned seven GRAMMY® Awards, garnered six Platinum singles and has been named "Vocal Group of the Year" three consecutive years by the Academy of County Music (ACM) and the Country Music Association (CMA). Hillary could have easily entered the studio and rushed through the process with the ease of a veteran artist working on a side project. Instead, the singer and her family approached the recording with the utmost care and intention.
"It's definitely something that I did not take lightly," Hillary reveals of entering the contemporary Christian market for the first time. "My faith has always been a huge, huge part of my life." She admits that she hesitated to craft a faith-based album because she didn't want fans to equate her Christianity with perfection.
"I just try to live well and love well and really never point a finger, because you've always got one pointing back at you," Hillary offers. "That's really how I try to wake up every day and live is just focus on, 'Okay, Lord, refine in me what needs to be refined to be better.'"
What began as a small hymns project quickly morphed into a full-blown contemporary Christian music LP that feels right at home on Christian radio. In the end, the Scott family opted to only record one hymn ("Come Thou Fount"). Instead, they looked to respected songwriters in both the country and Christian genres for original material. They also recorded several deep cuts by other well-known Christian artists like the foot-stomping anthem "Ain't No Grave" from Crowder's Neon Steeple (sixstepsrecords) and a version of tender ballad "Untitled Hymn (Come to Jesus)," originally found on 1998's Run The Earth, Watch The Sky (Rocketown Records) by Chris Rice. In addition, Jordan Feliz holds writing credit on "The River (Come On Down)," but don't expect to hear the newcomer's smash No. 1 single. Though it bears the same title, the soulful cut found on the Scott family's record is actually a completely different song boasting incredible harmonies.
In addition, the family helped pen a few cuts as well. Hillary co-wrote "Thy Will" the album's first Christian single and the centerpiece of the album, alongside Bernie Herms and Emily Weisband. Before the singer even revealed the story behind the song, the track was already resonating with fans across the country as "Thy Will" climbed the radio charts, eventually landing at No. 1 on Billboard's Hot Christian Songs Chart.
In June, during an interview on Good Morning America, Hillary revealed the song was birthed from a miscarriage she experienced last fall after conceiving her second child. She and her family will return to the top-rated morning show Tuesday, August 2, 2016 to perform new music from Love Remains.
BEAUTY FROM ASHES
A miscarriage is obviously a personal loss, so it would have been understandable if the singer decided to keep the details of the powerful ballad to herself. Yet, ultimately, she felt like fans needed to hear the story behind the song.
"I felt like I was being extremely dishonest if I didn't share it," Hillary reveals. "Not only that, but I also felt like it's the silent struggle that no one really talks about. It's everyone's personal choice whether they want to share or not, and I felt like I was supposed to and just wanted to show that it's okay to talk about it; it's okay to grieve. You don't have to grieve alone in your own head and heart and your bedroom just trying to figure it out.
"It was something that became another part of the mission with this record and just the song, in particular," she continues. "I just feel like there's a lot of women who need to know they're not alone."
The song also convicted the singer personally. "When I was faced with this trial…it was like I felt God going, 'Okay, you're singing about all of the things that you say I am; and that you trust Me and that your hope is in Me. Now, are you going to walk the walk, or are you just going to talk the talk?'" Hillary says, adding, "I am daily choosing to walk it, and I don't get it right most days. I don't get it right multiple times a day, most days, but I'm trying."
The lyrics to "Thy Will" are some of the most vulnerable lines Hillary has ever penned, yet she isn't sure it's a song she ordinarily would have written had she not already been working on this special release with her family.
"My [Lady Antebellum] bandmate, Charles, was like, 'You know, this song could really work on a Lady A record.' … I think it definitely could've, but I don't know if I would have written it had we not been doing this," Hillary shares. "It's definitely the heartbeat of this record for me, and as painful of an experience as it was to go through, I can honestly say I'm grateful for what has come from it—the beauty from ashes that has come from this experience and the healing that's come through other people's outpouring of love and support."
Hillary's received hundreds of messages from fans expressing their condolences, personal stories of loss and times when they've prayed "Thy will be done" in their own lives. She's now seeing the power of Christian music firsthand—something she's also experienced throughout her life as a fan of the genre.
"I have always been drawn to Christian music throughout my life—to worship, to feel hope, when I'm nervous on an airplane, in all those moments, even just driving in my car," Hillary shares. "I just hold a very, very special place in my heart with contemporary Christian music."
She and Chris bonded over Michael W. Smith's Live The Life (Reunion Records) when they were dating, and now her husband has been introducing her to gospel greats like Marvin Winans and Marvin Sapp. In addition, Hillary also cites Switchfoot's The Beautiful Letdown as a landmark album in her life and vocalists like Rachael Lampa and Kari Jobe as favorites. Although she was introduced to icon Steven Curtis Chapman's music later in life, Hillary fell in love with his Deep Roots album, an original Cracker Barrel exclusive filled with rootsy hymns. "It's like having a pot of coffee with my grandfather that I lost to leukemia," she say of his album. On Love Remains, Chapman duets with Hillary on "The Faithful Love Of Jesus." And fans can feel like they're sharing a pot of coffee with Hillary's papaw on the sweet memory-laden "Safe Haven."
As the Scott family's first Christian release goes out into the world with their beloved father and grandfather lingering in their minds, Hillary can't help but feel a sense of pride in the release. The mix of pop, bluegrass and inspirational faire spread across the album's thirteen tracks give fans an inside look into the family's firm foundation of faith. While Hillary will soon return to the studio to record new Lady Antebellum music, the songs on Love Remains will inevitably always hold a special place in her heart for years to come, and she hopes fans find a heart connection with them, too.
"Whether you're searching for peace and comfort or you're searching for a song to worship to or you're asking questions [about faith], if you're just searching… I really feel like no matter where you are in your life, no matter what's going on, there's a song on this record that can meet you right where you are," she says. "For us, we just hope that from start to finish, you feel that you are loved by the Almighty God who created you in His image… We hope that you search and find the peace that we have found in our relationship with Him."