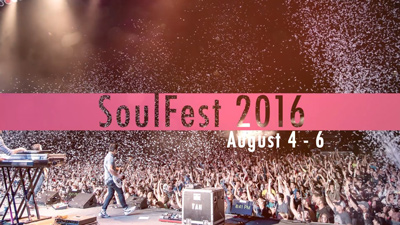 For 19 years, Soulfest has brought together Christian music lovers from all over New England for a weekend of music, arts, and, of course, lots of sweat, dust, frisbee throwing, and campfire moments. From August 4-6, 2016, thousands of believers joined together at the beautiful Gunstock Mountain Resort in Gilford, New Hampshire for a weekend focused on Love In Action.
With fond memories of music festivals past and the excitement of catching a full Jon Foreman solo show and Switchfoot in the same day, my husband and I made the three hour road trip for Day 2 of Soulfest. Crazy? Maybe. But hey, random adventures are just another part of summer, right? So here's a look back at my day at Soulfest and seven standout shows.
Christopher Williams
We arrived just in time to see Christopher Williams open up the Revival Stage around noon. I'd heard of him, but this was my first real introduction to his music. Though playing to a fairly small crowd, he engaged the audience with a blues-infused acoustic style. Also, this was his third of six concerts for the weekend, pretty much earning him "The Hardest Working Man at Soulfest" award.
Jillian Edwards
Next we headed to the Inside Out Stage for three hours of mellow, folksy joy, starting with Jillian Edwards, another "heard of but haven't heard yet" artist. Though joking about her "sleepy" songs, she was captivating, and provided a relaxing shelter from some of the louder concerts happening around the festival.
Brady Toops
Thankfully, even though we missed Brady Toops' Mountain Top Stage concert, there was a second chance to see him at Inside Out. Perhaps you've heard of him, either through his music or his stint on The Bachelor. (No judging here!) If you haven't, he's an indie worship artist well worth checking out, with a mellow, acoustic vibe and accessible yet rich lyrics.
Jon Foreman
As soon as Brady's concert ended, the masses descended upon the Inside Out Stage for a solo show from Jon Foreman of Switchfoot! I'm pretty sure this was my favorite concert of the day, even better than his main gig's headlining show. His improvised set list included acoustic Switchfoot classics like "24," fan requests, and diverse songs from his personal catalog. If you have a chance to see him anywhere, anytime, do yourself a favor and make it happen.
Matt Maher
Soulfest favorite Matt Maher welcomed a growing crowd to the Revival Stage with his memorable worship hits and his own versions of songs co-written for fellow artists Third Day and Crowder. He also definitely should get a nod for one of the funniest artists I saw at Soulfest. Example joke: "Mac Powell has the most masculine voice I've ever heard. It sounds like a beard wrapped in Kevlar."
Propaganda
I confess, I am woefully behind in the Christian hip-hop scene, though I've long admired the honesty and artistry flourishing there. But Propaganda is one of those incredible artists I admire, so back to Inside Out for my first hip-hop show in years. Powerful, fun, and thought-provoking all at once.
Switchfoot
Finally, the headliner: Switchfoot on the Revival Stage. As many times as I've seen this band over the years, their energetic live show and meaningful connection with fans never gets old. Unfortunately, a long full day and a three-hour drive ahead is a recipe for exhaustion, so we ended up leaving a bit early. But that's okay. The first hour of the show was time well spent, and a beautiful close to the day.
And hey, there's always the Looking For America Tour in the fall. Maybe I can stay awake to the end this time.