Group 1 Crew have been wowing crowds with their furious blend of hip hop, pop, rock, and R&B since their debut in 2007. Now, and nearly ten years later—an eternity in the scope of musical landscapes—the sound has changed, but the message has not. Keeping Christ's themes front and center, their latest offering, Power, does just that, while also serving to explain what was on front man Manwell Reyes' heart.
The last year and-a-half has been trying for the lone surviving original member. In addition to taking two-plus years to complete Power, the group was still dealing with personnel changes. And after a bout with laryngitis, Reyes' had serious questions about even wanting to be involved in music…period.
Amid this time, however, the one thing Reyes didn't lose sight of was a yearning for people.
"If this record helps somebody…awesome. That's really all I care about it," Reyes said. "I used to be somebody who cared all about the music, so if it can simply help someone I would be grateful and so honored," Reyes reinforced. "I'm not necessarily saying I don't care about the music itself, I'm just saying it's no longer as important as genuinely connecting with people and hoping that this little medium God gave me will actually help somebody's life."
His realization that purely being a music maker was the revelation that Reyes needed to understand that music wasn't the answer for his own life. "The answer is an accurate depiction of my relationship with God. That's the new goal—not hit records, not, 'My music is so cool.' This record is another step for me in understanding just who Jesus is."
The revelation began brewing when Reyes was faced with the reality that he may have lost his voice indefinitely. This forced him to reconsider what was truly real in his life.
"I've done tours. I've played in front of as little as four, to as many as 40,000 people. I've seen the world. I've received awards. I live in Los Angeles in a big 'ol house with a big 'ol pool…nice cars in the driveway…and at the end of the day, none of that puts a smile on my face," Reyes revealed. "These are all just things. The only thing that makes me feel like I'm doing things right is when I'm in step with the Lord. Everything that I'm doing is after Him. I only care about God right now…I appreciate the stuff, but what He's doing in my life is the thing that I want to chase after. I want to know Him more."
Prior to losing his voice, the original Group 1 Crew members began touring with other artists due to the band's inactivity. The group went from non-stop touring to virtually doing nothing. Shows would line up, only to be cancelled for both unfortunate and seemingly random reasons. "I went from having a full fall schedule at one point, to having no shows at all—that has never happened in our history," recalled Reyes. "My booking agent would hit me up and say, 'Another one cancelled…and another…'
"This was way too many cancellations to not see that it was the Lord telling me something," said Reyes. "Then, I get laryngitis and my voice goes out. I think to myself, 'Even if those shows weren't cancelled, I wouldn't haven been able to do them, anyway—I would have been the one canceling on them…' Then came surgery, and after that, three months of no talking."
The singer said this scenario was God's way of telling him to clear out his schedule. Since then, Reyes has been slowly understanding what God has been unveiling to him. He has experienced many emotions from feeling "useless," to thinking God was "mad" at him.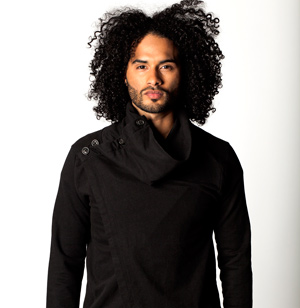 "I've never done sitting around well—I work hard, and I don't stop. But since I've been resting, I've been more healthy in every aspect—mentally, spiritually, physically…and I began to realize that I was a little imbalanced in my life."
This new balance in Reyes' life eventually helped to inspire Power, but attests to just how he was able to personally step in the Lord's power. "I've done touring on my own capabilities—and then I've done touring in His power, and the latter looks so much better."
Despite having virtually nothing in common musically, Reyes cites a recent tour with Big Daddy Weave as a time where he learned to be constantly tapping into the strength available from the Lord.
"All we wanted to do was to seek the power of God," said Reyes. I learned to trust that God was going to take care of me. "The shows, they seemed, actually almost got in the way…like they were more of an inconvenience. We all just wanted to minister to people, and I didn't want to do anything else unless God's power was involved."
Reyes' willingness to tour and minister with musicians from different walks is reflective of his own musical tastes. The vocalist admits that he doesn't necessarily "fit in" when it comes to relating to similar artists. In fact, despite his love for rap, he actually doesn't listen to it.
"It's genre of music that I listen to the least," he said. "All I listen to is the '90s, R&B, and rock. If I'm not listening to '90s music, I'm listening to Frank Sinatra, Tony Bennett, Billy Holiday, Diana Ross…there's nothing more fun for me. My ring tone is "Ain't No Mountain" by Marvin Gaye because anytime it rings it puts a smile on my face. That's the [musical] world I live in."
These various influences do pop up sparsely throughout Group 1 Crew's music, but not necessarily on a solo effort, which Reyes says in the works. "I have so much to say, but I can't get all of it out by just singing. I need all the words of rap to get out what I want to say." While Power represents Group 1 Crew's current body of work, Reyes himself is sitting on around three album's worth of hip hop material.
As the lone original, critics have questioned Reyes on his "new" role with Group 1 Crew and any differences in now considering it, essentially, a solo effort. Although he understands, Reyes explained, "Group 1 Crew has a distinct sound people know, so it's more about honoring that fan base.
"But my solo material is a lot more raw, so the things that I'd talk about if I did an album and how I'd present it…I don't know if it would go over as well," said Reyes, doubting a format or fan base closer to the Christian radio spectrum would easily embrace the style.
Reyes continued, seemingly somewhat frustrated with stereotypes associated with Christian music from both sides of the discussion—not excluding reaction to how some fans recoil when tagged "Christian" acts release material that may not be overtly considered "Christian" in nature. "Heart and motive make the song—in my opinion, it's the attitude behind everything you do that determines whether something is 'Christian' or not," he said.
Whether or not his solo material, and its imminent personal message, is more representative of Reyes himself, Power is serving to exemplify an artist's growth with his creator, and that's something that can be a blessing to anyone. For that reason, according to Reyes, is why Group 1 Crew is here again…and why he sings again.