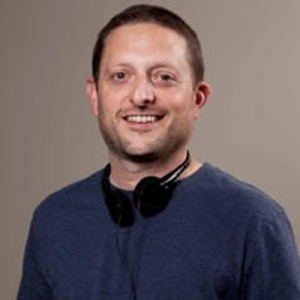 Brad Silverman is a former comedian turned filmmaker turned theologian. Selfie Dad is his third Christian feature film, following No Greater Love and Grace Unplugged. Grace Unplugged won multiple faith film awards, including awards from Movieguide, Focus on the Family, and the Dove Foundation. Brad received Movieguide's Epiphany Award, which is given to creators of the best wholesome, uplifting, and inspiring movies and TV programs.
Brad was kind enough to answer a few questions so CCMmagazine.com readers can find out more about him, his films and his inspiration.
CCM: Do you have a favorite character or theme from the film? Why?
Brad: I suppose I'm partial to the title character played by Michael Jr. He's just a flawed husband, father and human – stumbling through life in a comedic way. Yet God is so faithful to grow him in spite of all his flaws. Seeing Michael's character commit to God and His Word, and seeing the positive effects on his family is something that hits very close to home.
CCM: What has surprised you most about this film, the process of making it, or it's success?
Brad: While we were making it I think we were all surprised to see how well Michael Jr. could handle the dramatic acting parts. We all knew he was hysterical, but no one knew he had such acting range. Even he didn't even know where he could go dramatically.
CCM: What was your biggest challenge in making this film?
Brad: Our goal was to make a film that was deep, impactful and that takes the Bible very seriously – and at the same time be really funny. Walking that line daily was definitely challenging.
CCM: If you had to invent a new category for the Oscars, what would you suggest?
Brad: Easy: "Outstanding achievement in a motion picture set in the social media world that focuses on the power of the Bible."
CCM: Are you surprised by the recent increase in quantity and quality in the faith-based film arena?
Brad: Not at all. I'm privileged to say that many of the most successful faith-based film makers are longtime friends. They are so incredibly talented. Once they received studio film level finances and resources, sky was the limit. No surprise at all that the quality has followed. As far as quantity, It's simply so encouraging that because of the success of many faith-based films, a whole new generation of film makers is seeking to expressly put God on display with their work.
CCM: Who were/are your biggest influences?
Brad: I didn't become a Christian until later in life. As a film maker I grew up a fan of the comedy writer/performers like Charlie Chaplain, Mel Brooks, Woody Allen, etc. But certainly my biggest influences in general are those I would classify as heroes of the faith – Hudson Taylor, Jonathan Edwards, Spurgeon, Corrie Ten Boom, Elizabeth Elliot, and so many more. Film making is what I do; but my identity is in Christ – so my bigger influences are definitely in the latter category.
CCM: How important is your faith or spirituality when choosing what projects to work on?
Brad: It's everything. 100%. Life is short, and making movies is a difficult undertaking at best. Maybe my attitude will change tomorrow, but today I just want to use whatever gifts God has given me (however small they may be) to be used to boldly proclaim Jesus.
CCM: What message do you hope listeners will take away from the film, regardless of what they believe?
Brad: As I think through this great question, we are currently in the midst of the Coronavirus pandemic. There is so much uncertainty and anxiety. I hope when people watch Selfie Dad they laugh and are entertained, but that they also see that regardless of circumstances, however crazy and unpredictable they may be, true and lasting PEACE is available. It can be found in the God of the Scriptures. Bluntly, I hope the film inspires people to read the Bible.
CCM: Can you give us a teaser on what your next project will be?
Brad: Well… without going into too much detail it's an episodic series centered around a popular Christian singer and her family. It's a three-generation show that I think is extremely timely, encouraging and fun. Can't wait to share more details!
CCM: What was the last book you read?
Brad: Besides the Bible, I read How To Fight For Joy by John Piper. I love Piper. He's like a spiritual father to me… though we've never met ☺
CCM: What was the last song you listened to on your playlist or stereo?
Brad: Keith & Kristen Getty, "He Will Hold Me Fast." After my family and I watched a video of theirs, I put on the playlist and away we went! I LOVE the Gettys.
CCM: Do you have a favorite CCM artist or group?
Brad: For a variety of reasons I'm going with Jamie Grace. Besides the fact that her music is amazing, she's become a family friend and a great mentor and role model for my two daughters.
CCM: What's the best mainstream movie you've seen in the last 12 months and why?
Brad: OK, it came out a while ago, but Avatar. I watched it a couple weeks ago with my wife and sons who hadn't seen it before. As a writer, the story arc of the lead character was just perfect. The bad guy/villain was unstoppable, and the action till the very end was intense. For a (nearly) three hour movie to keep the attention of my boys is impressive!