DONNIE McCLURKIN DISCOVERS THE JOY OF DUETS
Donnie McClurkin is a living legend in gospel music. For decades now, the Grammy, Dove and Stellar award-winning artist has defied racial and genre boundaries, while remaining true to his mostly traditional gospel roots. On his latest project, Duets (RCA Inspiration), Donnie celebrates his gospel home base by tracking high-powered pairings with diverse musical legends such as Tye Tribbett, John P. Kee, Tramaine Hawkins and Israel Houghton. In this CCM exclusive, the dynamic songster narrates for readers the fun and importance of singing together.
CCM: For years you have been known for big-named collaborations. What inspired the release of a project like Duets now?
DONNIE: Two years ago, I was on a gospel cruise where all the artists on board met to talk about the state of gospel music — without managers or record executives. Fred Hammond commented that to generate more heat we would have to start collaborating like the hip-hop and pop artists. That statement stuck in my spirit, and that's where the concept of Duets came from.
CCM: You have had a substantial solo career. Why share the platform?
DONNIE: God has always wanted us to be one. Jesus said in John 17, "Father, may they be one as we are one." When we try to do things solo it makes it so Herculean! [Laughs] We all work best together. Some have made ministry private territory. We can't allow that to happen. It's time to bring the genuine image of what it means to minister back to the forefront and show the world that we are united.
CCM: How did each veteran contribute to the recording?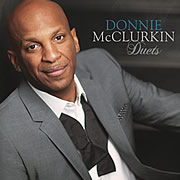 DONNIE: Being professionals, every artist brought such expertise, their signature, to the song I wrote. The energy of Tye Tribbett is phenomenal. The wisdom and songwriting ability of Israel Houghton is inspiring. Tramaine Hawkins, who has been my idol for decades, was legendary. Dorinda Clark-Cole requires you to stretch. She never stops singing; the rifts go on and on. Preashea Hilliard has such a genuine heart for ministry, and it comes through when she sings. Every artist made the CD a classic work of art.
CCM: Yes, this record is a celebration of great partnerships. But is there a deeper purpose and meaning to these songs and these pairings?
DONNIE: I hope this project inspires others to work together in delivering the message of God's love. I would like to do this again with CCM artists such as Mac Powell, Chris Tomlin, Natalie Grant, Jeremy Camp, Michael W. Smith, Brandon Heath and Nichole Nordeman to prove that there really is no divide between gospel and CCM but that there is one Lord over all!
For more information, visit donniemcclurkin.com