With the releasing of her latest project In Jesus' Name: A Legacy of Faith and Worship, a celebration of Darlene Zschech's favorites, CCM Magazine wanted to dig just a little deeper into a few of the project's newest songs, catch up with her family's mission efforts in Africa, and to get her thoughts on subjects like worship and heaven.
The anointing of God on Zschech's work is undeniable. Also apparent, is the glorification of God that is spread the world-over time and again through her music—a contribution that has now spanned three decades. She says of her penned classic "Shout To The Lord," "I still get overwhelmed as I hear people worship Jesus with those lyrics. The message stands true and the declaration within it gives people strength and clarity. I personally stand in awe of God's faithfulness every single time I sing it."
Zschech's humility is intrinsic to her ability in capturing the very nature of her relationship with her Creator through song. When asked what goes through her mind when she thinks about the millions of people singing the lyrics "My Jesus / My Savior / Lord, there is none like You" around the world each and every Sunday, she simply stated "It's the people's song, not mine. Seriously, the feeling of honor to have been part of that has never left me."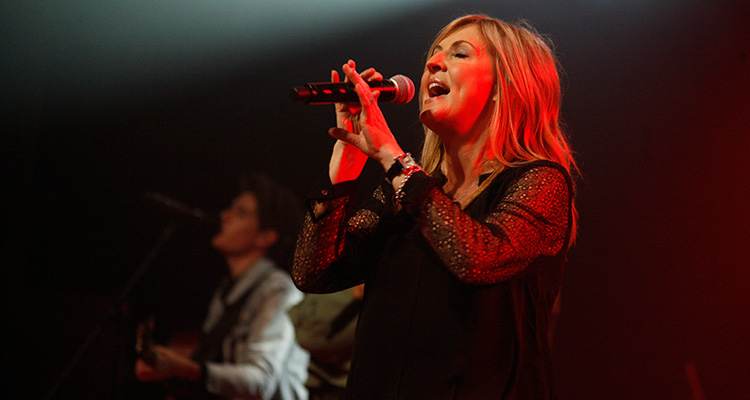 CCM: It's documented that the song "My Highest Hope" was written during your recent battle with cancer. How did writing the song help you cope with the struggles of battle?
Darlene Zschech: In all the treatments, surgery, doctor's appointments, scans, and the subsequent waiting I had a lot of time to think. I had a lot of time to pray. I had a lot of time to reflect on my personal theology. When it all boiled down, I realized that I've had that fire in my belly that said "There is NO cancer that determines whether I live or die—my highest HOPE and the final word on my life is God Himself!" The fact that Jesus is the author, perfector, and finisher of our faith gives me continual confidence in this HOPE we all have, as an ANCHOR for our soul.
CCM: Although it's a relatively new song, what is your take on its current response?
Darlene: People are SO lovely! They are always encouraging me about the songs and letting me know they are praying. I love how "My Highest Hope" seems to have already given people strength for the next breath, a reminder of Who holds their days.
CCM: Tell us the story behind writing the song "In Jesus' Name."
Darlene: I was actually walking through the final stage of cancer with a dear lady from our church, and to be honest, I got SO angry that cancer takes the lives of so many. Mark and I both lost our fathers to cancer—the list goes on and on—so my intention was to write a statement of faith straight from the Word of God that would confront the fear head-on.
CCM: What comes to mind when you look back through the track listing of "In Jesus' Name: A Legacy of Worship & Faith?"
Darlene: Some song I've written, some were written by others, but each of them at the time of their impact have truly brought new life, new language, and genuine spiritual transformation with people around the globe, in our church, and in churches large and small. I have received thousands of letters over the years telling God-stories about the impact of some of these songs.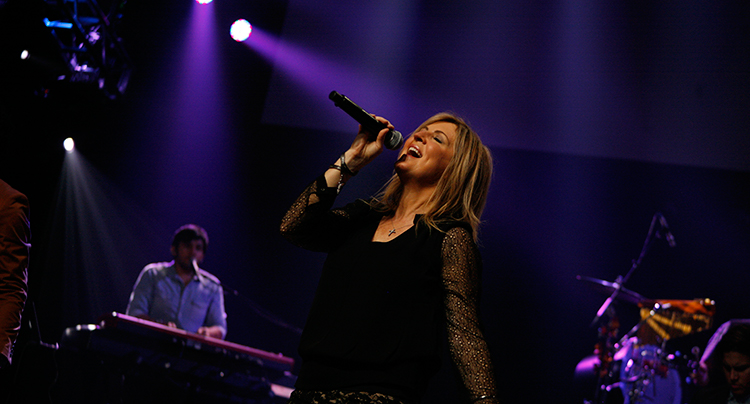 CCM: You recently stated "As I put my HOPE in Him, His love will engulf me, and I will be stolen away to a place no one else can go, because it's a place reserved for Him and me. There is a place in Christ designed just for you too." As a worship leader who directs thousands into corporate worship regularly, how do your intimate moments with God correlate with your leading?
Darlene: I honestly know that you cannot lead people to places you've never been. Diving deep into His love and grace this year has not only affected my worship leading, but every area of my life. I will never be the same. I don't want to be the same. To be a worship leader that truly leads, you must be a prayerful person rather than simply a musical person. Understand the theology behind why you do what you do—then the confidence that shines from that place has nothing to do with you, rather, the Godly fire in your belly to lead people to the courts of the King will easily lead the way.
CCM: Any interesting stories we may not know about from the impact that some of your songs have had on people over time?
Darlene: There are so many! Some of these songs were the songs that enabled first words to be released from the lips of special needs kids. Some of these songs helped parents bury children as they sang their kids home to Jesus. Some of these songs have been cradled in the hearts of orphans as they've encountered God's closeness and presence in the late night hours.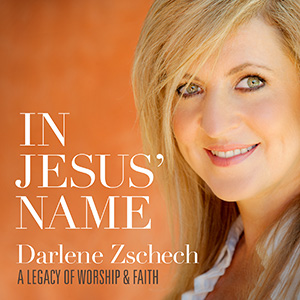 CCM: What advice or encouragement could you give to those receiving the call to write songs specifically for worship?
Darlene: When writing, you've got to have something to say—something that is truly stirring in your spirit. It sounds so simple but it's true! Dig deep, don't rush. Get feedback from those you trust. Hold your songs loosely—worship is not about you and your songs, it's about the glory of God.
CCM: What are some of the basic principles that you apply to help you in the songwriting process?
Darlene: Always get someone to check the theology of your lyrics. And, in the end, when writing songs for congregations, make sure they can sing them!
CCM: Is there a particular writer or singer today that you can foresee releasing a "worship legacy" project in 15-20 years? 
Darlene: Oh my, there are so many people I love and admire when it comes to worship music! The Bethel team, Hillsong team,  Miriam Webster, Israel Houghton, Worship Central, etc. But as we are very close to Martin and Anna Smith, I would say that Martin's writing has had a profound effect on me, my family, and now our church family. He is one of the very, very best.
CCM: What kind of immediate impact did your early mission trips to Africa have on your family?
Darlene: While first visiting Rwanda with Compassion, Int'l in 2004 and witnessing first-hand the effects of the genocide, we were challenged by the Holy Spirit saying to us "Now you have seen it, what will you do about it?" And so, Hope: Rwanda, which is now Hope: Global, began. With Isaiah 58 in our hearts, we just got to work and have never looked back.
CCM: What is the most immediate felt-need in Rwanda that Hope: Global is currently involved with? How can our readers both pray for and be of assistance to this mission?
Darlene: Right now our biggest impact in Rwanda is in education. Every year we send teachers into east Africa to help write curriculum with the government and to train teachers in the country. If you go to the website, http://www.hope-global.org, you will be able to read some of the incredible stories.
CCM: Within this movement of "modern" worship arts in the last 30-40 years, what attributes of it do you think brings a smile to God?
Darlene: The fact that God is so very close to us right now in all of our moments. Lyrically, the songs magnify Him so beautifully—not just about Him, or what we think about Him, but purely glorifying God which is seriously the goal. He is a good, good Father. And I love that we sing these songs of His majesty and His personal, immeasurable love for us that surpasses all our natural understanding.
CCM: What is your glimpse of worship in heaven? How are we able to accomplish even a fraction of this on earth?
Darlene: I've often felt that when we worship here on earth, we are joining-in with the angels and all of heaven in His magnificent presence. Revelation 4:8 says "day and night and without ceasing, the angels cry out Holy, Holy, Holy is the Lord God Almighty!" I love that God is so supernaturally natural and naturally supernatural and that His Kingdom is being established here on earth. Romans 14:17 says "the kingdom of heaven is righteousness, peace and joy in the Holy Ghost." More of Jesus revealed in every moment of our lives…bring it on!