In the lofty circles of the musical mecca that is Nashville, Tennessee, Cindy Morgan is one of the art form's most sought-after songwriters.
Her poetic verse-and-refrain penmanship has fashioned a rich discography of bestsellers resulting in twenty-two number one hits, twelve Dove Awards and multiple GRAMMY nominations. While collecting these personal accolades, Morgan has also been at work aiding the song catalogues of a broad range of other artists, from Francesca Battistelli and Mandisa, to Glen Campbell and Rascal Flatts, to Natalie Grant and Amy Grant, as well as a host of film and television shows. Throughout her twenty-year tenure in Music City USA, Cindy's affective songwriting has contributed to the crafting of songs, influencing hundreds of records all while inspiring millions of lives. Including my own.
When I first heard Morgan's singer-songwriter gem, Listen, as a budding middle school musician in the mid-90s, I was instantly captivated. Growing up in the church, I had been exposed to a plethora of gospel music. Some good. Some not so great. But the poetic vulnerability Inside each lyric paired with entrancing hook-laden melodies was tangible proof that gospel music could be both painfully honest and ultimately hopeful. Simply put, her songs helped me remember life is beautiful.
I have personally experienced the privilege of creating, touring and collaborating with Morgan over the last few years in countless writing sessions and hundreds of dates on the road. Up close, I have discovered her magnetic heart that has fanned the flame of songs in her life for years, and touched our souls for a lifetime.
As she is set to release her stunning tenth studio recording, Bows & Arrows, it is once again my honor to sit down for a conversation with this young legend—to reacquaint all of us with a longtime friend, Cindy Morgan.
CCM: Your first few records — the songs that first introduced many of us to your music — were synth-pop records. But your more recent catalogue and the obvious inspiration of Bows & Arrows is roots music. Even bluegrass. How is this reflective of the music that you grew up with?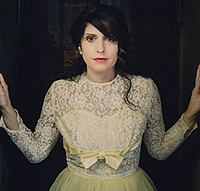 CINDY MORGAN: When I made my first record, pop music was what I was most interested in. Much like when you leave home, I think you find your own interests. I was looking for my own music. I loved the music of the 90s. But even then, if I heard someone play a mandolin or a dobro, I was spellbound and pulled to my childhood memories of country churches, dusty floors and old wood pews. Maybe even some snake-handling churches. Hiss. [Laughs]
CCM: How did these folk and bluegrass elements surface in Bows & Arrows?
CINDY MORGAN: First, through the writing. I wanted to approach the songwriting from a very folk and bluegrass storytelling style. I love songs that tell a story.
From a production standpoint, it was important to keep things simple and allow space for a single instrument to really shine. More often than not, the instruments that were being featured were from the bluegrass family. I was honored to have two worldclass bluegrass and folk musicians on the record — Viktor Krauss on upright bass and Sierra Hull on mandolin. When you sit in the control room and listen to what they are able to execute with such ease and beauty, you suddenly realize why they are world-famous. They are spectacular musicians. And humble. Who knew such extraordinarily talented people could be so kind and gracious? It is quite inspiring.
CCM: "Strong like steel / Fragile like a bird…" I was so moved by the title track, written for and about your oldest daughter, Olivia.
CINDY MORGAN: This song was inspired by a moment in the summer when Olivia turned twelve. She was asking me questions about life, and boys…and kissing. I started to understand she was trying to grasp to a life of her own. Things that are true. The thing about your kids at that age, there are no filters. They just want you to be real and honest.
That summer, while we were walking in the meadow by our house before sunset, I looked up as Olivia and Savannah were running ahead of us. The sun cast shadows behind them. Olivia was wearing a yellow dress and the shadow of her legs seemed to stretch out for a mile. I felt this enormous lump in my throat. It was like the first tie of the apron was severed. That hurts as a mother — to let go. I have worked on this song for about three years. It was just so special to me. Neither Olivia nor Savannah have heard it yet. I plan to play it for them this weekend!
CCM: Your new book, How Could I Ask for More, is dedicated to the memory of your late father, Cova Morgan. What was his influence on your current calling and career? How has his passing affected you?
CINDY MORGAN: I miss him every day. My dad loved music and I can never thank him enough for the kindness and support he showed me, not just as a daughter but also as a musicianin- training. He would lie on the couch in our log cabin for hours and let me play him poorly written, depressing songs on the old, out-of-tune upright piano because he knew how important it was to nurture [music and songwriting].
In his younger days, he sacrificed a potential career in country music to give us a stable childhood, but he found a way to live out his passion for music. My memories of childhood are filled with him and his musician friends rehearsing on warm summer evenings on the front porch and in our small living room in the winter. They would play county fairs, family reunions and small churches. On [Bows & Arrows], my dad's dear friend and bandmate, Jerry Evans, played pedal steel so beautifully. It was like I could feel my dad over my shoulder that day. I don't know if he was there, but it sure felt like it.
I will spend my life feeling so grateful to have had him as a father and as a friend. I think my siblings and all his friends would say the same thing; Cova Morgan was an exceptionally good man.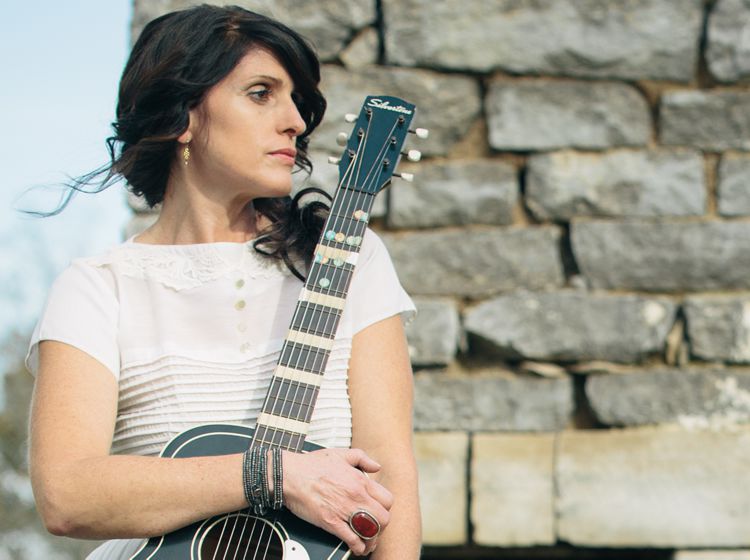 CCM: In conjunction with the release of your new book, you re-recorded the song that inspired the title one of your biggest career hits—on Bows & Arrows with our friend Andrew Peterson. What convinced you to record the remake?
CINDY MORGAN: The book brought about the idea to remake the song. The original was so simple, basically a grand piano and a 90s string pad, it was easy to take it in a very different direction. I wanted to ask an artist who was also a singer-songwriter and who felt like a kindred spirit in life and songwriting-bent. Andrew Peterson reminds me so much of Rich Mullins. I love his honesty and his tender heart for God and for others. You can just feel it when he sings.
One night I heard him play at a concert for Under the Radar (you know, you were there!), and it reminded me about good songwriting—writing that doesn't worry about radio ads or JPM (Jesus Per Minute), but just tells an honest story. He really inspired me to set the bar high for this record. I was incredibly honored for him to sing on the new version and am thrilled with his vocal on "How Could I Ask For More."
CCM: I found this quote of yours on songwriting: "You've just got to take the risk, write your heart." How essential is transparency and vulnerability in songwriting? Is it difficult to expose your heart through song?
CINDY MORGAN: I realize there are things people don't want to know. And you can definitely overshare. But you have to write with a lot on the line. If it doesn't cost you anything to write it, then it might not resound in a deep place with others.
I woke up in the middle of the night with no intention of writing the song on the record called "Unbroken." I don't know where it came from, but it was as if it was looking for me. There are a lot of layers. You can scratch the surface and find what you think it's about. I didn't measure my words. It was 3:00 am. I just let it come out. I guess that is when writing vulnerably is the best, when you just let it happen.
CCM: So many of us in the current singersongwriter landscape were mentored by the penmanship of your earlier records, and yet you continue to pen hits for so many of today's artists, in addition to continuing to make your own records. At the end of the day, what continues to motivate you to write, to perform, to record—to create?
CINDY MORGAN: This is a fantastic question, and one I have been giving a lot of thought to lately. I love the opportunity to help an artist find their voice and discover a truth about God or life or even their own story in the process of writing a song. I deem it an honor to be a "writing guide" of sorts. Writing is so personal and I feel grateful to have precious things—stories, feelings and failures— spoken into the air I'm breathing
I feel less motivated to write "hits." The minute somebody starts talking about writing a hit, first, the exact opposite thing is going to happen, and second, the magic starts to seep out of the room. I just want to be a part of storytelling and writing what is meaningful.
Years ago, I made a vow to my Maker that I would use my gifts for Him. I have not always kept that promise, but these days it feels so important to honor that promise. We honor God when we aren't afraid to let our brokenness show the heart of God. I love writing more than any other profession I can imagine. I just don't want it to lose its beauty in an attempt to be commercially successful.