Soft spoken with a light southern drawl, Christy Nockels is as lovely as her voice is inviting. The gracious, diminutive-sounding songstress sat down with us recently in Atlanta to discuss her just-released album Let It Be Jesus and how she considers this project a reflection of finally coming into her own.
"Why now?" she reciprocated when we posed the question about recording a live album. "I have always wanted to do what ever felt authentic for me in a given season," she answered. "When I think back on Life Light Up and Into the Glorious, and on the latter in particular, the sound was so stripped down. It was very 'singer-songwriter,' and at that time I wanted to make something I could play in my car and use as a means for reflection."
Fast forward to the current season where the last six-months have seen Nockels involved with a group of women worship leaders in which she has grown to serve as a coach, resource, and mentor. "For this latest project, Let It Be Jesus,I was desiring for songs that I could use specifically during corporate ministry moments because this was most applicable to my life right now," she added.
The role of leader didn't come naturally, but Nockels humbly admitted that she is gradually and graciously observing how she is now able to help fill the gap for others—a rift that remained open for her personally, dating to over twenty years ago when her career began as a fledgling artist.
"God made this calling very clear through my friend, author Jenni Allen. I didn't know her at the time she called and invited me to lead worship at an event called the IF Gathering. During that initial conversation she asked me who my mentor was — the person pouring into my life as I allowed God to pour through me in ministry — and all I could say was 'Nobody? Maybe Darlene Zschech from a continent away?!'
"Jenni responded, 'Who is Darlene Zschech?' [laughs]. Then she said, 'Do you realize this makes you the forerunner?' After she said that the tears ran down my face as I explained, 'Jenni, I get up, make my kids lunch, and then drive them to school. I don't get out of bed to proclaim that I am a forerunner."
Not lost in the ice-breaking humor of her newfound friend's unawareness of the author of "Shout To The Lord," was this watershed moment for the now older and wiser Nockels, whom suddenly obtained a grasp of her platform-to-be and foreseeable role.
An emotional Nockels paused, then stated "I still get choked up about this, because I consider that as my wake up call. It was a moment when I arose and became intentional about leading the next generation. I have been [leading worship] for twenty years, all predominantly with men, and in the realization of all of that I suddenly knew that I had the experience — and then some — to speak to these women. I know what it's like to lead [worship] with all-men, to be on the bus with a bunch of guys, and to lead a song from the softness that God gifts to women."
Nockels has been urging those in the group to play their mutual role as they each partner in leadership in their own settings, which is explained by her controversial views on the subject. Having met resistance for these notions over the years, she likens worship to a marriage and feels it is most complete when both genders are represented in leadership positions.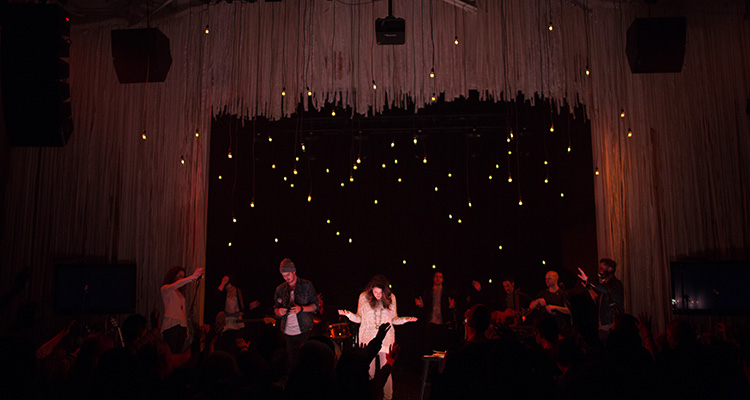 "I've always taken the stance that worship is strongest when both male and female are leading — with the female fulfilling the complementary role, together completing the picture of being made in the image of God," said Nockles. "True, in Christ we both have acceptance, but there's something beautiful about that picture of a woman serving freely inside of that covering—like when a marriage portrays that picture of designed headship.
"I've experienced that very thing in the last twenty years of leading along side men," she continued. "I've expressed to the ladies in our group how I intentionally approach [leading worship beside men] with the attitude of 'I am looking to you as the headship,' and when your heart has humbly and truly accepted that role, it can only foster more trust which in turn creates more opportunities to serve and lead.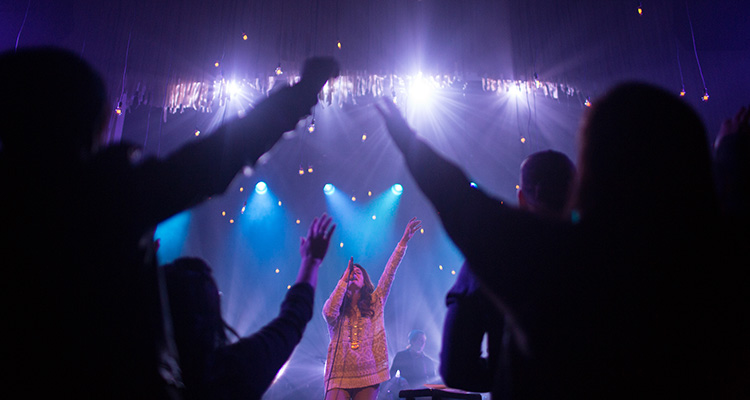 "There's a beauty and a freedom in that, and you come to realize that you  really do have your own voice from within this intended design—that your place is extremely important and needed. There's a certain strength and power that a man brings—there is a very specific beauty, gentleness, and humility that God has designed for us as women to offer. It can be really sweet when it comes together."
Let It Be Jesus was recorded at her church in front of an audience of just around three hundred and fifty in attendance. Among the songs debuted was "My Anchor," co-written with Jason Ingram. "I think this song is one that our generation really needs to hear," she added. "Just the thought of that prayer—a prayer for Jesus to be our anchor, no matter what we're going through or how derailed things might seem. The truth that Jesus really is our anchor reminds me of the hymn 'The Solid Rock' [sings]
On Christ the Solid Rock I stand
All other ground is sinking sand
All other ground is sinking sand
"'My Anchor' is like a new hymn that reassures us that His every word is the rock and that we can count on it. There's so much stuff out there today, but JESUS, His every word is so true! He is what I can count on, and what I can completely stand firm upon."
In addition to her relatively new role as mentor and the release of a new album, Nockels is first a devoted wife and mother. When asked how she balances everything she laughed and emphatically said "I don't! I have to have help. I reflect on the woman in Proverbs 31 and how she gave a portion [of her money] to her servants…she had help. That always makes me feel better!"
Even if she thinks she's not, the affable singer, leader, wife, and mother is somehow managing to do it all. And with this, her latest project packed with anthems primed to creep into Sunday morning set lists, only confirms her continuous charge ahead—as a forerunner—while after all, constantly running after Jesus.