When Chris Tomlin sat down for this story with CCM Magazine, he and his wife were just four weeks away from welcoming Baby Tomlin 2 into the world. Rightfully so, taking on the daddy role has changed everything in the prolific worship leader/ songwriter's world.
"Everything pales in comparison to being a dad," Chris affirms. "It's maybe the only thing in life that you can't stop. Once you're a dad, you're always a dad. It opens up your heart to love and understanding. You grow up a bit when you get married. You really grow up when you have kids. All the things you think about change. God has given you the gift of a child. It's the richest and most challenging responsibility I've ever had."
It's one he shares with his wife, Lauren, whom he describes as "a great, supportive, brilliant mom with a real heart of prayer."
Married in 2010, Chris has seen how that relationship, and now the reality of fatherhood, is not only shaping his world but also molding, deepening and enhancing his relationship with Christ.
"I didn't know it was possible to dig even deeper into the heart of God," Chris says. "But being married and a dad is a huge part of my relationship with God. Not to say that you can't be deep without a family, but it brings another dimension to life. In some ways, it makes life harder."
Anyone with children can likely identify with where Chris is coming from. While his family has been growing, his career has also continued to expand around the world.
"Over the last few years we've played in several countries," he shares. "Once, we played in Abu Dhabi around Dubai. It was such a beautiful thing to stand there with the second-largest mosque in the world as our backdrop, lifting all those songs of praise to Jesus. It was a powerful moment."
If there's anyone who knows a thing or two about powerful moments—creating, experiencing and sharing them — it's Chris. His music has made it to virtually every corner of the world, moving hearts closer and closer to Christ. His latest album, Love Ran Red, does the same.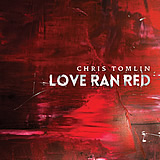 "For me, my focus has been writing to give the church a song to sing. This record is no different," he shares. "There were so many great songs surrounding this record, but Love Ran Red kept standing out for me. It's the centerpiece of the record. It's the centerpiece of worship. There is no song, no church… there's nothing without the cross. It sounds very simple, but it's very profound. Jesus made a way for us to worship. The whole idea is powerful and life-changing."
The cross leads to "The Table," a song about community, fellowship and the invitation extended to us all.
"I've always loved the verse about the weary and heavy-laden coming to Jesus. He invites us to learn from Him and learn the rhythms of grace. It resonates with me," he shares. "So many of us are so tired and flustered and haggard all the time. Jesus' way is so different than ours. His is a way of grace and joy. The table is this beautiful imagery of sitting with God. We're invited. Through the cross, we are invited to the table of God—all those who are weak, sick, worried and feel unworthy. There's something unbelievable about the table. That's where your most intimate moments take place. That doesn't happen anywhere else. I just love the invitation."
That love has been evident throughout Tomlin's career. His songs have invited people into the throne room. His worship leading has invited thousands of college students to unite in praise through the Passion conferences. And today, his skill, authenticity, discipline and generosity have become a standing invitation for newer worship leaders and songwriters to learn from him — a responsibility he doesn't take lightly or for granted.
"I'm grateful for any voice God might give me. I'm honored and humbled by that," he says. "There are so many leaders doing amazing things. That's a beautiful thing. But the goal is not to be a star. The goal is not to be this hugely famous thing or to be cool. That's not what people need. They don't need someone on stage who's really cool. People need humility and to be led to God. Rock stars rarely lead people to God. People who are trying to be cool rarely lead people to God. They lead people to themselves. You have to leave that at the door the best you can."
While any man-made standard would easily quantify Chris' own stardom, it's not the gold records or No. 1 hits that he sees or in which he finds his motivation. Today, just like it was at the beginning of his career, he's interested in obediently following the path laid before him, trusting God to complete the good work He began.
"It's easy to see the massive group. But the success is that one person who really burns with a passion for God. God gives them a different mission field to reach people I can never reach," he says.
As Chris continues to walk more fully and deeply within the role of father and husband, he is faithfully following God's lead in music, ministry and all that the future holds. Most importantly, he's doing so with open hands, fully aware that each song is a gift, a healthy family is priceless and, at the end of the day, the greatest gift is to know God intimately and share that with the world.
"This far along, I've realized that you're never really done [with a record]; but this is the best I can do at this point for this moment in time, and I hope it blesses people."