"Were it not for hope, the heart would break."
– Scottish proverb
In a broken-hearted world, the absence of hope is palpable.
Everyday, marriages dissolve, addictions abound, governments corrupt and natural disasters wreak havoc.
Overworked, over-caffeinated and disconnected, people increasingly seek solace in temporary remedies that can numb or pacify for a moment; but offer no real solution. They offer no hope. And in a time when hope has been pushed aside for so long, many have even forgotten what it means.
Billy Graham hasn't.
For over 70 years, Rev. Graham has watched this world ebb and flow along cultural, spiritual, moral and racial divides. He has learned the language of lost generations and lived a life above reproach, but not out of reach of the rest of us. He has opened his heart, his home, his life for a single purpose.
Through the Gospel of Jesus Christ and His great love for us, Rev. Graham has given all of us hope…simply by sharing his.
This year, Rev. Graham celebrated a monumental birthday as only he would — by giving a gift to us. As his 95th year commenced, he, along with the Billy Graham Evangelistic Association and various partners unveiled My Hope. A book, an album, a movement with the singular intent of honoring the life of Billy Graham by honoring the God of whom he has proclaimed the truth for over 70 years. On November 7, the world watched as Rev. Graham's final sermon, The Cross, aired. The poignant message was the capstone of a movement that includes partnerships with churches, publishers, artists and more.
Fittingly, one of those artists was introduced to Jesus, while watching a bold, passionate man deliver a sermon on television.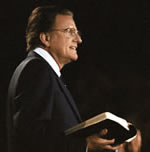 Only 13 at the time, this boy was drawn in by the simplicity of a message of love and surrender and forgiveness. That night, that boy accepted Christ into his heart. Fast-forward a few years and that kid, aka Matthew West, is joining hands with fellow artists whose lives have been touched by the life and work of Billy Graham.
"I asked Jesus into my heart watching him," shares Matthew. "And here I am having the chance to write a song dedicated to Rev. Graham and all his years of preaching and ministry. It was an honor."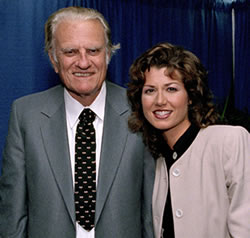 Matthew joins the likes of Kari Jobe, Amy Grant, Israel Houghton, tobyMac, Nichole Nordeman, Darlene Zschech, the Newsboys Lacey Sturm and Michael W. Smith, among others on the album that bears the name, My Hope. Each artist was charged with writing a song that represented Graham's ministry. Michael W. Smith served as one of the four executive producers on the album, pulling together a lineup as esteemed as Graham's career. To Michael, the experience was not only gratifying, but fondly nostalgic.
"I met him [Rev. Graham] in the 80s while I was on tour with Amy Grant," shares Michael W. Smith. "During one youth night in Cleveland, Ohio, in 1994, we opened along with DC Talk. We made history and got a lot of opposition from lots of folks back then who couldn't believe there would be a rock concert before the preaching. He [Rev. Graham] brings that up from time to time. It was a pivotal moment for him and the world."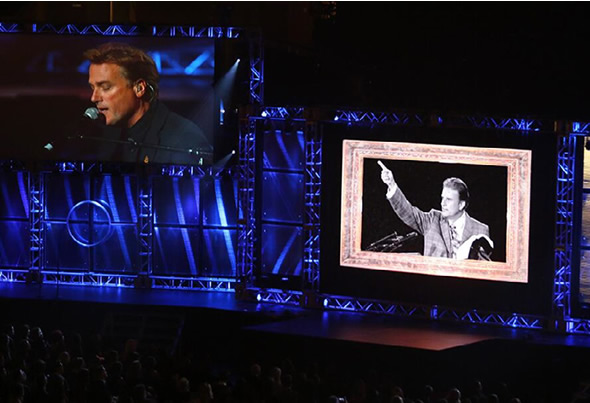 That was but one of the many pivotal moments of which Rev. Graham has been a part throughout his ministry; a legacy that has continued with son Franklin Graham and grandson, Will Graham, and has set their ministry apart throughout the world.
Lacey Strum, former front woman of FlyLeaf, who recorded two songs for the My Hope project, has traveled with Franklin Graham, playing Rock the River events along the Mississippi River. She shares that when Franklin asked them to be a part of the event, she was somewhat skeptical.
"We had just decided we weren't going to do anymore Christian shows, because when we would play, the speaker would often be completely out of touch with what was going on and say something we would never want to say to our audience," shares Lacey. "When Franklin asked us, we really wanted to meet him to learn why he wanted us."
His response brought Lacey to tears then and even now, as she shares.
"He said to us, 'These kids are hopeless. Everyday they face the possibility of death. They need to know how they can be saved from going to hell. If we save someone from suicide and give them a positive message so they don't kill themselves, but don't introduce Jesus, what good have we done?'" Lacey recalls with fond tears in her voice.
Now a solo artist, Lacey continues to travel with the Grahams, sharing her own story of hopelessness redeemed, as well as a song she wrote to bring her testimony to life, "The Reason."
"I wrote the song about my testimony but it wasn't recorded for the longest time," she shares. "When they did this record [My Hope], they wanted to use it."
Lacey acquiesced, recording a compelling rendition of "The Reason" as well as another song written for this tribute record, "Mercy Tree."
"Who am I?" she says softly. "To be a part of this is amazing. I can't believe I ever even got to meet Billy Graham. And when I did, it was one of the most loving encounters I've ever had. It was as if he was honored to meet me. He understands who he is. That's the key. He's presenting something in such a humble way out of love. You can see his thankfulness for his own salvation. He understands that he is someone who said yes to the Lord."
Humility and authenticity are running themes as others reflect on the life and personhood of Rev. Graham.
"I didn't grow up in a Christian home," says Tommy Coomes. "After I became a Christian I saw him preach at Anaheim Stadium. I thought, 'There is a really big God standing behind this preacher.' It was a touch of God's spirit. The fruit was there. The first time I met him, he shook my hand and said, 'Thank you for being here to help me.'"
"He's been a great friend," adds Michael W. Smith. "Every time we're together he wants to know how the kids are doing, how my wife is… He believes in me and continues to thank me."
For a man who has earned a reputation of humility, the grace and gratitude that shine in his eyes, his smile, his words are larger than life, and are part of his legacy.
It's a legacy of hope and of promise, redemption and mercy.
It's a legacy that will continue on long after this 95th birthday because Billy, his team and his family have a singular goal.
They're also all about people and communities and churches. These priorities have informed the practice of connecting with churches around the world, training them to disciple new believers and equipping them to fan the flame of hope beyond one sermon or one song or one chapter. After a lifetime of selflessness for the sake of the Gospel, it is probably impossible to know the full extent of his impact on the world.
"In all his messages since the beginning, I heard him quote John 3:16 almost every single time," says Matthew West. "He never lost the sense of awe and wonder in those 25 wonderful words. And he never walked off the stage without inviting people to decide what they will do with Jesus."
Just like Matthew decided years ago, generations have found hope because one man was bold enough, humble enough and faithful enough to share the truth. And while we still live in a world of broken hearts, where hope can be hard to find, it's people like Rev. Graham that point the world back to light, love and the promise of a better tomorrow, with love, compassion and conviction.
"One of my top five prayers is to finish well," says Michael W. Smith. "I want to finish well just like him."
That is the hope of Billy Graham.
That is the hope of the world.