Since in 2009, Adam Young has been enchanting the auditory sensibilities of music buffs across the world. As the think tank that popularized under the moniker Owl City, his major label debut spawned the sensational single, "Fireflies," registering five-time platinum status and topping the charts in twenty-six countries. But the beats virtuoso requires more than a laptop and samples to spur on his creative heart. Young is a man of deep, authentic faith, who believes music has true transformative spiritual power.
To help frame this hope-filled conviction on his latest aural adventure, Mobile Orchestra (Republic Records), the singer-songwritermulti-instrumentalist opens up his phonic palette to incorporate genre-bending layers, with an equally distinctive guest roster featuring country superstar Jake Owen, urban music's Aloe Blacc, pop trio Hanson and Christian music radio powerhouse Britt Nicole, orchestrating a diverse—and perhaps purer—track list of musical styles directly influenced by his personal playlists.
Without further ado, a one-on-one conversation with the one-man band from Owatonna, MN, Owl City.
CCM: First things first. Why Owatonna? With the level of success you have achieved in multiple formats of the music industry it would be easy for you to take up residence in Los Angeles, Nashville or New York. What's behind staying in Minnesota?
Adam Young: It's a fair question. And it's one I asked myself a lot early in my career when I didn't know what being a musician meant, whether I needed to be able to meet face to face with my manager, label and lawyers. All of them are either based in New York or Los Angeles.
I also didn't know exactly who I was at the beginning of my career, specifically how introverted I am and far more suited for a small town atmosphere. Owatonna is the perfect place for me. Comparatively, against New York or L.A., there is no traffic, no crime, no smog or litter. Again, compared to a city with four to eight million people in it. Owatonna is a wink of a town in the grand scheme of things as it relates to entertainment in the music industry, but it's home and I love it. So for now, I'm not too interested in looking elsewhere.
CCM: With your last efforts being a cohesive listening experience, what prompted the color of Mobile Orchestra?
Adam: Well, I listen to music from all over the map in terms of genre, and I tend to jump around a lot when I'm listening to music. For example, I will listen to a country song then I will listen to a hip-hop song or a punk rock song. And because my interests as a fan of music vary pretty drastically, so do my creative influences that inspire my decisions as an artist. So I wanted to embrace that a little more with this new album. I feel like it has a good mix of variety, and some of the songs veer off into uncharted waters. But I still feel like every song on Mobile Orchestra is at home.
CCM: About the song "My Everything," you have been quoted as saying, "There is something so powerful about the moments in life when you are at such a loss for words, all you can do is fall to your knees and sing hallelujah to God … it feels beautifully sacred to say it over and over again as a verbal praise to the Lord." What scenarios or circumstances in your personal life have elicited this response?
Adam: It goes both ways for sure—good or bad. I try to make it a priority in my life to praise God either way. Which, sometimes, if the scenario is bad or unpleasant, praising God can be difficult when you don't understand exactly why things are happening they way they are. For instance, before I started doing music I used to worry a lot about money. I never had enough and I was barely scraping by, living from paycheck to paycheck.
I recently had a family member become very ill and I remember saying, "God, if you do not wish for this person to recover, then that's okay. I praise you." Then there are scenarios for which it's easier to thank the Lord. Selling a car. Buying a house. The accountability of good friends. All things I've found myself over the years falling to my knees and thanking God for. That is what the song is all about.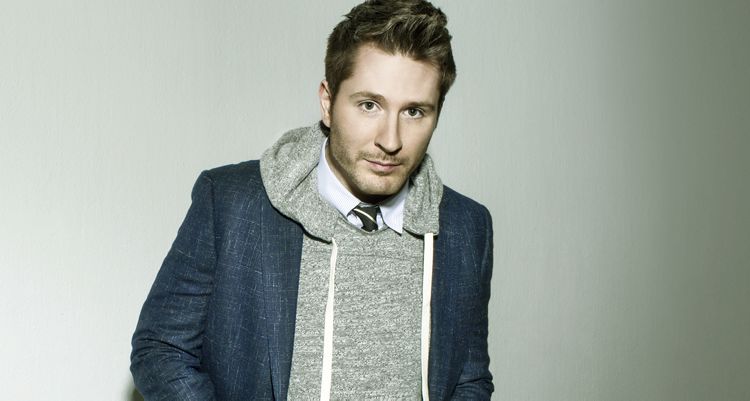 CCM: Music has obvious power to speak universal truths to individuals in specific circumstances and seasons of their life. For instance, I have discovered your music translates in a big way in Australia. Why is music so mysterious and imbued with such human and spiritual connectivity?
Adam: I'm not sure. But I'm a big believer in music being usable, in the sense that an artist writes a song and God may choose to use that song to speak to people in ways the original artist never imagined possible. I love the idea that a musician can be a conduit, maybe even unaware, and God can use the power of music to touch people and ultimately glorify him.
I also really love the idea that music can be an encouragement to people in a way that only they know they need to feel. Everyone has deep dark places in their lives that nobody else knows about, and I feel like music can be that soothing medicine that can bring relief to people's emotional or spiritual ailments. If my music is ever something like that to somebody out there, I feel totally humbled and honored to be part of that process, because what a gift that is.
CCM: Lastly, out of all of the collaborations on this record, the linkup with country music artist Jake Owen is the most intriguing. What inspired the pairing? Has country music inspired your own musicianship or songwriting, and if so, how?
Adam: Well, not a lot of people know this about me, but I'm a big country music fan. You wouldn't be surprised to know that country music is very popular where I grew up, so that instilled a natural influence in me as I inspired to be an artist myself. That being said, Jake Owen is a legend to me. Nobody does it better, and I've been a huge fan of his for a few years now.
So because of that influence, I wrote a song that had a country–pop hybrid vibe going for it and I simply just went out on a limb and sent Jake the demo. I introduced myself and said I'd be thrilled to work with you if this is something that sounds appealing to you in any way. I was amazed when he wrote back and said he was familiar with my work, which blew me away, and that he was down to work together. So it was really surreal to work with somebody I look up to so much as an artist. And lo and behold, the song is my favorite on the entire album.