With a new name and a new sound, 1GN unites under a steadfast mission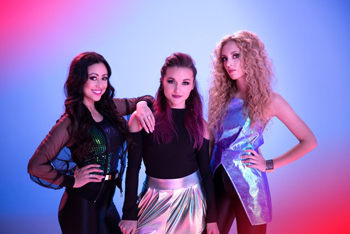 It's been four years since five young women came together under the moniker 1 Girl Nation, sporting a bubbly-pop sound, colorful personalities, and a positive message aimed at tween and teen girls. But life changes fast, bringing challenges and changing perspectives. "We've all just grown as women," says Carmen Hadley. "We've grown spiritually, we've grown as people… as our band is changing and as our music and sound is changing, we feel like it's a new season for us."
After a year off from touring and making music, that new season led to a compete reset for this pop group. Shortening their name to 1GN, Hadley, Kayli Robinson and Lauryn Taylor Bach are back with a more focused message and a maturing sound inspired by the biggest names in pop music. Yet under the sparkle and polish and fun dance moves, their friendship and compassionate hearts shine through and carry them into the latest adventure of their life in music.
Growing Up 1GN
In 2012, 1GN came together as contemporary Christian music's positive answer to the multitude of Radio Disney-friendly pop groups, complete with tight harmonies, a playful sound, and a stylish look. Before long, they were making splash with their debut album and the catchy single "While We're Young." Their covers of popular songs, from Colbie Callait's anthem, "Try," to the persistent Frozen hit "Let It Go," brought them a new level of exposure on social media, and their passion for mentoring young girls took them around the country with mother/daughter conferences.
Still, while their youth made them relatable, they recognize this was only the beginning. Hadley recalls celebrating her twenty-first birthday shortly after the group came together, and how just a few years changes everything: "I feel like I was such a kid in some ways, and here I am a few years later… we've all entered into tour mid-20's."
"We've grown up," Robinson agrees, "like every human being year after year. We've been faced with different situations personally and as a band, and that makes us stronger."
Some of those situations have been joyful ones, such as Hadley's new marriage, an experience that, "opens up your eyes to what life is really about." Others have been heartbreaking. Bach chokes up as she shares about her parents going through a divorce. "Even at age twenty-four, it's so hard to see your family fall apart, but it has forced me to rely on God and to rely on these girls who are my sisters." Still, this painful experience drives her desire to encourage others through music, especially, "other girls walking through the same thing."
"You're so brave and strong," Hadley assures her. "Lauryn, it's so courageous of you to want to be an encouragement to people going through the same thing." And when it comes down to it, that courage is the heart of 1GN.
New Name, New Sound
Thanks to social media and positive buzz, 1GN's audience has grown up too, making this the perfect time to step back and take a new look at the band's direction. Before writing their sophomore album, the girls took a year off from the road to reset and find a fresh perspective, and changing their name to 1GN was a natural first step.
From there, they began to team up with Nashville pop producers Jordan Sapp, Dave Wyatt, and Steve Wilson to find their driving message and hone their maturing sound. "We wrote every single song on this record, and we're super proud of that" says Bach, while Robinson adds, "we have a lot of creative control over who 1GN is. For me, that's been a massive thing." And through that creative freedom comes a chance to write more personal songs out of all they've experienced.
For Hadley, her marriage influences songs like "Cinema," a song "reflecting on life, on why I'm doing what I'm doing," because, "it's not easy being away from your husband or away from your family and friends [to do music]… if my life were a cinema, what story would it tell?" Bach processes the breakup of her family through songs like "Panic," which, "talks about going through hard times period, and to not panic and freak out, but trust God is in control and has a plan." While there's no shortage of past Christian teen pop tackling purity and modesty, 1GN gives special attention to the rising power of social media in songs like "No Filter," "Haters," and "Guard Your Heart."
"A lot of us think our value nowadays is how many 'likes' we get on a picture," Bach explains. "And I have to remember, 'What does God think about me?' We've become a society where we look to social media for our acceptance and worth…we hope the messages of those songs will help combat those other messages being thrown at people."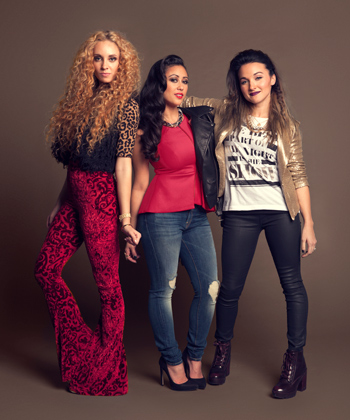 While that sounds like weighty topics for an album of ear candy, there's still plenty of room for pure fun. "Get Hype," a song they describe as one of their "crazy ideas," is an EDM dance track with a colorful video that pushed the girls into a whole new territory. Robinson laughs as she recalls working with Chase Benz, a professional choreographer whose credits include Britney Spears and Rhianna, to create the "Hyphy" dance for the video. "It was really not easy to do. He pushed us to our limits with those dance moves."
United As Family
Like anyone who makes a career and ministry out of sharing music, the ladies of 1GN know it takes consistency to stay grounded in a tough and unpredictable lifestyle. Robinson cites her family as her compass when life gets overwhelming: "I'm really close to my family, and sometimes I just need to step away and talk to them. They keep me grounded and they know the real me."
Hadley agrees, and also adds the importance of staying connected to a church at home in Nashville, "a church family that's constantly asking how I'm doing…making sure that I'm plugged in and not just out there traveling around. Just having mentors in your life is something I've learned is so key to staying on a good walk with God."
And then there's the fans, an extended part of the 1GN family. "When we go to a show or check on Facebook messages and hear how our music has touched somebody's life or changed them for the better, that is always a good reset for me," says Bach. "Like Carmen said, there are days when you get down, but when you remember how God is using you, it keeps you going!"
And then there's the tight bond that the three share, through the good changes and the hard ones, and the simple, fun moments together. Hadley shared a little insight into the connection they share with a story from the making of Unite. "We would record all day, so sometimes it would be super late at night, and we would finish a song on the record and have a dance party. We would have a strobe light, turn all the lights off, and have a big dance party—just for us—after every song was done." Unified, and stuck together like glue.